SEMrush Review: Perfect Tool for Digital Marketers
Posted on

May 30, 2015
In SEO
Digital marketing around the world has gained a lot of pace and growing very fast. Now every company and websites are looking for information about their competitors, their keywords and performance of their own websites. And to solve this problem and given one-stop solution, I am going to review SEMrush tool for you, which is a perfect tool for digital marketers.
I will be doing hands-on review of SEMrush and I have been using this tool for almost 6 months. By reading this article, you will know what are the benefits of this tool, how to use it and how to steal your competitors backlinks, tracking your keyword position and many more things.
SEMrush tool is a product of SEOQuake (Firefox SEO add-on), which is very popular tool in digital marketing agency. Till date SEMrush has around 534,734 users, 46,000,000+ domains and more than 119,600,000+ keywords in their 26 databases. You can know how much popular SEMrush is from these increasing numbers.
So let's start this review first by knowing features of SEMrush service.
Features of SEMrush Tool
Oraganic Research
Find the right keywords for SEO and PPC campaigns
Get long-tail keywords
Uncover Your Competitors' Ad Strategies and Budget
See competitors' best keywords
Conduct a deep link analysis
Website Audit
Position Tracking
Above were the main features and benefits of SEMrush which is like to highlight. SEMRush tool is divided into Categories like Analytics Report, Tools and Projects. And I am going to discuss about them in details and all the sub-category which are there.
Organic Research
It is a good way to know which keywords are bringing you organic traffic from Google.com and what are the position of those keywords in Google search with estimated traffic cost.
You can see the result like position on search engine, position change (if any), your competitor URL and what keywords are bringing traffic to which URL on your website.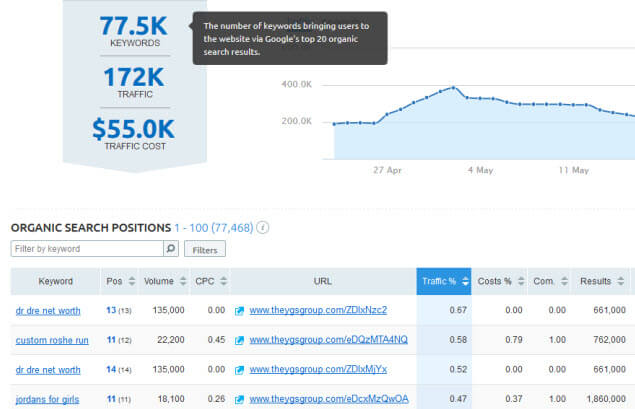 It also shows the estimated cost of the traffic which website is getting. To use this feature, just put a URL on the search bar and then navigate to the organic research option. You will see lots of details.
Advertising Research
Those who are doing paid advertising, this section is for them. In this section, you can see advertising positions for the domain name or URL, and advertising competitors, Ads texts, potential traffic sellers and display advertising reports for the domain name.
This option is very good for a digital marketer's and people who are involved in paid advertising and bloggers too can know for which Keywords advertisers are paying high.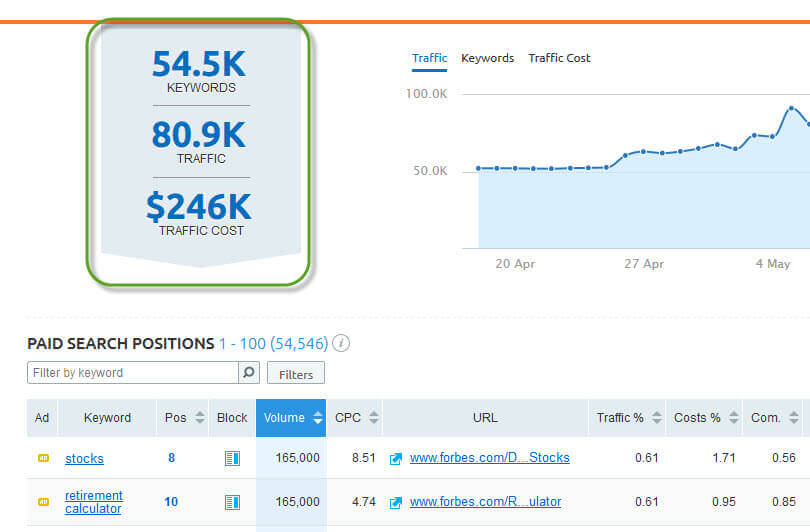 This section has options like positions, position changes, competitors, Ads copies, Ads history and URL. I like its competitors option as it can show advertising research about your competitors and will display their "Ads keywords, common keywords between you and him, Ads Traffic, Ads Traffic price, SE Keywords", which can also be easily exported for later analysis.
If you have already searched about a website, then you can directly go to this section to see the report. All the data can be easily exported to the excel sheet.
Note: It will show no result for websites not involved in paid advertising.
PLA Research
This is a new category in SEMrush.com and you can find which websites are using product listing ads (PLAs), which keywords are their PLAs popping up on, and how their ads look like.
There are sub-categories like PLA Positions, PLA Competitors and PLA Copies.
Display Advertising
This section is currently in beta and you can do research on "display ads advertisers" and "display ads publishers" and can easily view their ads and landing pages. This option is good for advertisers.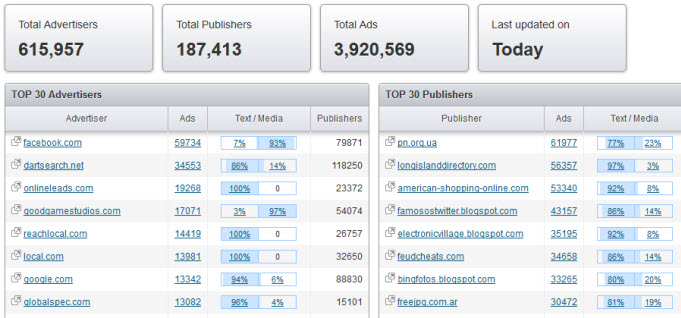 Display Advertising has sub-categories like Top 30, Overview, Publishers and Advertisers. In top 30, you can easily find top 30 publishers and top 30 advertisers and a percentage of their text and media ads.
Backlinks
This is one of my favorite tools for checking competitors backlinks or checking my own website's links. This also helps in comparing your progress of backlinks. You can check backlinks by anchors, referring domains, referring IP's or indexed pages and can also do a quick backlinks comparison.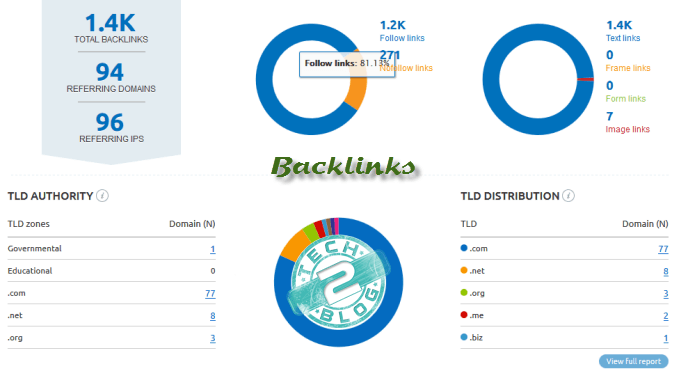 You can enter up to five domains to compare and can see who is leading in backlinks. From there only, you can also see backlinks of your competitors and can download all the links in the excel sheet for future reference.
Keyword Research
This is my another favorite tool which I use most of the time to do keyword research and to find long tail keywords. This tool also helps to explore keywords of competitors website along with their SERP position and CPC.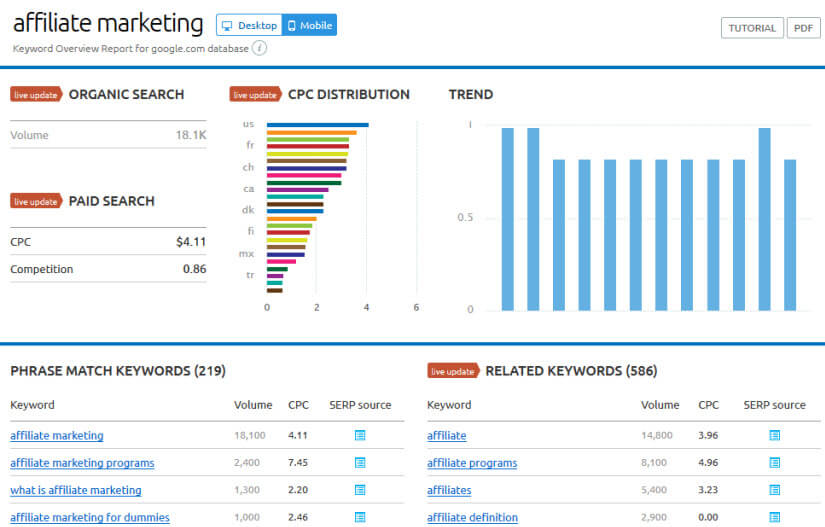 Researching about any keyword is very easy. Just enter a keyword of your choice and you will see its organic search volume, CPC details, CPC distribution as per country, phrase match keywords and related keywords.
I did keyword research for "affiliate marketing" for this article as an example and as you can see above, there are 219 matched keywords and 586 related keywords. Both these data can be used to generate long tail keywords for your next article.
For "affiliate marketing" keyword it showed CPC of $4.11, which is pretty good, and organic search of 18.1K with trends. So now you have an idea whether to write about this keyword or not.
Tools
With SEMrush, you also get many online tools which can be used to improve your website, track position, rank, can be used to do domain vs. domain analysis, site auditing and can be organized as projects to measure improvements.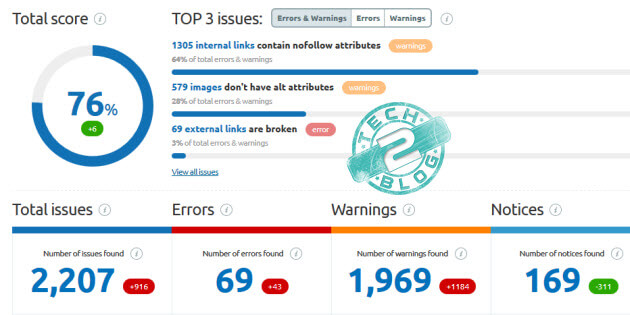 My favorite SEMrush tool in this category is "site auditing". With site auditing I have resolved many website issues like duplicate meta tags, heading tags, broken links, etc. See above image to get an idea, how it displays charts for website audits.
Ranks
This is another good tool to check most popular websites of the internet by organic search. You can also see reports for changes in the number of keywords, traffic and budget estimates of the most popular websites in the Google top 20 and paid search results under the Winners & Losers category.
All the above options and tools are interrelated and you can easily get any information about any website easily which can be saved for later use.
Prices of SEMrush
Currently, SEMrush has 3 plans with different prices, i.e. "PRO, GURU and BUSINESS". Pro subscription cost $69.95 per month while Guru plan is priced at $149.95/month. The Business plan is most costly and can be availed at a price of $549.95 per month.
The most popular plan in SEMrush is Guru and has lots of option and features. So if you have a small firm, Guru plan is best for you. If you are planning to use it for a longer period, go for annual plans as it can save a few $100.
---
I am using SEMrush tools for many months now and found it very useful both for blogger's and digital marketers though, their plan's are a little expensive but it's worth having this tool. You must try it's Free Demo first.
With this tool, I have solved many errors of my websites, gained many new backlinks similar to my competitors, know which keywords are paying high CPC and has exported many backlinks report for analysis, and done many other things.
So, if you also want to get the maximum from your website and digital campaign, go for SEMrush. If you have any feedback regarding this tool, I would love to hear that. Do comment and let me know what you think about this awesome tool.