How to Increase Backlinks using Infographics
The graphic visual representation of information, knowledge or data projected to represent intricate information easily and speedily is referred to as information graphics commonly known as infographics. It can help to develop understanding by making use of graphics to improve the human visual system's aptitude to observe trends and patterns. The entire process of creating information graphics or infographics can be termed as information design, data visualization or information architecture.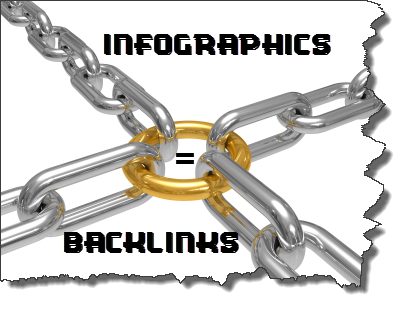 Reasons behind Growing Popularity of Infographics
Now a day we are able to see most of the popular blogs and websites making the use of infographics to describe their services or products line. The reasons behind the growing popularity of infographics are as follows:
• Information graphics or infographics describes a difficult idea in a much easier and striking manner.
• Infographics adds more pleasure to reading than the plain text format.
• A page with attractive information graphics is more likely to get backlinks.
• Information graphics are widely shared on social bookmarking and social networking websites by the users.
• Information graphics helps to boost up the user involvement.
How does infographics helps to develop SEO of a website ?
We all are aware of the fact that SEO is an essential aspect for any site. A site cannot have its existence without appropriate search engine optimization. Although images have a lesser impact on the SEO value as compared to text but infographics facilitates to develop the SEO largely.
• Backlinks are an essential aspect of any SEO arrangement. A high-quality infographics can simply stimulate anyone to link to your page for a better description on any niche. By making the use of infographics on your website, you are more likely to get a backlink.
• Social signals are very crucial for the growing popularity of any site on the search engine. Making the use of infographics to your website will help you to enhance the social signals for your website as the incidence of social posting for infographics are much more as compared to text post.
• Infographics enhances user involvement on any site developing the average time for user on the website, which helps to develop the SEO of a website.
Earn Backlinks Naturally
The number of backlinks a web page has in it and the distinctive number of sites from where these backlinks are coming from has a great impact on how a web page get ranked on the search engine. A web page with a large number of backlinks coming from various sites is conclusive of the fact that the web page is an important one. These factors facilitate the search engines to decide how to rank a web page in the search results compared to the other related web pages.
Recommended Article: Funda of DoFollow and NoFollow Links
In addition to this by making the use of infographics to your website, you will observe a huge number of sites publishing your infographics on their websites and linking it back to the original post. With the help of this, you can naturally increase the number of inbound links to your website and increase the number of various other sites or root domains linking to your website. This enables you to earn a backlinks naturally.
---
Hope you like this article and will share it with others on your network. If you have any other point which we have missed or feedback for this article than you are welcome to comment below or email us. Don't forget to subscribe to our Email subscription and follow us on Facebook and Google+