6 Genuine Affiliate Programs for Small Indian Publishers
Affiliate marketing is getting a new pace in the Indian market and now many Indian bloggers and affiliate marketers are looking forward to Affiliate marketing to make money online.
In our earlier post, we discussed some affiliate programs which are best suited for fashion and coupon code websites.
In this post, we are going to discuss some of the genuine affiliate programs which you should try.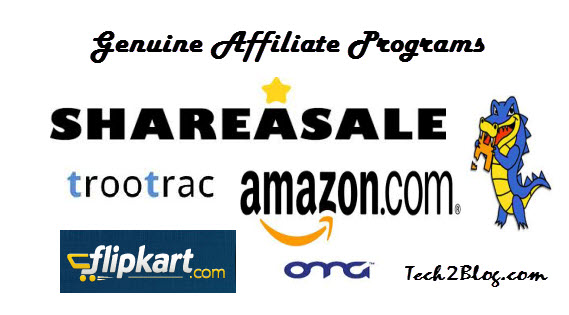 List of Genuine Affiliate Programs for Small Indian Publishers
1. ShareAsale: This is a very old network and a good affiliate program. ShareAsale is not an Indian-based company but is very reliable and always do payments on time.
ShareAsale has a wide variety of advertisers and you should be having a good website to get approval. The payment method of ShareAsale is very simple and you can directly get your affiliate commission on your bank account.
2. Flipkart: Flipkart is an Indian-based online mega store and also provide affiliate opportunity for all. Flipkart has a wide variety of products from clothing to cosmetics, from hardware to software, etc., so you have lots of options to promote as an affiliate marketer.
And if you have a coupon code, promo, fashion or electronic item review type website then you can use this network effectively.
Recommended Article: Adsense Ready Ultimate Theme for WP
3. OMG Network: This is India's leading affiliate marketing network which contains lots of advertisers, so you don't have to sign-up separately for different affiliate programs. At present sign-up process is very simple and you get approved in a day or two. It is one of the best opportunities for making good sales through your blog.
There are lots of advertisers like Yatra.com, Travelguru, Snapdeal, FreeRecharge, Indiaplaza and many lot more and counting. So do give it a try.
4. TrooTrac Media: This affiliate network also known as shoogloo network, is a performance-based marketing network that is similar to the OMG network. This affiliate program is India based and contains a number of advertisers with them.
TrooTrac supports different types of affiliate and performance-based marketing activity, including Cost-per-Acquisition (CPA), Cost-per-Lead (CPL), etc. You can easily use this network with your technology blog, and fashion website and it is also best for coupon code websites.
5. Amazon.com: For this affiliate program your website or blog should have traffic from countries like US, UK Canada, Australia, etc. If you are having an electronic gadget review site, then an Amazon affiliate can do wonders for you.
Recommended Article: Received Amazon.com Affiliate Payment
Amazon is an international affiliate program having a 4% affiliate commission rate but if you refer more than 7 items in a month, your affiliate commission becomes 6%. The minimum payout criteria of Amazon is $100 and they give standard checks in your name. The sign-up process is very simple and you get approved instantly.
Update: Amazon affiliate program is also launched in India at Amazon.in website.
6. Web Hosting Affiliate Programs: Due to the development of new sites every day, web-hosting affiliates are becoming one of the main sources of income in affiliate marketing. There are lots of Hosting companies like Hostgator, BlueHost, Dreamhost, BigRock, etc. which offer affiliate programs with high commission rates.
If you have an SEO, WordPress, or blogging blog then having these web hosting affiliates on your site can boost your affiliate income a lot. Some of the web-host are even paying $120 per sign-up, so it's really worth trying web-hosting affiliates.
---
These were some of the ideas for you to choose a genuine affiliate program for your blog to make money online.
There are a lot more affiliate networks that you can try. If you have any questions regarding these affiliate networks or want to suggest any other good affiliate network which paid you, then let us know by your comments.
Happy Affiliate Marketing!