Video Marketing Tool – 6 Great Tools for Marketers
Video marketing tool is an indispensable auxiliary for marketers. To be able to compete in the market in the coming years, it is impossible not to use video marketing tools. The number of customers watching videos on the Internet will increase in the future. However, before you take the time and effort to create videos, make sure you shape the story your brand wants to convey.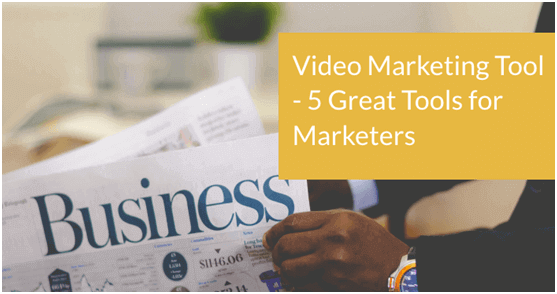 Here are five tools to help you make professional videos for video marketing strategies.
1. FlexClip
FlexClip is currently one of the most popular video marketing tools today. It allows users to create videos from simple to professional, with many different resources and easy-to-use features.
With an interactive interface that guides you through the steps of creating videos right when you get started, you can easily create any kind of marketing videos with just a few clicks. You can upload your own content or select from the stock libraries in FlexClip. There are thousands of royalty-free images, videos, and audio tracks available.
If you use the free version of FlexClip, you will be able to create short videos up to one minute without watermarks. It has different packages that suit your need. With an affordable subscription, you can also export videos in 720p (HD) or 1080p (Full-HD) quality.
2. Viewbix
Viewbix is ​​a video marketing tool that helps you create interactive videos in just 5 minutes with three simple steps.
Social networking is one of the important video-sharing tools. You can share newly created videos from Viewbix instantly on social networks like Facebook and Twitter.
In case you do not have much time to manage the videos created and propagated. You can hire Viewbix to manage all aspects of your video campaign. If you only have one partner, Viewbix will offer a free version with many useful features. If you have multiple users or want Viewbix to manage your campaign, you will need to contact a business specialist for more service details.
3. VideoScribe
VideoScribe allows users to create effects on whiteboards with detailed hand-drawn sketches.
Currently, VideoScribe has thousands of free images and audio for users to choose according to their preferences. Immediately after creating the video, you can share it via email, Facebook, or YouTube. VideoScribe has a 7-day free trial, but if you use the software for $11/month, the VideoScribe logo will be removed, and you can create videos in HD format or work offline.
4. Slidely
Since 2012, Slidely has allowed users the ability to create video slideshows or music videos from existing photos, music, or video clips. You can immediately post these slideshows on Facebook, Twitter, Instagram, YouTube, and Pinterest.
Slidely is an excellent video marketing tool. It also helps you paste these clips on your blog or website. It was these things that helped Slidely stand out as a social network where the community can share and view other people's content. You can sign up for Slidely for free online or download the app from iOS or Android for free.
Recommended Article: 5 Tools to Create High-Quality Social Media Graphics for Your Website
5. Wideo
Wideo is an online video platform that allows users to create videos, edit and share them easily quickly. Not only that, but Wideo also gives you the opportunity to personalize ads, presentations, video tutorials, or demo products by adding logos, images, even the background music in the video.
6. Veed Video Editor
Veed is a simple online video editing platform for creating social media video content. You can use Veed to crop, trim, filter, and add music to videos. Perfect for anyone looking for simple and fast video editing without the need to install or setup complex software and keep all your content, fonts, logos, and color palettes in one place so you are always on brand.
Veed allows you to record, edit, and produce quality, professional videos to promote your brand or business, in a matter of minutes. You can record through your webcam & screen, edit your Zoom recordings, add soundwaves to your podcast videos, add company logos/watermarks, and – perhaps most importantly – add subtitles to any video instantly, without the need for manual annotation.
Summary
This article introduced five video marketing tools for marketers. They support you in the process of coming up with an idea for a planning strategy, or the need to make a video for your product or service.