Must have SEO Chrome Apps & Plugins for Bloggers
Search engine optimization (SEO) is very important for all webmasters and bloggers and thus we have many online tools for its implementation. Some SEO tools are free and some are paid and these SEO tools are very useful for knowing our mistakes and analysis of the website that how it is performing in the search engines like Google, Yahoo, Bing, etc.
Not only we have online tools and web-based SEO tools for website analysis but we also have some extensions and plugins for our web browsers like Google Chrome & Firefox. As a human tendency, we always look for free or trial stuff first, and below Chrome plugins are an example of it.
So here in this post, I will focus on some of the best SEO plugins/apps for Chrome browser which are free to use and very helpful for Off-page and On-page analysis of your website. If you are serious about your website or blog SEO then you must read the below article.
Recommended Article: All Purpose WordPress Theme: X Theme Review
5 Must have SEO Chrome Apps for Bloggers and Webmasters
1. SEOrch – OnPage SEO Tool: This is a very good SEO tool for bloggers to check OnPage optimization. You can easily check any of your post and can find SEO mistakes you have done and can thus correct them and improve your website.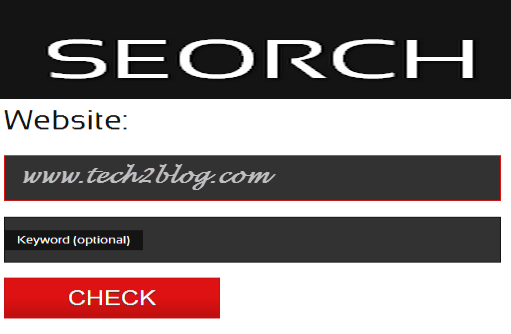 This tool takes about 30 seconds to generate full SEO analysis report of your website and tells you if anything is wrong with your website On-Page optimization like, Title tag, Meta description, body tag etc. It also tells you about off-page data like link popularity, domain popularity, page indexed in Google, Google PageRank, etc.
This free SEO chrome app tool also gives more details like your social network data, semantic analysis (ease of use, keywords, etc.).
2. SEO SERP Manager: This is one of the best free chrome tool to check your keyword ranking on Google (US, UK, Germany, France and Spain) for five different places.
You just have to add your domain and the keyword you want to check for search engine ranking and this SEO chrome application will analyze and will tell you the exact position of your website for a particular keyword.
3. Open SEO Stats(Formerly: PageRank Status): This SEO Google chrome app is very useful for bloggers and webmasters and give information about Google PageRank (PR), Alexa Rank, Compete Rank and Quantcast Rank of the current web page, in addition to getting information on page speed, backlinks, indexed pages, cached pages, socials, Whois, Geo IP location and more.
Just after installing it start working and whenever you open any site it will display its information on the right top of Google Chrome browser. You can click that and can get more information about that website as stated above.
Update: This is now a paid extnesion.
4. SEOquake: I know you must be using this great extension on your Firefox browser for quickly knowing page rank, Google indexed page, Alexa Rank, etc. of any website while searching on your browser. It is one of the must have plugin or extension for Chrome as well as Firefox.
This great tool is also available on Chrome and you can install it for free and start analyzing different websites straight from your browser. This tool has some special options like striking nofollow and noindex links straight in browser. There is also an option to quickly compare the number of domains against their PR, Google Index, Alexa rank, Whois rank, Yahoo, etc.
5. SEO SERP Workbench: Want to quickly know how yours and your competitor's website performing for different keywords, then this is the tool to check. This free tool lets you know your website position for a particular keyword along with other websites. This is a good tool for website analysis in search engines.
---
These are some of the ultimate SEO chrome apps or plugins for all bloggers and SEO experts. If you practice SEO for your website or client website, then this free tool will help you a lot in your SEO optimization and will save a hell lot of time. Let me know if you have any other applications to be added to this list and don't forget to leave your feedback.