How to Customize YouTube Channel for More Traffic
YouTube is a very vast platform to show your talent and skills. In our earlier post we also told you how to make money with YouTube and now in this article we will tell you how to customize your own YouTube channel to bring more subscribers and likes. In recent years YouTube has changed a lot and there are many ways you can have a good looking YouTube channel. Recently YouTube introduced its new design which lets you design your own adorable YouTube channel.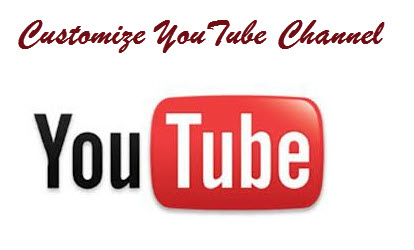 How to Customize YouTube Channel
The process of customization of the YouTube channel involves a step by step procedure. You will have to add new design, links, social icons, description one by one which are explained below. For this tutorial I assume that you are using new YouTube design.
Recommended Article: Associate your Website on YouTube
Adding Channel Art or Image to YouTube Channel Public Profile
Now lets begin by adding a beautiful channel art or your custom image or design to your YouTube channel profile. By default there is no image to your YouTube channel, so to make it eye catching lets add an image.

1. Go to your YouTube Channel and click on Add Channel art as shown above. Or if you have already added any image you change it by edit link at right corner.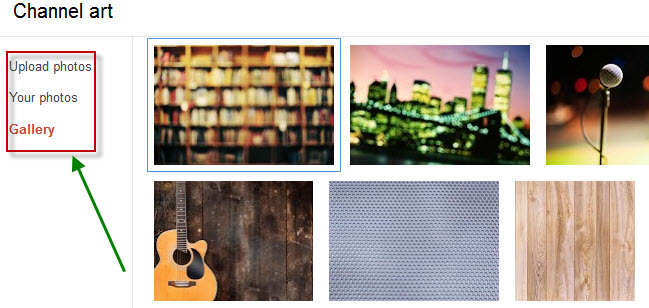 2. Now just upload your image or choose from your photos or you can use default gallery images. Here let say we have selected image from gallery. Now after choosing image, you will be shown preview of how your channel image will look on different platform. Here you can crop your image as per your need and look.
Tip: 1. Recommended size of Channel art is 2560×1440 px and recommended size is 2MB.
2. Use your logo or text in center in image to appear it well in all platform.
Adding Social Profiles like Facebook, Pinterest, Twitter
As now you have set you channel image, it time to add social links like Facebook, Pinterest, Twitter on your profile page. By default Google+ is already added to your account. A default YouTube Channel page is shown below with options to edit the links and channel art.

As shown above click on edit links on your profile page and scroll down to social links.

Now here click on Add and choose your social platform which you want to link in your YouTube channel. There are lots of option to choose from like Facebook, Blogger, Twitter, Pinterest, Tumblr, MySpace, WordPress, Instagram etc.
Note:1. You can only show 4 social links or icons your YouTube channel image.

2. If you are a blogger, I will advice you to add your Facebook, Google+, Twitter and Pinterest profile in Social links.
Adding Custom Links in YouTube Channel Profile
In new YouTube design, now you can also add your own custom link to your YouTube channel profile, which can promote your new blogs/website, any blog post or any external link. Adding a custom link to your YouTube channel is very simple.
As explained about how to add social links to your YouTube channel profile, similarly you can add custom links. Just above social link you have the option of adding custom links as shown below.

Just use add option to add your own custom link and make sure you have checked the "Overlay first link on channel art" option. You can add many links from there but the problem is you can only show one custom link in your YouTube channel profile. Till now there is no option to show more custom links in YouTube channel.
After adding links and social icons to your YouTube profile, the profile looks like the below profile of us.

I have cropped the above image to fit properly here. You can see clearly, that I have added one custom link of Tech2Blog.com and four links of social media (Google+, Facebook, Twitter & Pinterest).
Adding Description in YouTube Channel
Description of any website or blog is very important as it tells what the site is about, so similarly description of your YouTube channel is also very important.
So when you add your custom link or social links, you can also add your description that time as it is just above them. Give your channel a good description and tell the purpose of it.
---
Hope you have got an idea how to add your social links and custom links to your YouTube channel with ease. If you have any feedback or suggestion for this post, please leave your comment below and if you like our post please consider sharing it with others.