5 Free Android Apps for Photographers
The Android operating system has almost covered the whole mobile phone market and daily mobile device providers like Samsung, Sony Ericsson, LG, Micromax etc. are launching new phones with lots of features. The most interesting thing about Android is that, you can find lots of games and application for free or less price. Even if you are a photographer and loves your DSLR the most and don't play much games on your android, then also you can use some of the very helpful Android apps for photographers and can give new dimensions to your photos.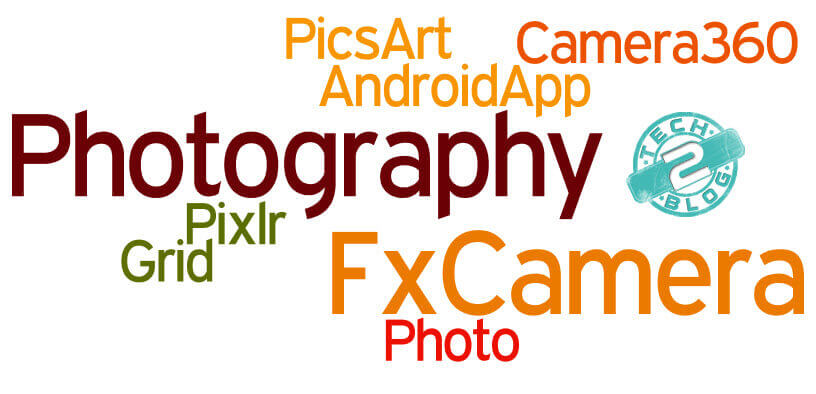 5 Best Android Apps for Photographers
1. Pixlr Express: This Android app is from well known company Autodesk Inc. and is free application that allow any user to edit photo easily with a wide variety of options. Quick crop, re-size, red-eye removal, photo effects, rotate etc are few of the features of this great photography app.
Recommended Article: Best Software for Photographers
This Android application for photographers use very small space, i.e. 6.2MB and is compatible with all Android versions above 2.2. This Android app has very good feedback from users and we also recommend this application for your user. You can also use this app to directly take photos from your mobile and also works without a camera.

2. FxCamera: FxCamera is a free Android app from Bitcellar, Inc. which is easy to use and with it you can apply over 30 filters to your photo. Within this app, you can set the auto-timer, auto-focus and can apply various effects on go which will give your images a new look.
Within this Android app, you can also search for any photos through hashtags. You can now easily "favorite" your photos and leave comments on photos as a source of communication.
Size of this Android app depends on phone to phone and can be used in various Android version. Using this app, you can share your photos to your friends on Social Networking sites easily.
3. Camera360 Ultimate: This is another great free Android application for all photography lovers and give many option and effects while taking pictures. Camera360 offers you effects to enhance photo and Scenes to decorate photo when shooting.
HDR effect of this application is very impressive and give you out of this world photographs with bright colors. New version of this app, also allows you to store photographs on cloud with easy share functionality on Facebook, Twitter etc.
4. PicsArt – Photo Studio: This application turns your Smartphone camera into a professional photo taking DSLR camera with its great effects and editing option. Within this application you can easily share your photos. This application uses double functionality of both desktop photo and image editing suites.
This application uses your standard camera to take awesome photos and with its artistic photo effects like stencils, cartoonizer, sketcher, vintage, cross process, HDR, fattal, pencil, Holgaart, watercolor, contours, comic, old paper, pastel, red eye remover, smart blur, face fix etc. give your photos a new look, which will be liked by all your friend circle.
This is a must have application for your Android device and one of the best Android app for Photographers. This application also consumes less memory and space in your device. So enjoy this great Android app.
5. Photo Grid – Collage Maker: This application is also very good to edit your photos, make collages or even make video from your photos very easily. Though the name is collage maker, but it does lots more than that.
With this photo editing Android app you can apply the fantastic filter, add stickers and text and straight from Photo Grid you can share your photos with your friends and family or social networks. You can also easily create posters using this Android application which is my favorite job in this app.
The other feature which I like the most about this Android App is its video slides option, which can turn your photos into stunning video stories. Video stories are a great way to show your love and affection for others.
As a photographer you can send video series of your work to your client or to your follower and I am sure they will love it.
If you know some more great photography application, then please share through your comments. Hope you like our collection of FREE Android Application for Photographers. If you like this post, consider sharing it.