How to Create YouTube Channel for Google+ Page
As discussed earlier YouTube is a very good platform to show your talent and earn money online while uploading your own videos to YouTube. YouTube has many great features from every aspects and from blogger point of view the features are awesome. Google+ pages are good way to promote your website and if you connect your Google+ page with YouTube.com then it can give you more benefits.
This article illustrate on that and will show how you can connect YouTube and Google+ page by making YouTube channel for your Google+ page on few simple steps.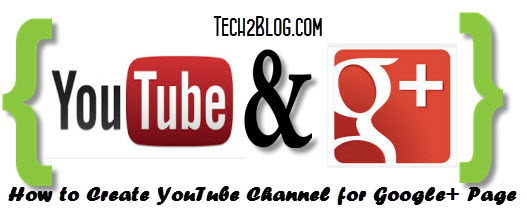 If you don't have Google+ page for your website/blog till now, then you should read How to create Google+ page for your website.
Features & Benefits of YouTube Channel for Google+ Page
1. Managers of Google+ page can easily manage YouTube Channel of Google+ Page.
2. Your personal YouTube channel and Google+ page channel are independent of each other.
3. You can easily start Hangouts from you page and will be live on your Google+ page YouTube channel.
4. Your website branding.
5. Video you upload on your Page YouTube channel will directly show on your Google+ page too.
Steps to Create YouTube Channel for Google+ Page
1. Visit YouTube and go to your YouTube settings as shown below.
2. Now on "overview tab", go below to Additional features and click on "See all my channels or create a new channel".
3. Now on this page you will see two options. One of my channel and second of other options. Other option heading contains all your Google plus pages and clicking on any one will proceed to YouTube channel creation of that page.
4. Now once you have click OK on channel creation page for Google+ page, it will show you message that your YouTube video channel and Google+ page will be connected and both will display same name and photo. Just click on OK.
5. Once you have clicked OK on step 4, you will be automatically redirected to your new Google plus page YouTube channel settings. Here we created YouTube channel for our blog (Tech2Blog.com) from our Google+ page.
Recommended Article: Start Making Money with YouTube
Now you have created your YouTube channel from your Google+ page and now its time to make it look better for users and search engines.
We have already shared guide to customize your YouTube channel for more traffic and making it look good and now its time to give your newly created YouTube channel a custom URL.
Creating Custom URL for Google+ Page YouTube Channel
When my YouTube channel for Tech2Blog was first created, it was having many numbers and alphabets in its URL and was too big which is not good in terms of SEO and users. So we made it simple to remember for users and search engines by editing channel settings.
You should also make your YouTube channel URL SEO and user friendly. You can do by watching below video, which we have exclusively created for you.
Hope you are now comfortable with creating YouTube channel for your Google+ page and then giving it a custom URL for better search engine optimization and branding. Though these steps are very simple but if you have any problem in creating your channel, then don't hesitate and let me know. I will be happy to help. You can leave your comments for feedback and issues. And if you like this post do share it on your social network and do subscribe to our YouTube channel.