How to Associate your Website in YouTube
Posted on

April 15, 2013
In YouTube
Playing with YouTube and exploring new settings in it, has now become one of my hobbies these days. If you are running a video blog or even a normal website and have set up your own blog channel on YouTube, then associating your own website on YouTube can be a very good idea. Adding your own website to YouTube help in better search engine results and also lets YouTube know that you are the verified owner of your associated website channel.
I must say that adding your website to YouTube is one of the easiest and very simple processes and you will be able to do it in just 2 steps.
Recommended Post: How to Verify Your YouTube Account
Steps to Associate your Website in YouTube
1. Login to your YouTube account and go to Channel setting as shown below.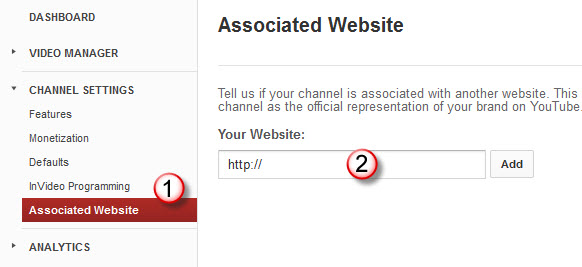 Now click on associated website, marked as 1 on the above picture and then enter your website address and click add.
2. After adding your website, you will see that your website has been added to YouTube and will show a success message on the right side with green signal.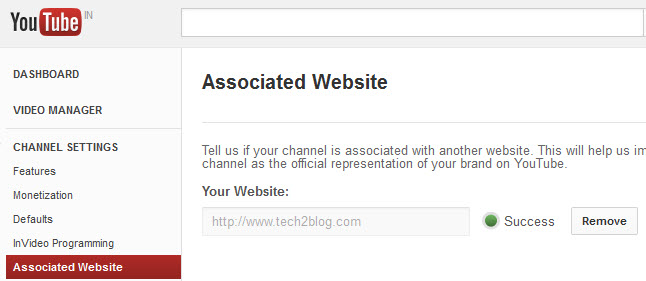 You must be seeing a remove button on side of success, it is for removing your present site from YouTube and adding your other website which you want to promote.
---
If you really want to make money with YouTube by posting your own original videos in your YouTube channel, then I will suggest you to associate your website or blog with YouTube as it will give more authority to your YouTube channel. If you have any problem in adding your website to YouTube, then leave your comment with error or problem.
If you like this post, please consider sharing it with your friends. You can also Subscribe to Tech2Blog.com by Email to get free tips and tutorial on your Inbox.