New 6 SEO Tips for Blogger's Blog
Google blogging platform Blogger is a great tool for all sorts of bloggers and is one of the widely used blogging platforms. Whether you are a newbie or a professional blogger, I am sure you must have used or using The Blogger platform for your blogging needs. From time to time Google keeps on updating the Blogger platform and adds new features which are beneficial for bloggers.
In a recent Blogger upgrade Google has introduced some of the very good SEO features in Blogger platform which were missing from a long time and I am sure all the bloggers need that options.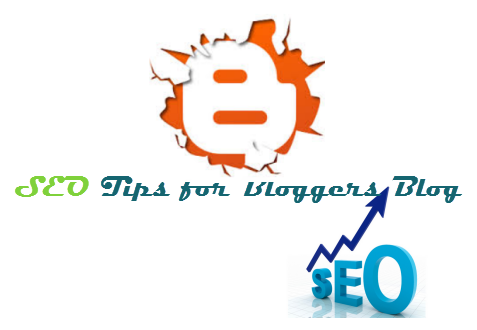 Today a number of people are using the Blogger platform for blogging, some are using it for making money online and some are here for sharing information and their personal thoughts. In all everyone in the blogging world want to get more audience for their blog and thus talking about search engine optimization (SEO) is not a bad idea.
SEO is very important for all bloggers. In another blogging platform like WordPress there are many plugins and options for SEO but Blogger was missing these things. But now Google has also introduced some very good options in the Blogger platform which help all bloggers to SEO optimize their website well and thus give them good rankings in search engines.
6 SEO Tips for Blogger's Blog
1. Correct Title: The title of every post is very important and it should be well-optimized and should focus on the main content of your post. The title should be such that it should tell the visitor what your post wants to say.
We should always use our main keyword in our post title and should limit it to maximum 70 characters. Try to avoid using shortstop words like "a, an, the, or, etc."
2. Custom Permalink: Blogger's new upgrade has introduced a custom permalink option, which is a very good option to optimize your post links. Permalink also plays a very important role in search engine optimization and you should carefully customize them according to your post.
By default, this option is enabled and you just have to click on the permalink and set your own custom post link as shown above. As you can see above, we have only used the main words in our permalink and avoided short words like to, a, an, etc. Also, remember don't make your permalink too short. The best permalink contains at least 4 words in it.
3. Search Description: This is a very good option in Blogger platform now and it can display your desired description in search results which help in better SEO and thus your post can rank higher in search engines like Google, Bing, Yahoo etc.

By default this option is disabled and you have to enable it by going to settings and then to search preference as shown above and check option yes on enable search description. After enabling you would able to see a search description in post settings. Just enter your description and publish your post.
4. Image ALT & Title tag: It would not be good if I don't mention about image ALT and title tags. These tags are very important when we talk about Image optimization. When the Google bots crawl your blog post then they also search for this ALT tag and the image with ALT tags is ranked higher and you can thus get more traffic from your images.
You can check how Google sees your post using Google Webmaster "Fetch as Google" option.
5. Automatic Post sharing on Google+ Page: Google+ can be a good option if you want to increase your user engagement and in turn increase traffic. And you must connect your blog with your Google+ profile. I have observed that blogs that are connected to their Google+ profile are ranking higher in search engines.

The main benefit of connecting your Blogger's blog with its Google+ page is that your post will be automatically shared to Google+ (plus) page which will save you time and thus you will make sharing automatic without any third-party software.
6. Responsive Blogger Templates: In the current blogging scenario, using responsive themes and templates for your blog has become must as nowadays most of the websites are browsed through Smartphones and tablets.
Recommended Post: Free Responsive Template Checker
Even now Google also recommends using responsive ads only on responsive templates only. So if you use a responsive template on your blog, not only it will give rich user experience but it will also help in making your site fast and will help in increasing your online earning too by using responsive ad units.
---
These were some of the SEO tips for bloggers from my own experience. After using all the above options I have seen a good increment in my website traffic and also I have got my lost Google search engine ranking back in one of my Blogger blogs. Hope you will be too benefited from these tips and will implement them on your blog too. You can also Subscribe to Tech2Blog.com by Email to get free SEO tips in your Inbox.