How to Make Money Online With Social Sharing Plugin
Social networking has become one of the growing entertainment and publicity platforms. Now every news and happening in the world are first shared on social networking sites like Facebook and Twitter. Blogging industry is also not behind in using social sharing buttons on their website. We have gone through many social sharing plugins in WordPress but po.st is a unique social sharing plugin which let's website admin to earn revenue from it. Question is that how we can make money online with Po.st social plugin ?
How Po.st Works?
Po.st Social sharing plugin is a free WordPress plugin which allows you to earn when visitor click on ads shown after sharing your post to the social network. As per Po.st "When somebody shares content through Po.st, there is always a pop-up confirmation to notify the person that they've successfully shared using Po.st. Publishers have the option to take advantage of that pop-up to deliver targeted advertising to their viewers".
Po.st Benefits for Publishers
There are mainly 3 benefits of using Po.st social sharing in the website, which are as below.
1. Generate Revenue: It helps you to generate additional revenue from your site without using your ad space.
2. New Viewers: Help you to build new visitor for your site.
3. Social Analytics Dashboard: Provide all the sharing statistics through a single dashboard where you can see which post is shared how many times and from which country and much more features.
Read More about publisher benefits of Po.st
How to Create & Step-up Account with Po.st

To create account with Po.st you need to sign up with po.st which takes only 5 min. Just choose your social sharing style as shown below and click on sign-up and get code.
After sign-up with Po.st, you will have to install Po.st Social sharing WordPress plugin and put the publisher key to active the plugin. Publisher key is available in your Po.st account.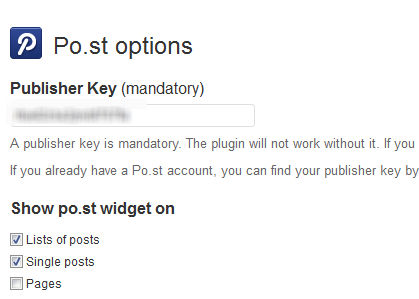 Now you can also change position, orientation, and setting of your Po.st social sharing widget.
How to See Earning in Po.st

You will not see any revenue or earning tab in your Po.st account and also nor in your WordPress plugin. To setup your revenue account you will have to mail luis[at]radiumone[dot]com and Luis will setup account for you. Revenue/earning dashboard is setup by "RadiumOne". So enjoy earning while your visitor shares your content.
---
Hope you enjoyed this article. If you do, don't forget to share this article with your friends and family and do follow us on social media channels.