How to Make Money with Cuelinks
After you have made your decision to monetize your blog and right time has come to monetize your website, then main problem arises which affiliate or advertising network to choose. Undoubtedly Google Adsense rules the CPC network and all bloggers and webmaster loves to use it but there are many other ways, you can monetize your website along with Google Adsense or any other network.
In this post I would introduce you to Cuelinks which is an Indian affiliate network and good option for your Travel, Coupon or deal website.

There are many ways you can monetize your blog and affiliate marketing is one such way. To be successful in affiliate marketing it requires lots of hard-work, experience and patience. You'll definitely want to use some sort of money management package so you can track all your profits. If you are India based and running website on travel, electronics, shopping, coupon codes, fashion etc. niche and want to try affiliate marketing which will work for you, then I will recommend you to use CueLinks content monetization tool which is specially made for bloggers like you and me.
Recommended Article: How to Earn Extra Money from Home
I came to know about Cuelinks from my visit to Ad:Tech New Delhi 2013, where I got the chance to meet people behind Cuelinks. And that day I only signed up for Cuelinks and started using it here after April. As Tech2blog.com is a technology blog so currently it is making very less money with this network. But I am pretty much sure that it will perform very well in fashion, coupon, travel, insurance type website.
What is CueLinks?
As per Cuelinks website "CueLinks is a 2-minute Content Monetization tool for bloggers, deal site owners, coupon sites, forum owners or any publishers or in fact, any websites which sends outbound traffic to online shopping, travel, finance or matrimony websites".
And I fully agree with their definition of Cuelinks and they have really fast integration system.
Features of Cuelinks
Simple Sign-up process.
Fast Approval.
Easy integration of CueLinks affiliate code/script.
Timely payments.
Tool to create any link into affiliate link.
Automatic affiliate link conversion.
Large variety of advertisers.
Category based Ad Widgets
If you are a blogger, who is rejected by many big affiliate programs, then you will be happy to know that this program give opportunity to all the publisher whether big or small and there are 99% chances that you will get approved.
Cuelinks has automatic affiliate link creation facility, you just have to add their script in your blog body tag and you will be recommending some of the best product automatically through your affiliate links. All outgoing links from your website automatically become your affiliate links.
I like CueLinks platform and service very much. You have all most all the merchants at one place and the best part is that you don't have send requests to each and every advertiser to get approved for their affiliates. You are already eligible for all the merchants who have partnered with Cuelinks.
Some of the popular merchant in the CueLinks affiliate network are Flipkart, Croma, Airtel, Expedia, ShopClues, Homeshop18, FoodPanda, FreeRecharge, Jabong, Zovi, Myntra, eBay India, FutureBazaar, Quikr, Big Bazaar, Bata, Bagittoday, Chhabra555, Goibibo, HDFC Life, HostGator, Hilton Hotel, JetAirways, Amazon.in etc.
Recommended Article: How to Earn through Google Consumer Surveys
Above were only a few of the merchants from their long list. If you notice above list of merchants, you will find that there are merchants from every sector whether it is clothing, Shoes, insurance, grocery, travel, food etc., so you get all types of affiliate at one place.
CueLinks Dashboard
Dashboard of Cuelinks is very simple and contains all the needed information for publishers. Below the main tab there is earning detail section which tells year to date earning on your account, current month earning, last payment detail & next payment date.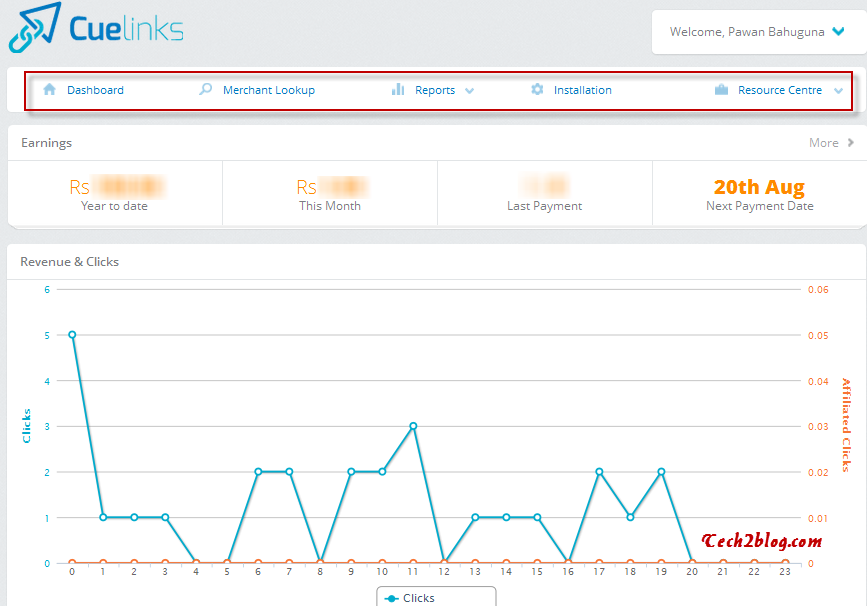 Below earning table, there is a Revenue & Clicks graph, which shows you the graph between total clicks on blogs and affiliate clicks. You only get commission for your valid affiliate clicks. After this there is Clicks Stats, Insights & detail about new merchants.
Merchant Lookup at Cuelinks
Find any advertiser in Cuelinks is very easy task and you can click on the merchant lookup tab & easily find merchants of your choice for promoting. Below is the example of the same, where we have shown how easy is it to find merchant on Cuelinks. You will notice that finding any merchant is very easy and fast.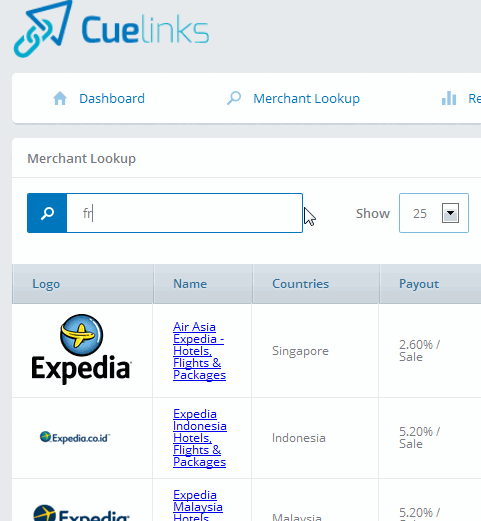 You also have option to choose merchant depending upon the location.
Cuelinks Reporting
Cuelinks also has made its reporting very simple and you can see your outgoing traffic report directly from its reporting section. To generate your report you can select the date frame and can also see links of websites to which your blog is providing traffic.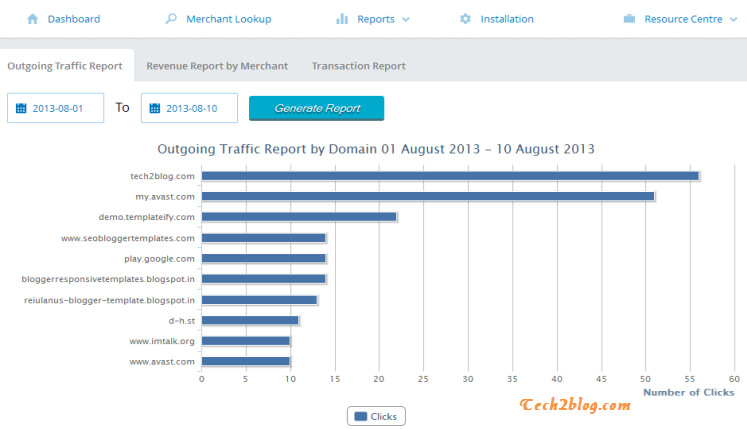 It can be also used to show your blog advertiser that this much amount of traffic you can easily provide them. Cuelinks also allows you to download your reports to CSV, XLS & PDF format.
Cuelinks Payment
Payment cycle of Cuelinks is NET60 based like many other affiliate network and they do payment through direct deposit and cheque.
You will not see any option to fill your payment details in your Cuelinks account. This is a manual process and once your account reach a threshold limit of Rs.500, your account manager will contact you and will ask for the necessary details.
UPDATE:
Cuelinks have started a new feature of monetization, which is called Cuewords.
Cuewords will automatically detect the word in your content and will add relevant links within the content, which will increase your overall earnings.
Cuewords are easy to setup and you can go to your Cuelinks dashboard and just "ON" the feature. You can set your density of Words between 2 to 10 and can also choose hyperlink colour.
---
In my opinion Cuelinks is a must try affiliate marketing option for all and without using any extra space, it can really make you good money depending upon the niche of your website.
Hope you got one more way to monetize your website and you will share this network with your other bloggers friend too. Let us know what you think about this network through your comments. Happy Blogging and keep visiting. Do subscribe to Tech2Blog.com by Email to get free information on making money online.