Best Online Tools to Create Meme for FREE
From few years there has been a trend in sharing images over the internet as images appeal viewer more than plan text and this is 100% TRUE. In this digital trend MEME has emerged as one of the very lovable form of image used for sharing and expressing thoughts, and I am sure you must have heard word MEME. So in this article we are going to tell you some of the best tools to create MEME's for FREE.
Just for your knowledge Richard Dawkins coined the word meme in his 1976 book "The Selfish Gene" and Impact font is mostly used to create a MEME.
Without wasting much of your time, let me start with some of the best websites to create MEME.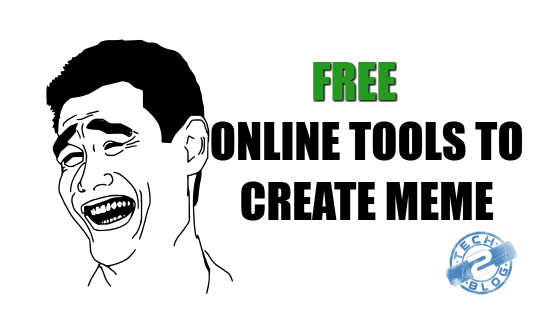 Free Online Tools to Create Meme
1. Imgflip.com
This is one of the best free tool available online to create meme. You just have to add your text to available images or memes and you are good to post your meme. You can also upload your own images for creating meme.
In this online tool, you have the option to add text, resize the text, use your own images, select font, save meme, etc.
It only takes few second to create a MEME through this tool. So, you can say it is one of the fastest tools to create a meme.
2. Meme generator
This is one of the oldest sites to generate your own MEME. You can browse the available images and create your own meme and can also upload newly created meme to imgur or share on Facebook.
This site also tells you what currently popular memes are. The drawback of this site is that you can resize your text and also cannot move it.
3. Meme Center
This website is also one of my favorite tools to create Meme as it gives you two options to create a meme. The first option is an advance option and allows you to create a meme and allows you to change every aspect of that meme. You can choose a blank project or create a rage comic. You can also create a pie graph meme in this option.
Second option allows you to quickly create a meme. Just choose or upload your own image and enter the text, your MEME is ready. Do check this tool.
This is also, simple to use online tool to create MEME's. Just visit the site, choose an image for your meme from thousands of available images and add your text.
Like other websites, you can also browse new meme's and can add your own caption. The best part of this website is that you can also hide their watermark. So, do check them out.
If you need freedom to do lots of editing yourself to create more engaging meme's, then this is the tool for you.
It is basically cartoon maker and comic creator tool, but also allows you to create Meme's. Just click on "Meme text" and enter your text, resize it and share or download it. It is that simple.
You can also add some characters, bubbles, symbols, etc.
6. Imgur
Imgur is a very famous site for uploading and sharing photos and also has an online meme creator tool. You just have to select pre-uploaded or upload your own image and then enter top and bottom text.
Isn't it simple to create your own meme's for free using this tool.
7. Livememe
Livememe is another easy to use website to generate meme. You can choose from available images or can upload your own picture and then add the text. There are also some pre-loaded meme on their homepage which you can use for example.
8. Troll.me
Like other website, it is also Meme creator, and generator website. Just choose any picture or upload any image and enter the text.
The best feature of this website is that you can change the color of the text. You can also browse popular meme, according to time. I don't like annoying ads on this website.
9. Memecaptain
Memecaptain is also a good site to create a meme and also gives you the option to upload your image or choose any other picture on the website. Though its editing tools don't look so friendly to me. Do try it and provide your feedback.
---
I am sure you must have liked this post on FREE online meme generator tools and will surely gonna make some meme's for your websites, social media profile or for friends. Do let me know what are your thoughts on this and do share other MEME creator tools which you are using. If you want to get more such articles do subscribe to our blog.