Get Free 3000+ Backlinks for Website
Taking your website or blog to new heights of success is the dream of every blogger and for this you really have to work hard and regularly update your blog content. There are many steps which are involved in developing a good blog with high authority. And for high authority website we have to create a good content so that we can get decent traffic and also people can like and share our articles in their website and blog with proper backlinks. Backlinks are very important for any website future and progress.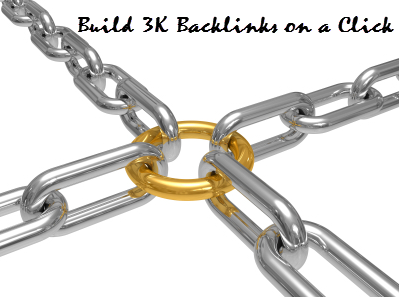 One of the traditional way of building backlink is to comment on similar website as yours or leaving your website link to other website with anchor texts. But these ways are time consuming and takes a lot of time in reading article and then writing a comment for it. Today we are going to tell you a simple way by which you can tell search engines that your website exist in World Wide Web.
Have you ever tried searching your new website in Google or Bing. If yes, then I am sure that you must have got only few exact links which will be showing your domain name or may be nill. This is because know one knows about your site. So here we're going to tell other website, that Hey we have built a new website, come and visit us.
OK, OK, now we will not bore you much and will come straight to the point. I know you have visited this article because of its title "Free 3000+ backlinks for website/blog", then don't worry, you won't be disappointed.
IMtalk.org has build a website submitter tool by which you can submit your website to site's which are mainly "who is", "about us", "website statistic", etc. type of websites and are regularly crawled by search engines.
So this tool will ping those website with your website address and will create a page for you. In this way your new website will gain some authority and will start indexing by search engines. By this you also get some do-follow and some nofollow backlinks.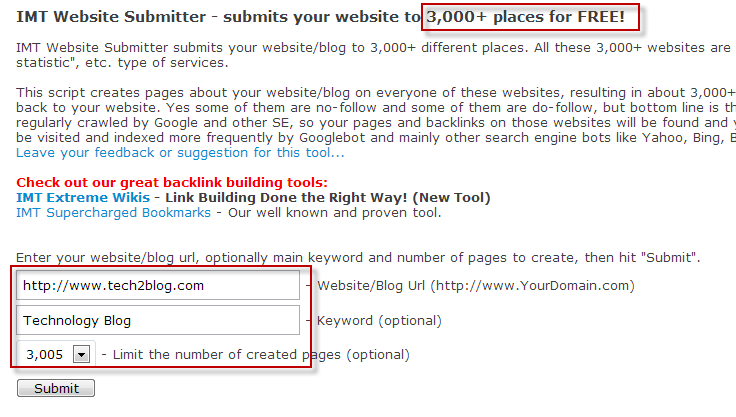 How to Submit Website for Creating Backlinks
1. Go to ImTalk.org Website Submitter page.
2. Put your Website address and select your website Keyword as shown above.
3. Now choose to how many website you have to submit your site. You can choose minimum 50 site or can submit to 300+ website after clicking submit button.
Note: Please have patience and wait it to submit your website. If you have chosen only small numbers of site, then your time will be less as compared to submission to 3000+ site, so relax and let tool create the page

Don't close the browser until it has created all the pages.
So this was one of the easiest way to submit your website and get free backlinks quickly. I don't guarantee that after using this tool, you will exactly get 3000 backlinks but this tool is must use tool for every blogger and webmaster. If you have any issue related to this, please leave your comment below. If you like this post please consider it sharing with others. You can also Subscribe to Tech2Blog.com by Email to get free alerts from Tech2Blog.com on your Inbox.