Top 10 Hottest WordPress Themes for 2017
Posted on

October 18, 2017
In Themes
The best thing about WordPress is that you get the liberty and the luxury to play around with countless themes.
However, you cannot blindly go about picking a theme without considering the nature of your business and how you want to display/convey things to your audiences.
It's safe to say that picking a theme is just as paramount as picking a web hosting service provider.
And, while there are countless themes floating around over the internet, in this post we attempt to familiarize you with 10 hottest themes that are trending in 2017.
If you want to see the full list of 2017 best free WordPress themes find the list at Hostinger.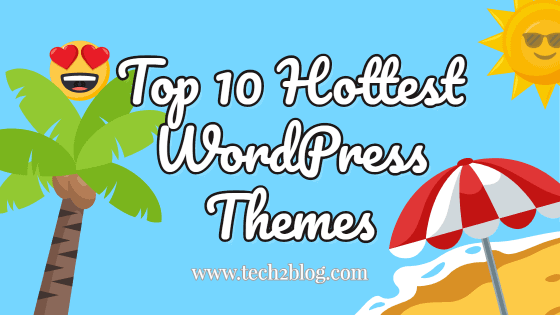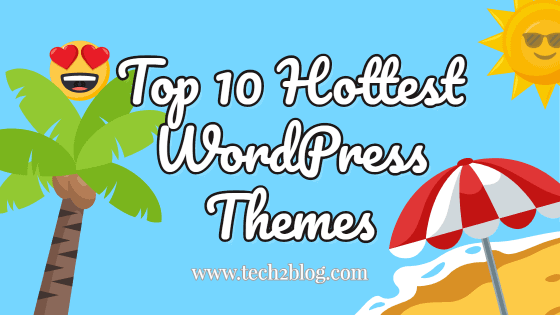 1. Shopera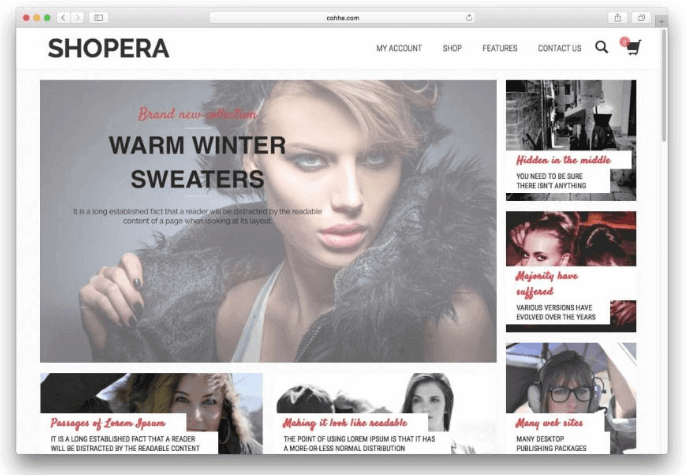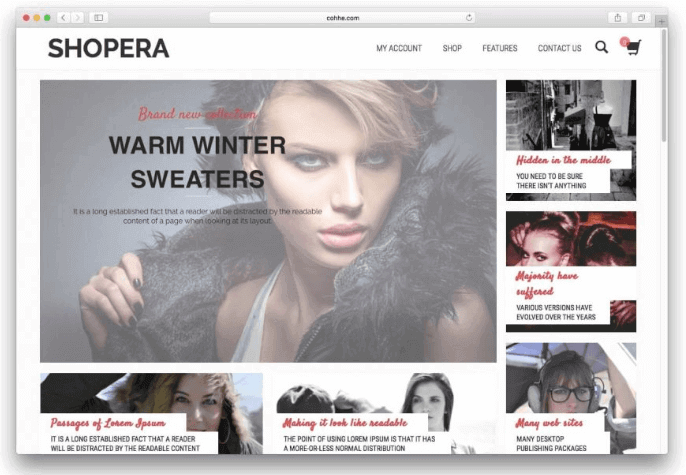 Simplicity is the best policy. We've been told that repeatedly. And, this template is a testimony to that statement. Go with this one if you plan on putting up a simple web shop to display products in a neat and attractive manner. This is a highly responsive, modern, store theme which integrates seamlessly with WooCommerce. What more, it allows you to upload your own brand logo, shop breadcrumbs along with a 'Scroll to Top' button. You can get started with Shopera here.
2. Llorix One Lite
A perfect blend of modernity and elegance! This theme goes in line with the whole 'minimalism' philosophy. With this theme, users can incorporate high quality feature images on the home page. All popular plug-ins like bbPress, MetaSlider, and WooCommerce are supported.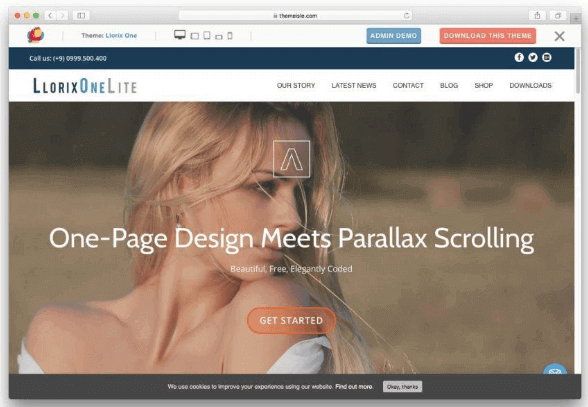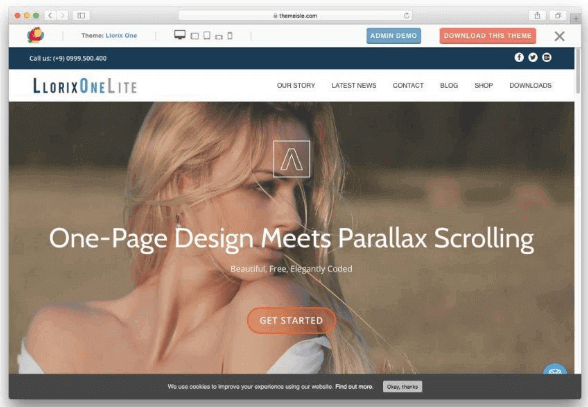 Llorix One Lite is a functional theme. It's highly customizable so feel free to experiment as per your need to create a premium-looking, rich website with minimal efforts. Try it now.
3. iFeature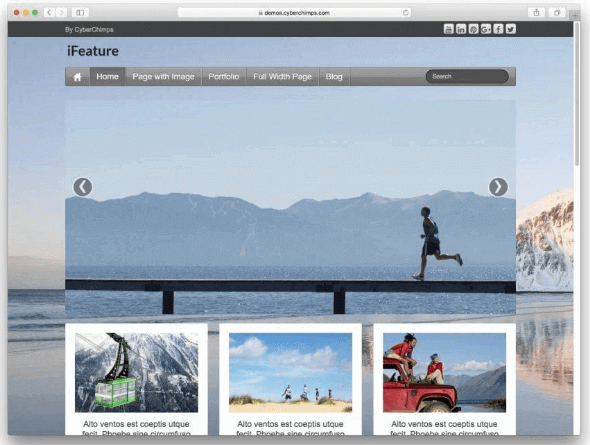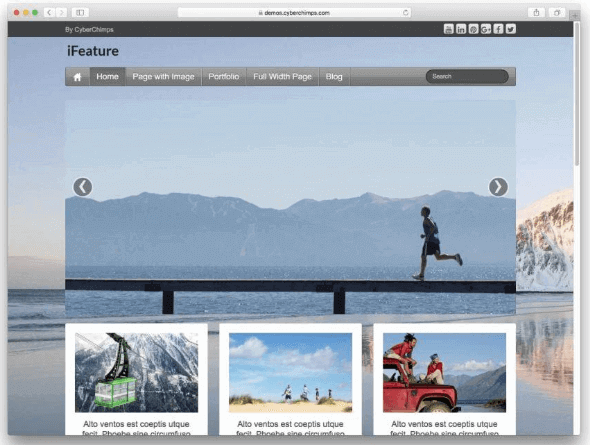 An extremely versatile theme, iFeature has been designed keeping in mind business agencies and store owners. As long as you know how to drag and drop things, you can build a website around this theme. The design and navigation channels are global, thus creating room for infinite possibilities.
iFeatuare is a fully responsive theme that loads nicely on all touch-friendly devices.
4. IsleMag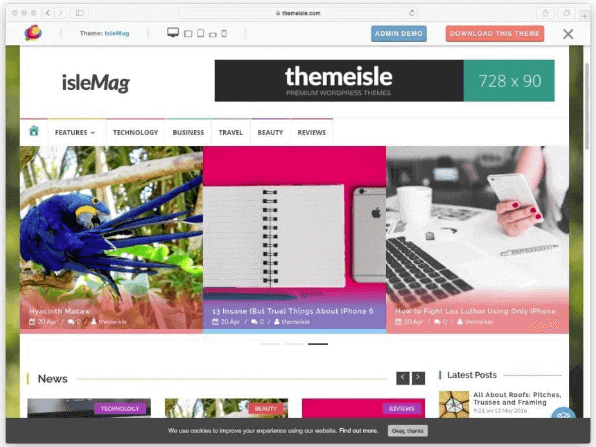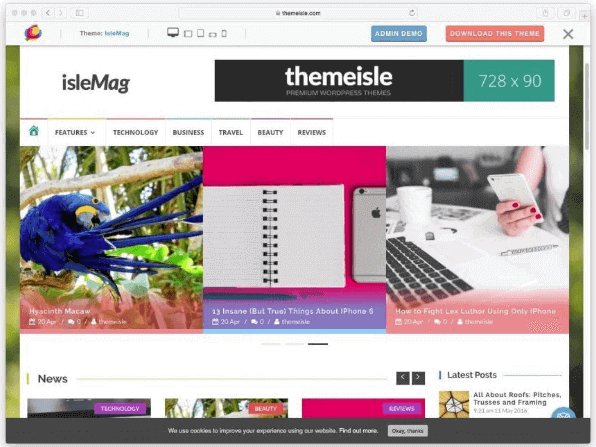 If you wish to develop an online magazine style website, then look no further than IsleMag. The theme features a place for displaying ads, a carousel slider for interactive content, and a dedicated section for review system. No matter which industry your e-zine belongs; IsleMag will help you develop a powerful website of your choice. Add social media links and integrate it with countless plug-ins. Check this.
5. Corporate Plus
This theme is perfect for building a professional portfolio or a business website; as abundantly made clear by the name. Users can incorporate a dedicated service section, an about section, contact us section with a full-width slider.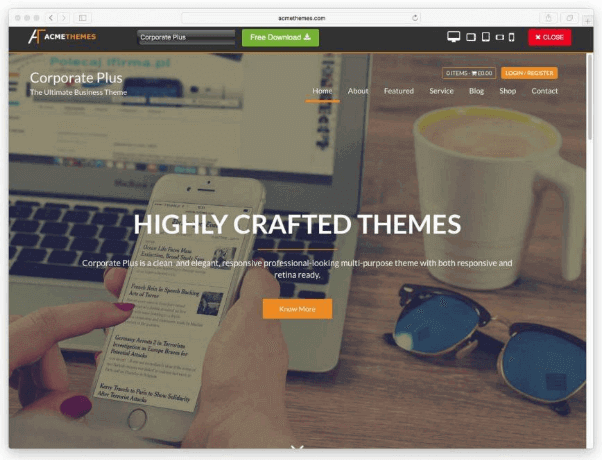 Icing on the cake is that Corporate Plus is compatible with WooCommerce. So, expanding the site won't be an issue. You can sell both digital and physical products on a site build around Corporate Plus.
6. Storefront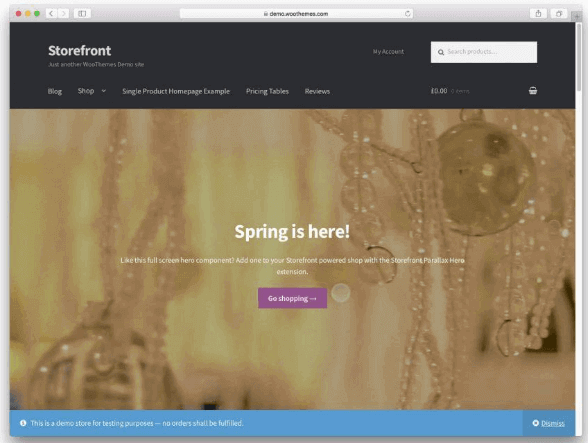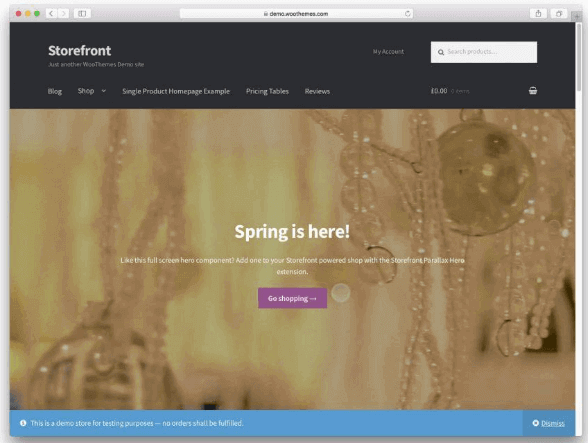 Now there's a theme that comes directly from the developers at WooCommerce. We all know that 'online selling' has no limit. If you're also considering jumping on this bandwagon and start your own online store, this theme is just the thing for you. Integrating the ecommerce platform is incredibly simple and you can start the sales right away. Storefront supports countless WooCommerce extensions so you can add product listings, subscriptions, and lots more. This theme is here.
7. OceanWP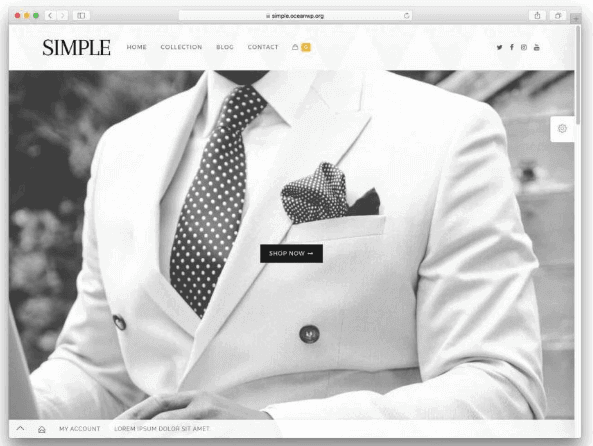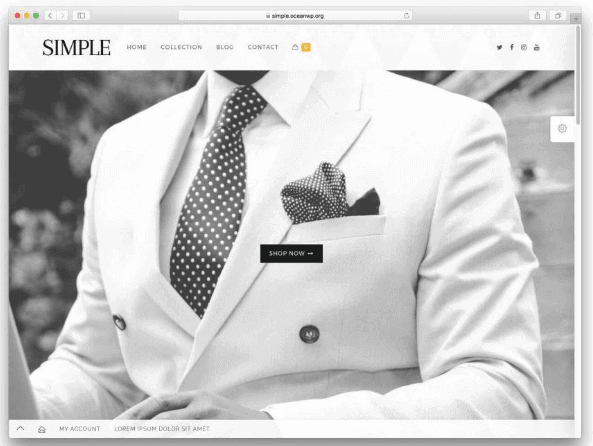 Now there's a WordPress theme that defines versatility. While there are themes dedicatedly created for a professional business portfolio, online magazines, and online stores; OceanWP works seamlessly for users with all sorts of needs. You can use it for starting a blog, launch a business site or even an online store. The theme features 13 demo options, more than a dozen extensions, and a wide static header. The theme is here.
8. Athena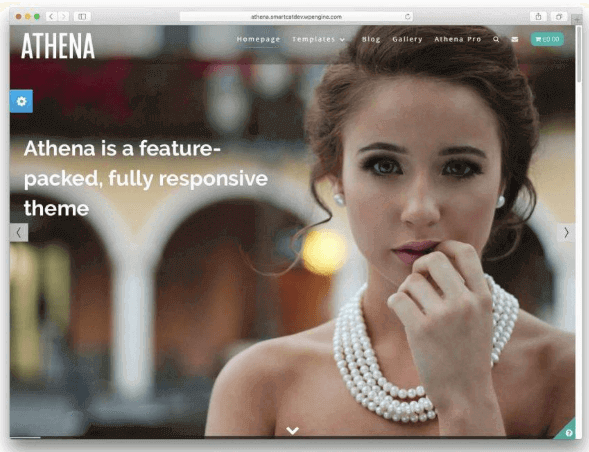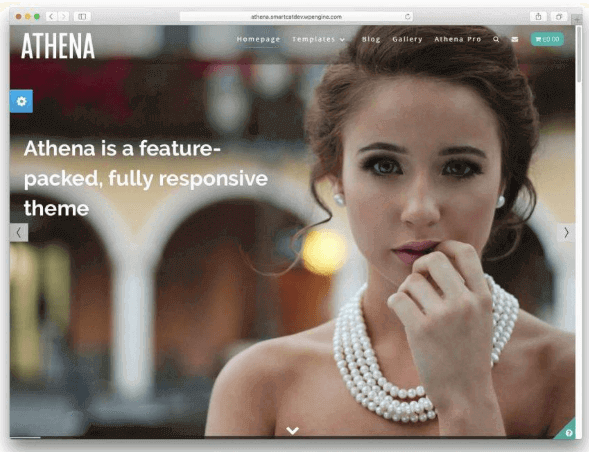 A WordPress theme that's loaded with myriad features – Athena is perfect for bloggers, entrepreneurs, and creative users. There's the featured image slider, a grid-style layout, along with animated callout for that extra edge. Feel free to play with social media links, menus, colors and widget area as per your business requirements. A valuable addition to Athena is 'the live customizer' , which definitely takes the cake. It allows seeing changes during editing in real time.
9. The Minimal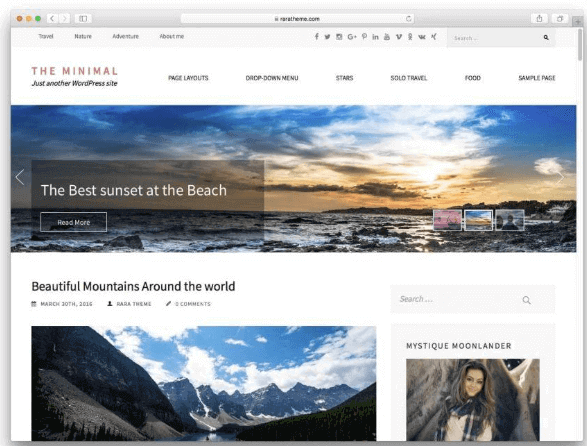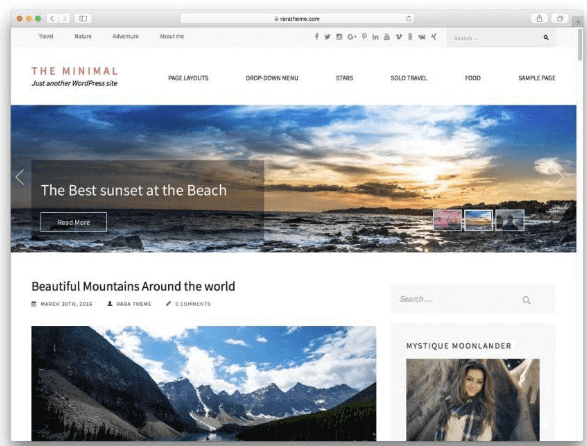 This is a theme that's built for all the minimalists out there. The theme conveys the most crucial things without burdening the users with flashy graphics and unnecessary distractions. Plain and simple! This is the theme that is mainly recommended to authors, journalists, and bloggers as it puts the emphasis on the most important thing – the content.
People only see what you want them to see.
10. Accelerate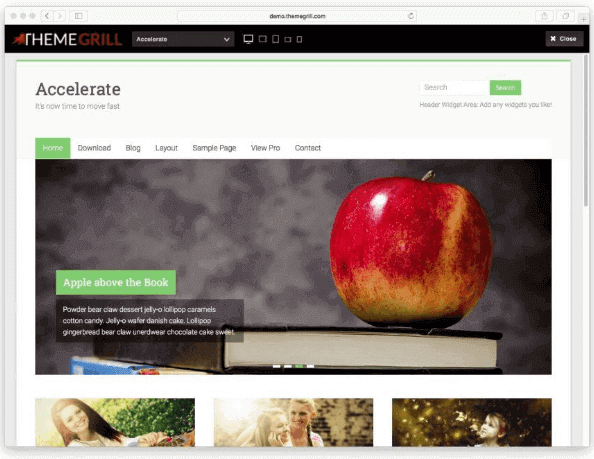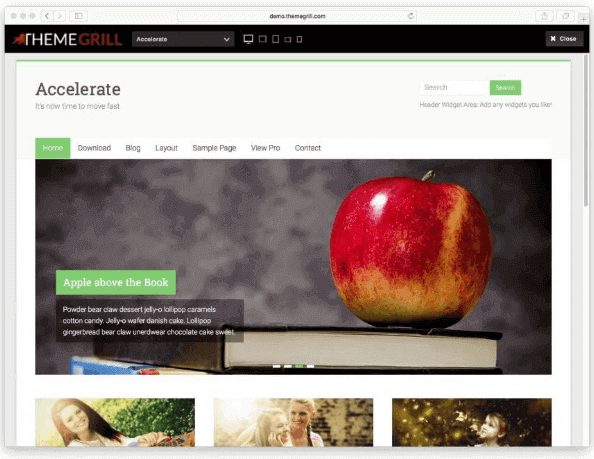 The theme stands true to its name. If you need a fast-pace design process, then 'Accelerate' is the theme for you. It is perfect for building blogs, portfolios, online stores and business sites. The inclusion of white space is definitely something new and interesting. Accelerate allows plenty of room to play with visuals and images for an interactive site. On top of that, there are countless easy to use design tools. It's perfect for both novice and expert developers. The theme is waiting for you.
Conclusion
It's nothing but a myth that website users should invest in high-costing premium wordpress themes to enjoy the whole spectrum of features. Free themes prove just as effective and functional as the paid-ones. And, the ones mentioned in the post above are more than perfect for websites users with varying needs.
Let us know which one sounded like your favorite ones and which ones you would like to try out!