Hostgator Baby Plan Review with Discount Coupon
HostGator is one of the most trusted hosting provider with experience of 10 years in providing best hosting services. HostGator.com was established in 2002 and since then it has been a world-leading provider of web hosting service. HostGator provide best plans according to the need. Hatchling plan, Baby plan and Business plan are the three shared hosting plans which HostGator offers.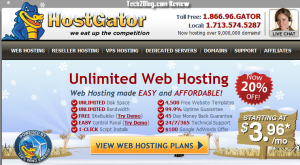 Hatchling plan is for a user who wants only one domain to be hosted and comes with unlimited disk space and bandwidth. HosGator Baby plan users can host unlimited domains and sub domains with unlimited disk space, FTP account, Mysql database, bandwidth etc. Whereas in Business plan you also get Toll free number for your website and Private SSL & IP for free along with dedicated IP with all other features of baby plan.
If you are a new blogger and want cheap hosting with unlimited features, then HostGator Baby plan is for definitely for you as it offers unlimited disk space with capability of unlimited domain. Though it is a Shared Hosting plan and you have to play fair and follow HostGator Shared hosting policy.
Key Features of Hostgator Hosting
Some of the key featured of HostGator Baby plan are listed below.
4,500 Free Website Templates
45 Day Money Back Guarantee
24/7/365 Technical Support
$100 Google AdWords Offer
Hostgator Baby plan Pricing: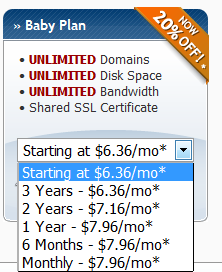 HostGator is offering many price option for its customer. If you are going to run you website for a long run, then you should always choose 3 year hosting plan so that you get your hosting as low as $6.36/month. You can also choose if you want to pay per month, in 6 month or per year. If you choose for longer period, then you get good discount from HostGator. It is entirely upto you for how much period you have choose your hosting account.
Hostgator Discount Coupon for Tech2Blog Readers :
If you want to signup for HostGator new account NOW, then you can get exclusive discount of 25% or $9.94 using below coupon codes.
$9.94 Off Coupon Code :TECH2BLOG1
25% Discount Coupon : TECH2BLOG25
Bottom Line
We highly recommend that you use HostGator Baby plan, as it is one of the best hosting plan with great offering. With Baby Hosting plan, you get lot of features and all Unlimited, which is the best part of this hosting plan. We ourselves using this plan for Tech2Blog.com