5 Reliable Things to Check Before Publishing a Post on Your Blog
Every blogger and content creator knows that "Content is the King". We keep our site updated regularly by publishing a post so that we can keep gaining visitors who like our content. There are a few things you should consider before publishing a post on your blog, which we are going to discuss in this article. So stay calm and read this article.
First of all, let me tell you that these things which you are going to read here are from my personal experience and which I check before publishing a post and you should check too.
I am not including anything to make this post long like any other article available on the internet today.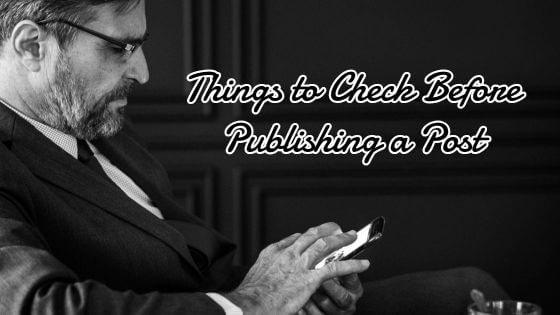 5 Reliable Things to Check Before Publishing a Post on Your Blog
1. Choose Eye-Catching Title
To begin with, "Title" is one of the most important elements of any article or post. The first thing which forces any user to click your article is its title. If you don't have a catchy title, I'm afraid no one will click on your articles to read even if you share them all over the internet.
Try to include some so-called 'Power Words' in your title along with numbers. Title of this article is the perfect example of the same.
2. Word Count
This is another vital aspect of an article. The total word count tells the search engine that the article is just a spam or worth considering in the search results. The ideal word count which is considered good by most of the professional bloggers and SEO plugins like Yoast, Rank Math, etc. is 600 words.
In my point of view, 600 to 1200 words are sufficient to express your views to your readers. Don't make the article too short or too long to keep your audience engaged. I myself try to maintain the word count to 600+ words most of the time.
3. Search Engine Optimization or SEO
Search Engine Optimization or SEO is very vital for your complete website as well as your articles. On-Page and Off-Page SEO are the 2 things which you should take care of.
This includes the proper use & placement of keywords, internal & external link building along with the proper blend of do-follow and no-follow links and adding image to your article along with proper tags.
Different tags should be used while highlighting the different section of your post. This is should include H2, H3, and H4 tags.
Structuring could also one of the key game changers in this section. There are many relevant plugins which can help you to build 'table of content' and you can write your article accordingly.
4. Optimized Images
As images are an integral part of an article, you should always consider adding relevant images where ever necessary along with its proper alt and title tag.
Google and site visitors love pages which load fast, so always consider image optimization as one of the factors to check before publishing a blog post.
Compressor.io and Tinypng.com are the two online tools which I mostly used to compress my images for blog articles.
5. Grammar & Plagiarism Check
Who likes to read an article which is grammatically incorrect and copied from another website?
I don't think you will like it. Similarly, think of your visitors and write grammatically correct articles (you don't have to be 100% correct every time though), but try to write close to perfect and articles on your own.
You can use web browser plugins like Grammarly to check your grammar while you write and can use online websites to check your article for any Plagiarism.
Generally, if you write an article on your own there are very fewer chances that your article will be plagiarised but do verify it and give special consideration to this while publishing any guest article.
---
I hope you like this article and from now on you will check the above factors before publishing your blog post. In case you would like any other important point, please let me know through your comments and email. I have tried to include only the most important points on this article and skipped the minor one.
If you like to get in touch with me, please consider following me on social media and through our newsletter.