Ashampoo PDF Pro 3 Review | Free License Key Giveaway
Ashampoo is here again with the new release of Ashampoo PDF Pro 3 which is a successor of Ashampoo PDF Pro 2. In this article, we are going to discuss new features of Ashampoo PDF Pro 3 and will also review it.
This is an economical alternative to Adobe Acrobat professional and is a must-have tool if you deal in PDF editing or in general printing PDF documents.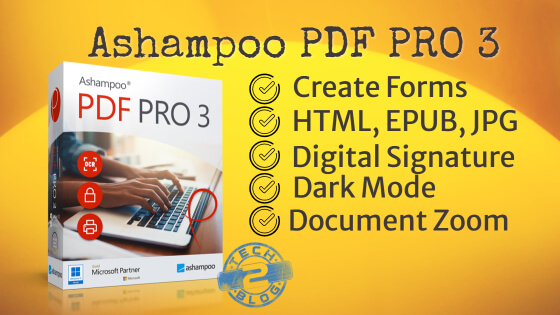 To begin with, Ashampoo has introduced many new features in this release of PDF Pro which we are going to discuss briefly in this post. So let's see what are the new features in Ashampoo PDF Pro 3 before we dive deep into it.
New Features of Ashampoo PDF Pro 3
Handy elegant ribbon-based interface
PDF/A for long-term digital document preservation
Eye-friendly dark mode for increased productivity
Customizable accessbar with all important functions
Fast one-click switching between work modes
Seamless document zoom
New fold-out elements for access to essential features
Fast and precise document comparisons
Digital signatures for more trustworthy PDFs
We tried some of its important features and wanted to tell you about those in more detail as they might be beneficial for you.
First thing first, I'm a big fan of dark mode as it helps in working for long hours without much stress to the eyes. Now Ashampoo PDF Pro 3 comes with dark and white mode, so whichever is your preference you can choose that.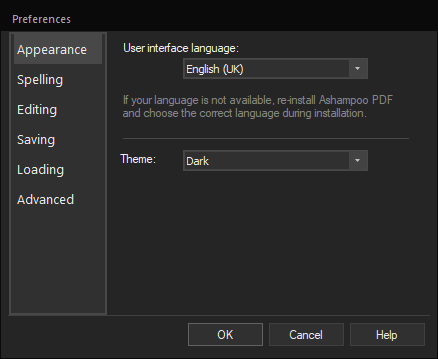 To enable dark mode on Ashampoo PDF Pro 3, you just have to go to File > Optopns > Appearance and select the theme as Dark.
In your work, if you often sign your documents digitally, then this product can be a game-changer for you. It has a dedicated button to insert the signature. Also, you can add multiple signatures and choose which one to insert.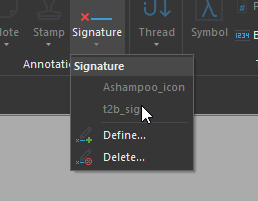 To add the signature, just go to the "Insert" tab and click on Signature. It will then ask you to define the signature.
With Ashampoo PDF Pro 3, you can also save your documents in PDF/A format to create long-lasting documents. I believe it is one of the only PDF editors which is currently supporting this ISO standard. You can read more about PDF/A here.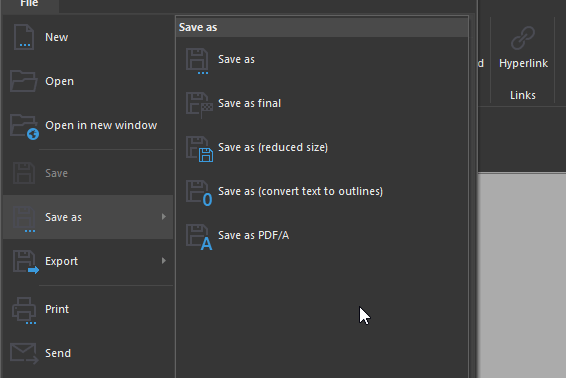 To save a file as PDF/A, just go to the File tab and click the "Save as" option. There you will find the option to save the file as PDF/A.
Document comparison is one of the other features which we like the most. It not only displays the difference between two documents but also highlights the difference with different colors.
Quick Access toolbar is another good feature of Ashampoo PDF Pro 3 which allows users to add their most favorite commands to the quick access toolbar. You can add "save as PDF/A", "Hand tool", "text edit tool", "option button to quickly switch between dark and white mode", "undo", "send", etc. You can also change the position of the quick access toolbar. It can go above the ribbon or below the ribbon.
There are a lot more other features in Ashampoo PDF Pro 3 and for keeping this article short, we are not including all of them. But, if you have any doubts about any feature or want to know how a particular feature works, please leave a comment and let us know.
In the future, we will also be creating different tutorials around this tool, so do consider subscribing to our free newsletter.
Price of Ashampoo PDF Pro 3
This product is super cheap if compared to other PDF editors such as Adobe Acrobat. You only have to pay $69.99 one time. Yes, this is NOT a subscription based product and once you purchase Ashampoo PDF Pro 3, you can keep using it for life on 3 computers (only home users).
With that said, right now you can buy this product for only $29.99 with the link provided below.
If you just want to try this product for 30 days, you can do so by downloading it from the below link and then entering your email to receive a free 30 day trial license.
Note: If you use Ashampoo® PDF Pro at home, you can run it on up to 3 PCs! A single license is enough to provide your entire family with a powerful PDF! If you use it commercially though, it's one license per installation.
57% Discount on Ashampoo PDF Pro 3
Right now, this product is at a 57% discount. You just have to use the above link or this link to purchase it and the discount will be applied automatically.
Giveaway of Ashampoo PDF Pro 3
GIVEAWAY TIME!!
We were able to manage a few licenses of Ashampoo PDF Pro 3 for your guys. If you are a regular reader of our blog, or just came here to participate in the giveaway, then this is the chance to get a FREE license of Ashampoo PDF Pro 3.
Just do a few simple things and increase the chances of getting a free key. In total, we are giving 5 license keys for free. 3 keys will be given through the below giveaway and 2 special license keys will be given to our Twitter/YouTube followers.
Note: Please don't cheat by making different IDs. Such participants will be removed from the giveaway. Each entry will be manually checked.
Note: If you are already using Ashampoo PDF Pro 2, you will have to uninstall that version first to install PDF Pro 3. Installer of Ashampoo PDF Pro 3, will automatically detect any previous version and will uninstall it.
.
---
I hope you must have liked the new features of the Ashampoo PDF Pro 3. If you have any doubts, questions, or concerns, please let me know through comments, or please reach Ashampoo support.
If you want to read more such articles or participate in the future giveaway, please consider subscribing to our free newsletter.
Ashampoo PDF Pro 3 is an economical solution to edit & create PDF files. This tool also allows you to export the file in different formats such as Micorsoft word, HTML, EPUB, JPG or RTF. This is a must-have tool.