How to Migrate SMF Forum to New Host without any Hustle
SMF is a widely used open-source PHP secure forum software on which you can build your forum easily. In simple words "Simple Machine Forum or SMF" forum is a free PHP software to build online communities. If you are in this post, I assume you are already running your SMF forum website and want to know how to transfer your SMF forum to new web hosting without any issues.
Recently, I moved my online forum running on SMF to a new web hosting provider and would like to share my experience in the form of a tutorial. This tutorial will help you to transfer or migrate your simple machine forum (SMF Forum) easily to a new host.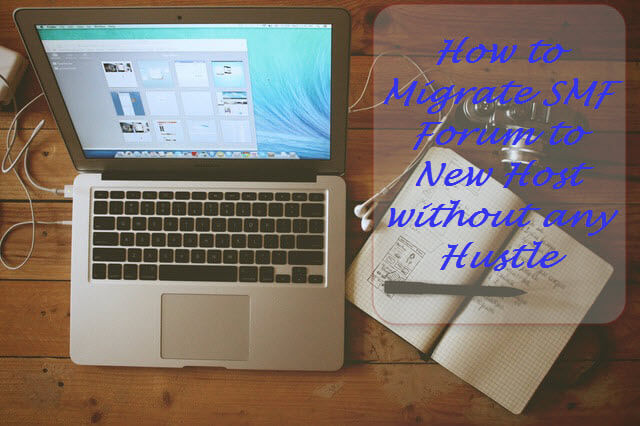 I bought a new web hosting from Hostgator during Cyber Monday and Black Friday deal and thought to migrate my SMF online community to this new host from old web hosting. So below are the steps which I followed.
In this tutorial, the Hostgator control panel is used, you can use this for any web hosting as all have these options and features. Want Hostgator hosting? Sign up Now.
Prerequisites for SMF forum migration
1. Make sure you have a full backup of your control panel on old host, that includes complete latest databases and website folders under your control panel home.
2. FTP should be working as it is very easy to upload zip files and folders through FTP. You can use any FTP software available for free like FileZilla, CoreFTP, etc.
3. On new web hosting, add your simple machine forum domain. You can do this by going to Addon Domain in your new host control panel. Please do not change Name servers, just add the domain.
Steps to Migrate SMF Forum from Old Host to New
1. Go to File Manager on your control panel and then to public_html. All the website's folders are located under this directory.

Now locate your SMF forum and right-click on it. It should show you some options, from there click on compress and choose your compression type. I kept it default.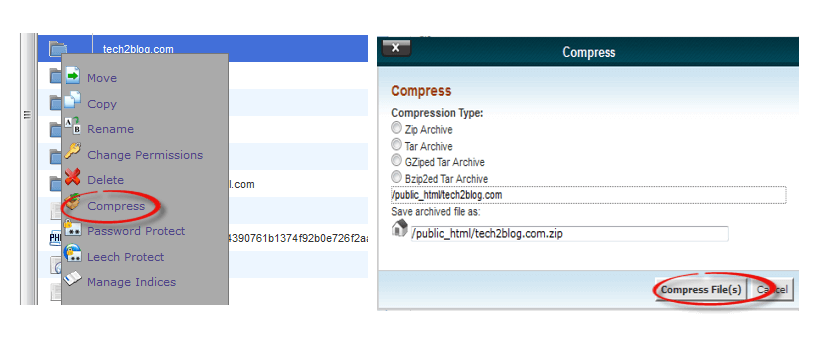 Please have patience, compression can take time depending on the size of your SMF forum directory.
2. Once you have compressed the output of your directory, right-click and download it to your local computer.
3. Now on your old host, go to Backups and download full database of your SMF forum. If you don't know the name of your SMF forum database, just login to the admin panel of your SMF forum and go to configuration>server settings>Database and Paths.
Here you can see your SMF forum database name and user name etc.

Once you know your database name, just click on that to download. You can also alternatively download it from phpMyAdmin by exporting all the tables. But if you are not so techy, then don't go for the phpMyAdmin option.
4. Now you have all the content and database of your SMF forum. Open the FTP client and login to your new web hosting account and upload the archived/zip folder to public_html and once uploaded, extract it there.
5. Go to Backups of the new host (Check the image of step 3) and upload your database file. Use "Restore a MySQL Database" option. It will take a while and will give you a new window stating restore in progress.
6. Once the database is uploaded, create a user with the same name as the previous or your desired name and copy the password. User and new databases can be created by going to "MySQL Databases" on your control panel.

7. Now connect your database with the user and give full permission (see above image).
8. Now before changing the name servers, we will have to check if our SMF forum is working fine or not. If you are moving it to a new host, then definitely you will have to repair your forum and make changes.
Now to load your website from a new web host without changing the name servers for testing purposes, you will have to edit hosts file present at C:\Windows\System32\drivers\etc.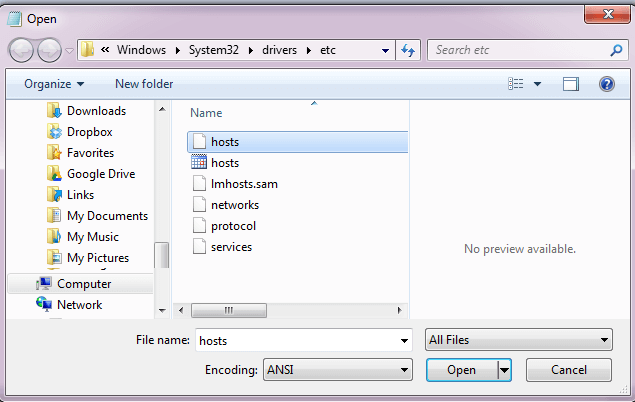 Go to this location and add the below entries according to your server/hosting.
<IP Address of New Host >  <yoursmfforum.com > <www.yoursmfforum.com > 
Make sure you are editing this file as Administrator.
9. Once you have made changes on your hosts file of your local computer, go to a web browser and open your SMF forum. It should provide some errors.
Now to correct the settings of your SMF forum, just download Repair Settings file from SMF community and put it under the root directory of your SMF website.
Now open this Repair Settings PHP file by going to the location yoursmfforum.com/repair_settings.php
This will give you the option to modify your MySQL database info, Path & URL for your SMF forum and themes and will give you suggestions based on your new server for paths.
Note: Do not forget to remove the entry made on step 8 from hosts file.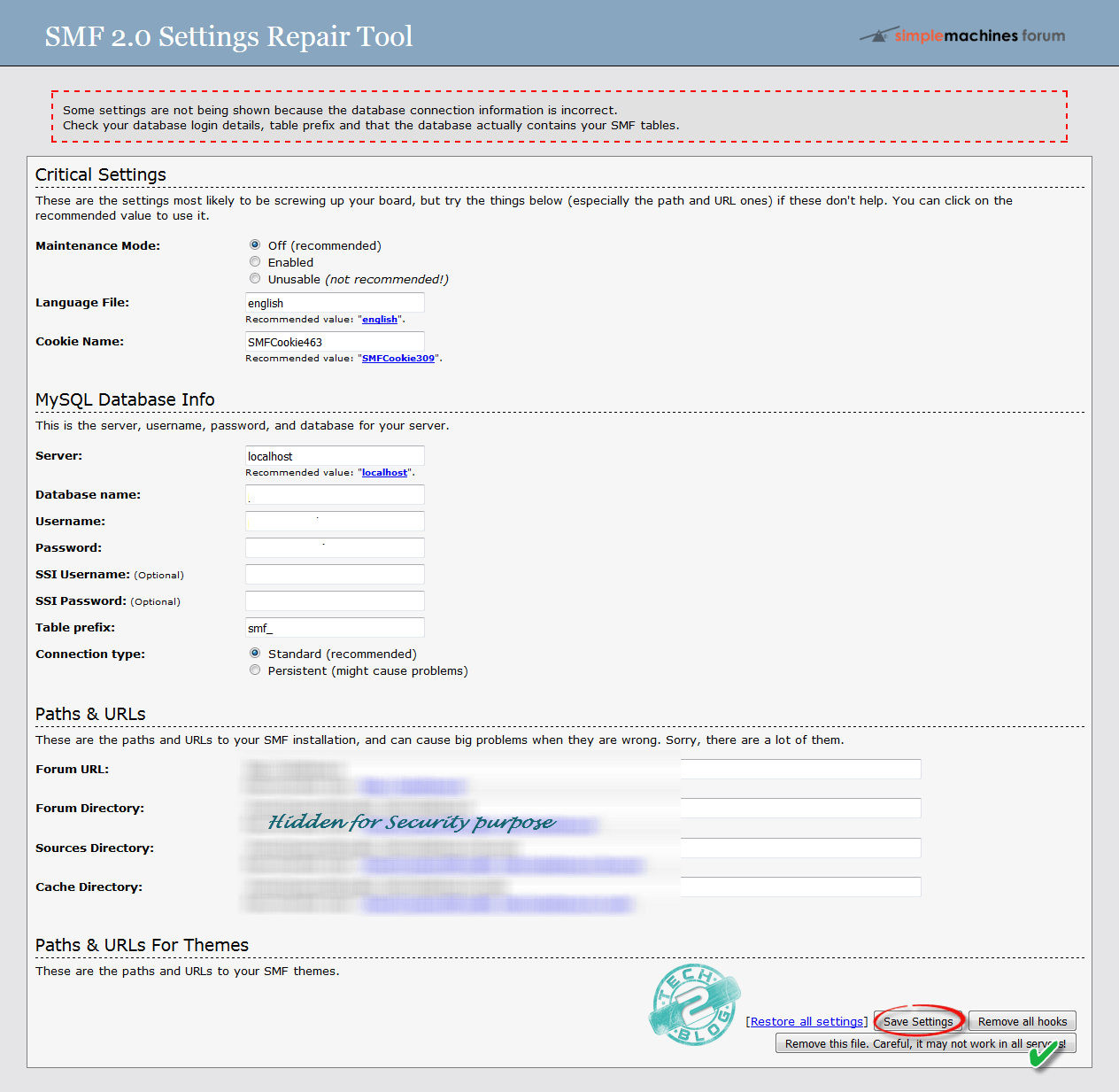 Correct these settings and save settings. Now you can check your SMF forum, it should be working fine. Do not forget to delete Repair Settings PHP file after you are done.
10. Now you have also tested your website working, just go to your domain provider and change the name servers from old host to a new host and also meanwhile create all the email addresses and forwards which were present on the old web hosting providers.
Name servers usually take 24 hours to reflect and your SMF forum site will be served by both hosting from time to time until the same servers are completely transferred.
---
Hope you enjoyed this article and will transfer your SMF forum easily to a new web host. If you are having any issues with transferring or have any questions, please do not hesitate to ask. If you need me to transfer your website, you can send an email to me for an appointment through the contact us page.
Do not forget to share this awesome article on your social network and keep helping others.