Serif PagePlus X8 Review & Giveaway
If you are into website designing or print industry you must be knowing Serif, it is not a new name for all. Serif has very useful and well know products from photo editing to website creating software. In this article I am going to review Serif PagePlusX8, which is the latest version of PagePlus and also 3 lucky Tech2Blog users will be able to win PagePlus X8 through our Giveaway.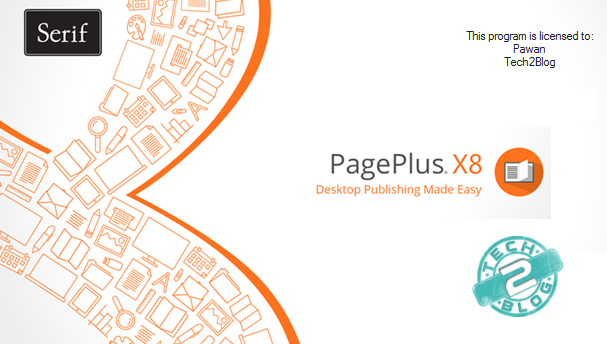 Features of Serif PagePlus X8
1. Precise text and layout control.
2. Responsive designs compatible with iPad, Kindle, Nexus, etc.
3. Complete photo editing.
4. Colour Control.
5. Professional graphic design filters.
6. Flexible image importing.
7. 64-bit scanning support.
8. PDF integration and modification feature.
Serif PagePlus X8 allows you to make professional-looking documents and you can easily design newsletters, magazines, brochures, certificates, logos, business cards, etc. The baseline grid in X8 allows you to make precise and perfect documents. Text columns and frame margins can automatically flip side too, so facing pages are mirrored for a consistent and professional look.
PagePlus X8 supports the new EPUB 3 standard to make sure that every layout stays exactly as you want them on handheld devices or any other. It has many templates which you can use and see how they will look on iPad®, Kindle™, Nexus™ and other devices to make sure that your customers and members view your digital documents exactly as required.
Recommended Article: Ultimate WordPress Theme: X Review
With Serif PagePlus X8 you can easily create, save and fully edit PDF files, you can also insert a PDF as an image, which keeps all the graphics, text and layout as the creator intended. This is particularly very useful in keeping the PDF layout intact without losing quality.
The photo editing feature of Serif PagePlus X8 is really awesome and you can do modification to your photos without requiring any external photo editing software. It also has a build-in clone tool feature that allows to repair classic photos with just a touch of a brush and can also create and remove unwanted objects.
The new version of PagePlus also supports 64-bit scanning and contains new filter effects including the Trail effect which allows you to add retro motion blurs to your graphics and images. Picking colors from images and implementing it on your project is very easy and now Serif PagePlus also features CMYK colors even on the filter effects such as drop shadows, which are great for single color print runs.
Comparison with Other Software's
If you compare this software with Microsoft Publisher 2013 or Adobe InDesign CC, you would know it has many more features and I would like to highlight a few. Serif PagePlus X8 has a logo design studio that helps in building logos for your customers and personal use but the above-mentioned software doesn't have this facility.
PhotoLab is a unique image editing software which lets you edit image quickly and add beautiful effects. This facility is not available in Microsoft Publisher 2013 or Adobe InDesign CC.
Some other unique features which are present in PagePlus X8 are Built-in charting, Image cutout studio, create PDF files for professional printing, output books as EPUB® and Kindle .mobi for Readers, etc. And most importantly it is much cheaper than others with a one-time fee only.
Price of Srif PagePlus X8
The price of Serif PagePlus X8 is only £75.05 and you can buy this product directly from the Serif official website. If you want to test this product you can do it by using free PagePlus Starter Edition.
Serif PagePlus X8 Giveaway
We bring you another awesome Serif giveaway and this time we are giving free a license of Serif PagePlus X8 software which is a complete desktop publishing software and comes with many features as explained above.
To participate in this giveaway you just have to follow the giveaway widget below and do some task to win entries. The more you perform the task, the more are your chances to WIN this awesome piece of software. So don't wait and go for this giveaway. Also, don't forget to share this giveaway with your friends and family.
---
Hope you would like this software very much and will use it to design an awesome piece of creativity. I would like to hear your experience about this product through your comments and email. Don't forget to subscribe to our newsletter for more such giveaway and reviews.