Recover Files from Corrupted Memory Card using CardRecovery
Memory Card or SD card use has now increased tremendously and we are using it on our mobile phones, digital cameras, handy cams etc. for storing our data, pictures, videos, music files etc. Sometimes it happens that due to some reason or other this memory card gets corrupted and is inaccessible. In that case what should you do ? This article will cover how you can recover your photos, videos, music files from your corrupted memory or SD card without any pain using CardRecovery software.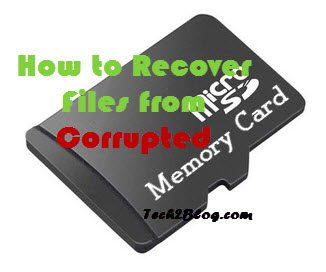 What is a Memory Card
The Memory card is a small tiny card which is used as a storage device in our smart phones, cameras, music players etc. to store digital information like photo, video, music. It is also called flash card.
Short Story: How I came to know about CardRecovery
Our life is full of accidents and new happenings. Sometimes it happens that you have not taken backup of your photos or videos on the memory card and you accidentally formatted the card or deleted photos or in the worst situation your memory card is corrupted and is inaccessible. Then how you are going to recover your precious photos or videos ? CardRecovery is the software you would like to have for that.
Recommended Article: Free Addictive Android Games to Play
Let me tell you my short story and how I came to know about CardRecovery by WinRecovery team. Recently my cousin came to me with his corrupted micro SD card and asked me to recover it as that memory card was having very rare family pictures. So I agreed and took his card thinking my hard disk recovering software will recover the files from memory card.
I plugged that memory card on the slot and scan the whole card with my hard disk recovering software. To my surprise I was not able to find a single file on the memory card and declared that memory card unrecoverable.
After a few days I started searching for software's which can recover lost photos and videos from formatted or corrupted memory card as I was getting pressure from my cousin. I checked a few websites and free software's but none came to rescue. Then I came to know about CardRecovery and immediately downloaded its free evaluation version for testing.
After scanning my cousin card with CardRecovery software, I was able to see JPG extension files along with size and preview and thus decided to buy this software.
Who needs this software?
1. Parents, who's child has deleted their vacation photos & videos accidentally.
2. Photographers with damaged, unreadable or defective memory cards.
3. Lovers who have formatted their Smartphones and want their beloved photos back.
4. For geeks whose data have corruption due to critical areas damage e.g. FAT, ROOT, BOOT area damage.
There are lot more situations where CardRecovery software can be used and this software support all types of memory card and flash drive like Secure Digital card, SD card, SDHC, miniSD, MicroSD, MultiMedia card, MMC card, xD Picture card etc.
Steps to Recover Photos, Videos & Audio from Corrupted Memory card
1. Install Card Recovery software and put the SD card in memory card slot.
2. Open CardRecovery software and set scan option such as memory card location, camera brand and files to recover like photo, videos and audio and click next.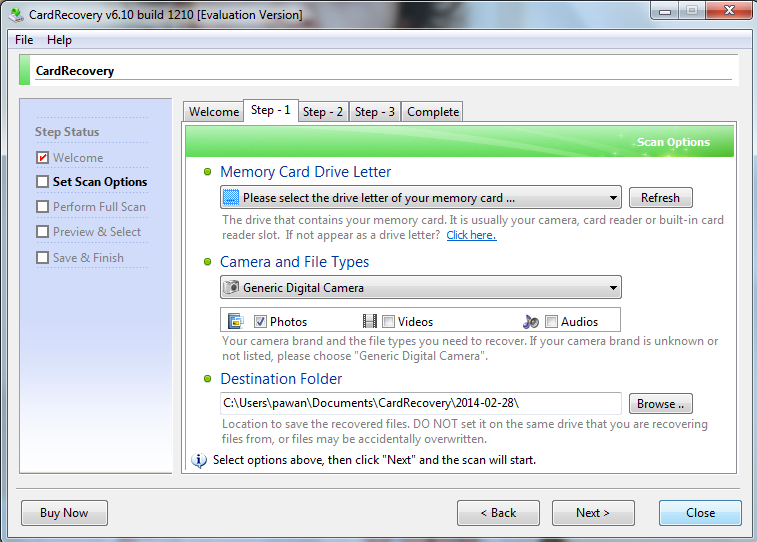 3. In a second step you will see that this awesome software is scanning your card and will show you how much sectors it has scanned and how many files it has found.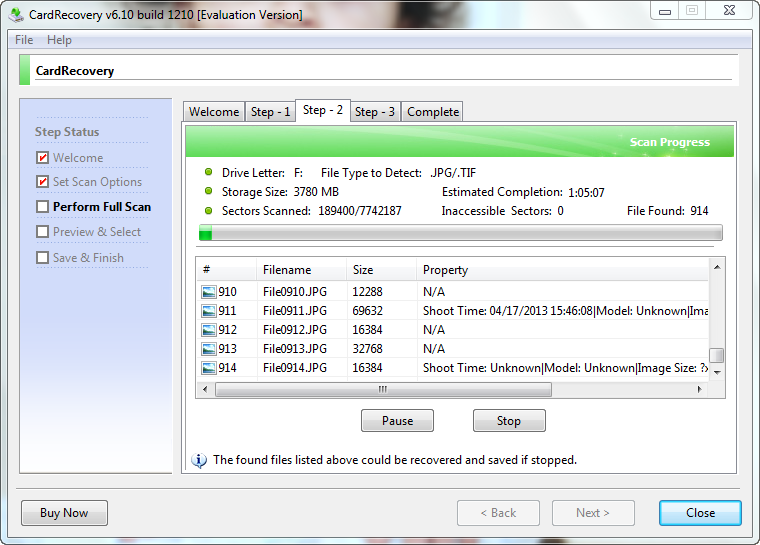 4. In step 3 of CardRecovery software will show you the preview of the images and other files and you can select which pictures, videos or audio you want to recover from your corrupted or broken card.
5. In the last step, just wait and watch to get your recovered files saved to your desired location.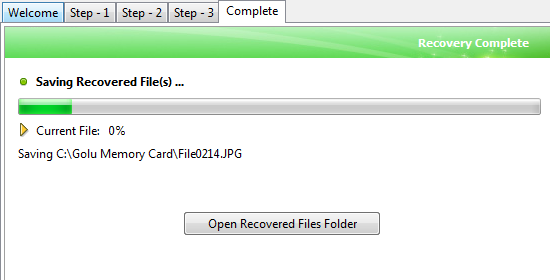 You will find that all the photos and videos are recovered by this software without any data lost though you will not get the same naming convention.
---
So if ever you find yourself in critical situation where you are not able to retrieve your precious photos, videos & audios from your memory card, then you can use this awesome piece of software and you will surely not regret it. This software support almost every picture, video and audio format. Let me know your views and any issue with this software through your mails and comments. You can leave your message also on our twitter, Facebook and Google+ account.
CardRecovery is a awesome software in low cost and help in recovering pictures, videos and audio from corrupted memory card. This is really a needed software if you want to recover your pictures from memory card.