How to turn your Laptop into WiFi Hotspot
In today's digital world, all the time we want to connect to the internet for our business or personal reason to access our emails, important data and social network to keep us connected all the time. Usually it happens that we have only one internet connection in our home, so other family members & friends have to wait for their turn to access internet in-spite they are having different Smartphones, tablets, laptops or desktops. To solve this issue and share same internet or broadband connection with others, we have created this tutorial for you and you can easily turn your laptop into WiFi hotspot.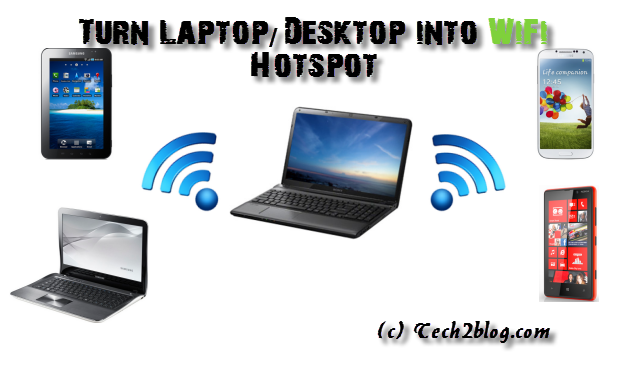 What is WiFi Hotspot ?
Hotspot is a place where user can access internet through a wireless local area network (WLAN). This connectivity is provided through routers which are connected to internet access. As this used Wi-Fi technology, hence the name is WiFi Hotspot.
The computer or smart devices like Tablets, Smartphones with WiFi facility within range of this Wi-Fi hotspot can access internet after connecting to them.
The Problem !
Internet sharing within home or office is very useful, when it comes to multitasking. It happens sometimes that we require internet on multiple device but we only have one connection and we don't have expensive Wi-Fi router to share our broadband connection. Also some of the internet provider doesn't give WiFi router with their connection. So to solve this problem economically, we can use different software available which can convert your desktops or laptops into a WiFi hotspot. Thus multiple Wi-Fi device can access the internet simultaneously.
Recommended Article: Automatically Backup your Website using Cron Jobs
There are many free WiFi hotspot software available in the market and it becomes very difficult to choose which will work best in your system. I tried a few of the popular hotspot software available free in the market and found Connectify Hotspot software perfect for this purpose and this solve the above stated problem efficiently.
Features of Connectify Hotspot
Share 3G and 4G connections.
Custom hotspot naming (SSID).
Wi-Fi repeater mode.
"Fling" drag-and-drop file transfers.
Advanced Firewall Controls.
Display currently and previously Connected devices.
Security feature.
Software Access point.
Unlimited Hotspot Uptime.
Drag & Drop File Transfers.
Above were some of the stupendous features of Connectify Hotspot which make this software ideal for sharing internet and making your desktop or laptop a WiFi hotspot. Using this software you can share any type of internet connection through WiFi with ease and to number of internet thirsty devices within your home.
Not only this software help in making your place a WiFi zone but it also helps you to share files among connected devices. Connected devices can easily drag and drop files and send to other connected device to your WiFi hotspot.
Steps to Convert your Laptop/Desktop to WiFi Hotspot
1. Download Connectify Hotspot software and install it.
2. After installing run Connectify software, open it and go to setting.
3. Now in setting set your password as desired and choose internet to be shared. Like if you are using internet through LAN connection, you can choose Intel network connection as shown below or if you are using internet through WiFi then choose Wi-Fi.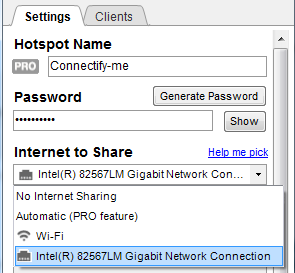 4. Now go to Advance settings and choose how you want to share your internet. As here we have to create WiFi hotspot we will choose Wi-Fi in Share Over box and in sharing mode choose WiFi Access point, Encrypted(WAP2).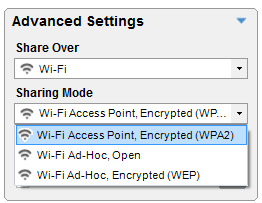 5. Now you are ready to share your internet connection, just click on Start Hotspot and enjoy internet on multiple laptops and devices.
Note: You cannot rename Hotspot in lite version and you will see default hotspot name as connectify-me. To enjoy other function in connectify you are advised to buy professional version of this software.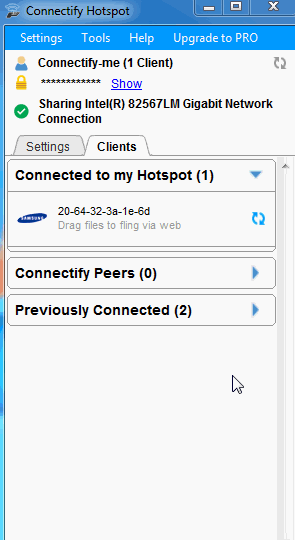 I have tried this software and connected 2 Android mobiles phones, 1 Blackberry and 1 laptop to WiFi hotspot without any problem and you can connect even more. Also do not worry about the internet speed as you will enjoy same speed in all the devices.
Range of Connectify Hotspot
Connectify hotspot offers you quite good WiFi range and you don't have to worry about WiFi range, if you are even 2 room away from WiFi hotspot main device within one house.
Note: WiFi range may worry device to device and if you want to increase the range you can also use some cheap WiFi routers.
---
I know while reading this article you must have configured your laptop for internet sharing through WiFi hotspot. Now enjoy the internet sharing and stay connected to the world with your Android phones and other smart devices. If you have any issue in turning your laptop or desktop into WiFi hotspot then do leave your comments, I will be happy to help you. And don't forget to share this article with your friends on social networking sites like Google+, Facebook, etc.