All Purpose WordPress Theme : X Theme Review
I am sure till now you must have used many WordPress themes for your portfolio, business, eCommerce, blog etc. websites and surely you must have paid lots of money for all these different flavor themes. What if, I say now you don't have to run for different-different themes anymore and you can develop any website with only one single theme. Sound strange but it's true now. X theme is the ultimate WordPress theme which can provide you all types of functions, layouts and look in only one theme and I am going to review it for you.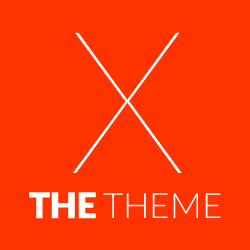 Undoubtedly X theme is one stop for all your searches for WordPress theme and once you see its demo and features, I am sure you won't be able to stop yourself from buying it.
Recommended Article: AdAptive: Responsive Adsense WordPress Theme
The WordPress X theme is developed by Theme.co team which includes affiliate gurus, SEO experts, internet marketing professional and some of the finest developers. X theme is built keeping every aspect in mind whether it is monetization, customization, marketing, professionalism, SEO etc.
Features of X Theme
1. Stacks: X theme comes with 3 stacks feature from either using one you can design any type of website and blog. 3 stacks are Integrity, Renew and Icon. Information about these stacks can be found later on this article.
2. Fully Customizable: X theme is fully customizable as per your needs. You can simply go to user friendly customizer and can edit X theme as per your need. You can also download customizer settings of any of X theme demos shown on their website from member area.
It also have feature of adding child themes which make it more unique and user friendly.
3. Incredible Shortcodes: You would be amazed to see the quantity and quality of short codes which you can use in your website. X really has awesome set of shortcodes for its users. Go check demos of X.
4. Many Layout Options: X theme comes with many different layout option. Whether it is full width, boxed, sidebar layout, X delivers it for you.
5. Custom Pages: It has many custom page layouts and you can clone any home page by downloading demo content and coding for that page from X dashboard.
6. Full WooCommerce Integration Facility: If you are having a eCommerce website where you are selling your products, then this theme can also be helpful for you. This theme comes with full WooCommerce integration with 3 unique shop designs.
7. Responsive: In today's internet trend we need responsive themes and responsive ads for better SEO and user engagement. X theme gives you that. It is fully responsive theme and is viewable nicely on every mobile device and tablet.
8. Fully SEO Optimized: This theme is fully search engine optimized by experts and all made keeping in mind all the latest trends in SEO like page speed, clean code, HTML5 etc.
9. Portfolio Ready: X theme is fully ready to display your work to your customers and visitor by inbuilt feature of portfolio. This feature has separate tab and you can also put your own portfolio tag and categories.
10. Homepage layout: X theme allows you to make your website similar to X theme demo site for all the three stacks. You just have to download HTML homepage layout of any demo from the member dashboard and your website will be up and running in minutes.
11. Cross Browser Compatibility: X theme works on all the browser and will eliminate your website problem of not working on particular browser usually IE. It is fully compatible with Google Chrome, Firefox, Safari, Opera, Internet Explorer 11, Internet Explorer 10, Internet Explorer 9, Internet Explorer 8.
There are lot more features of X theme and it would take a very long article to list them. So I am leaving it up-to you to explore them here.

As I told you above there are 5 stacks in X theme viz. Integrity, Renew, Icon and Ethos and using these stacks you can make different category website for yourself or your client.
I. Integrity: This is a all purpose stack design for X theme which is very decent and creative and looks very professional. It has a very clean look. Integrity stack can be used to build websites for business.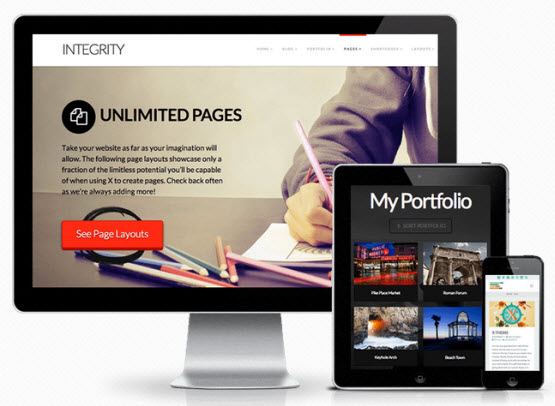 II. Renew: This is another very creative X theme stack which is very simple and flat and can be used to create personal blog or business websites. Its shows your content in a clear, concise manner.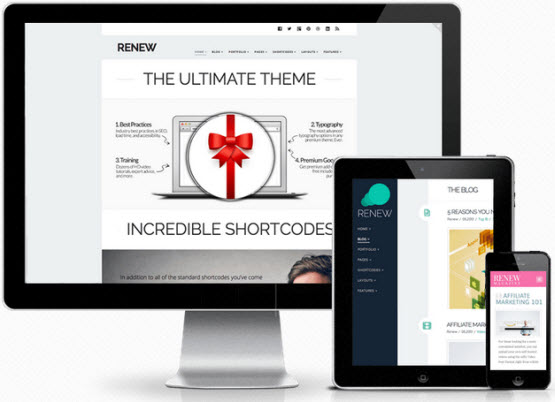 III. Icon: This stack is minimal design which is inspired by modern blogging networks that allows the written word to take center stage. It uses custom colors for post formats and has some unique layout options.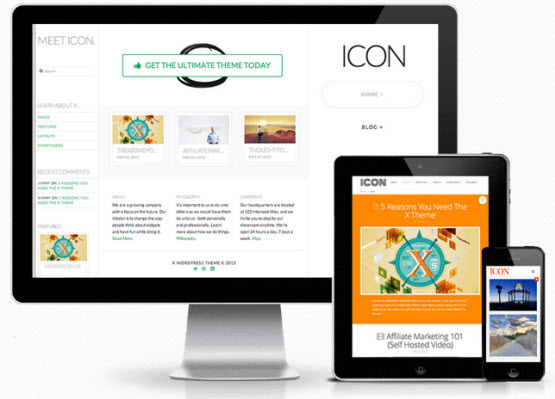 IV. Ethos: If you are thinking to make "Newspaper or Magazine" style blog, then this is the best stack for it. Features like "featured carousel, real time category filtering, alternate index titles" etc. makes it best stack for Newspaper blog.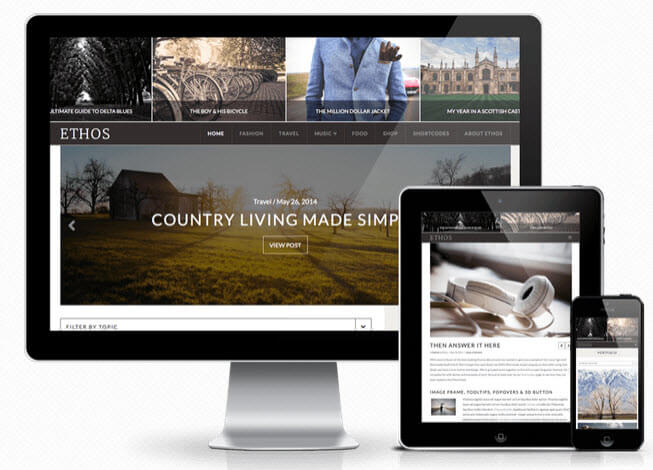 There are 10 different demos of each of these stacks and you can make your website similarly to it. You can check demo here.
---
I am using this theme from past 1 month in my other blog and found it very useful. Though you will have to give some time to set your theme to get desired results. I would definitely recommend this theme to you. Let me know what you think about this awesome theme after checking its demo or after using it.