Receive Payments Easily with Payoneer
Receiving payments from U.S. or U.K based companies has always been a problem for freelancers, affiliate marketers, and bloggers. But with the new service from Payoneer, anyone can receive payments in US dollar or Euro easily in over 100 currencies directly to your bank account, reducing the transfer fees.


If you are working as a freelancer, affiliate marketer or blogger and associated with the US or European companies who only pay by check or PayPal to international users, then there is very good news for you.
As I told you in the starting, Payoneer has started a service where you and I can receive payment from US and UK based company directly to our bank account and it will look like that we have bank accounts in their respective countries.
Benefits of Receiving Payment from Payoneer
Receive payments of major US and UK based companies
Secure and fast payments
Very fewer transaction fees as compared to other services
Get Paid Directly to Your Local Bank Account
Receive a US and EUR Payment Service for collecting commercial payments
Receive funds in more than 200 countries, in over 100 currencies
24/7 customer support in over 35 languages
Direct Deposit facility is fast and has less payment threshold
The above were some of the benefits of Payoneer and as per my personal experience, receiving direct deposit payment as always fast and has a less threshold limit. So you can also receive a minimum payout like $5 or $10.
If I take the example of Amazon.com, currently I am receiving my affiliate commission in the form of a check which takes time to reach India and then I have to deposit that check into my bank account which further delays the payment.
My experience was really not good with my bank. Some of the staff don't know how to deal with check-in US dollars.
How Does it Work?
Receiving money through Payoneer is very simple, once your account is approved after SignUp, you can start receiving money from US and UK based companies.
Note that this service is only for companies not for US and UK based individuals who will send you payments. You can continue receiving money from an international individual client through a service like PayPal.
Once you have received money into your Payoneer account, it will be directly transferred to your local Indian bank account which you gave during Signup automatically.
US & UK Bank Collections Account
You must be thinking, how you are receiving fast payment through this service. The main reason for this is US and UK bank collections accounts.
With Payoneer, you get your own bank account details which act as a local bank account for US and UK. So the payments are fast and secure and even sender will be happy to send money to local bank accounts.
So, if you are receiving payments in USD from American companies or in Euro's from European companies, it will look like as if you have a US or European bank account!
See the full list of US and UK companies that Payoneer supports here.
Early Signup Bonus from Payoneer
Payoneer is also providing an early bonus of $25 if you join their service and $25 more if you refer someone from your affiliate link. Above is my affiliate link and if you sign up to Payoneer uses my link you will get $25 and I will too.

Few days back, I received payment in my PayPal and Payoneer accounts. And the transaction fees between the two surprised me.
I received $55.62 from Infolinks in my Payoneer account [Yes, I have setup payment method to Payoneer from PayPal in Infolinks] and they only deducted $1.11 as a withdrawal fee.

And after 2 days, I also received payment in my PayPal account of $50 and the fee was $2.50.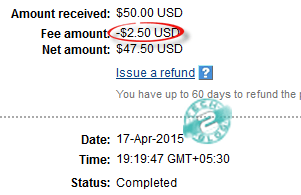 Notice the change in transaction fees, and you will see Payoneer charged less as compared to PayPal. The only drawback with Payoneer is that they offer money receiving service only for companies and not for individual.
---
I am sure you will like this service and will surely save your hard-earned money as a blogger, affiliate marketer, or freelancer. Let me know what you think about the Payoneer service for receiving payment from US and UK based companies. I will also appreciate if you share this post with your friends and social network.
Payoneer is must try service for receiving payments from US and UK based companies for Affiliate marketers, Freelance and bloggers. Transcaction fees are very low as compared to other. Do try !