Don't Get Trapped into Phishing Emails Pretending to be Payoneer
If you are here and reading this post, I am sure you must be aware of Payoneer and what service they provide. I really like Payoneer and receives most of my Payments through it. But, this post is not for telling features of Payoneer instead this is an awareness article because recently phishing emails have surged which claim to be from Payoneer. But, they are fake, so don't fall in this TRAP and save yourself from identity theft.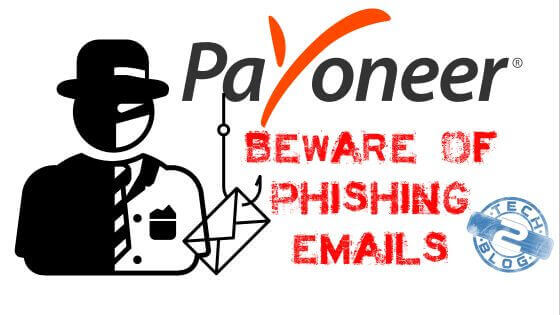 From quite a long time, I am receiving emails to claim amount which is deposited to my Payoneer account.
This amount is between $150-$300, which seems a fair amount and anybody would like to claim it. But, wait, you are not expecting any payment, so from where this amount came from???
Yes, the above question you should have asked before clicking that link provided on email to claim the amount in your Payoneer account.
Payoneer doesn't ask to claim any amount and they directly deposit it to your bank account.
How to Identify Phishing Emails
1. Check Subject Line
Before seeing any email to claim payment from Payoneer, first of all, check the subject line. If it is asking for some action, then it might be a fraud email. All your payments are directly deposited in your Payoneer account and then transferred to your Bank account. So, Payoneer doesn't ask for any action on your site.
2. Read Email Carefully
Once you have checked the subject line carefully, now you have to read the email carefully and see what it is asking from you. If it's asking to click any link, then don't.
Usually, no payment services ask to confirm the payment via a link. And if you are in doubt, just login to your payment service provider directly, instead of clicking the link on the email and see if there is any notification for you or not.
3. Check for Sender
This is one of the most important factors to determine if the email is fake or not. Though it would appear that Payoneer itself has sent you the email, but look carefully, there will email routing and it would be sent via some different email channel.
Most of the emails which I see are via "suzuki.websitewelcome[dot]com". You can also verify this by opening the email [Just open, Don't click any link] and checking the original source of the email.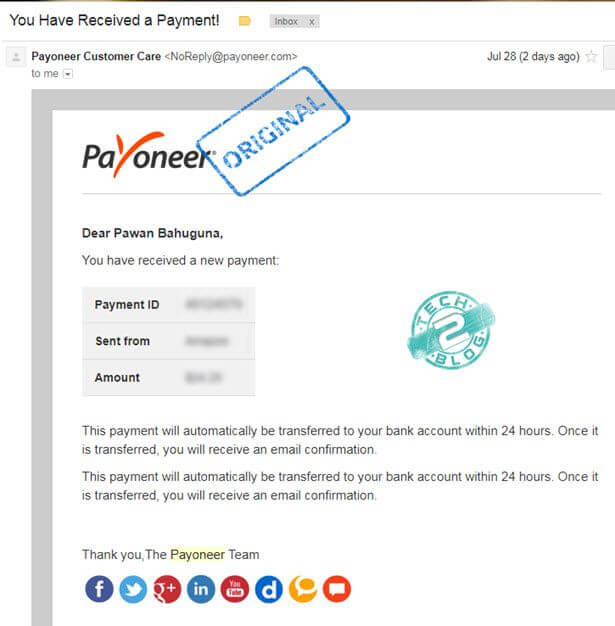 Original Payment email from Payoneer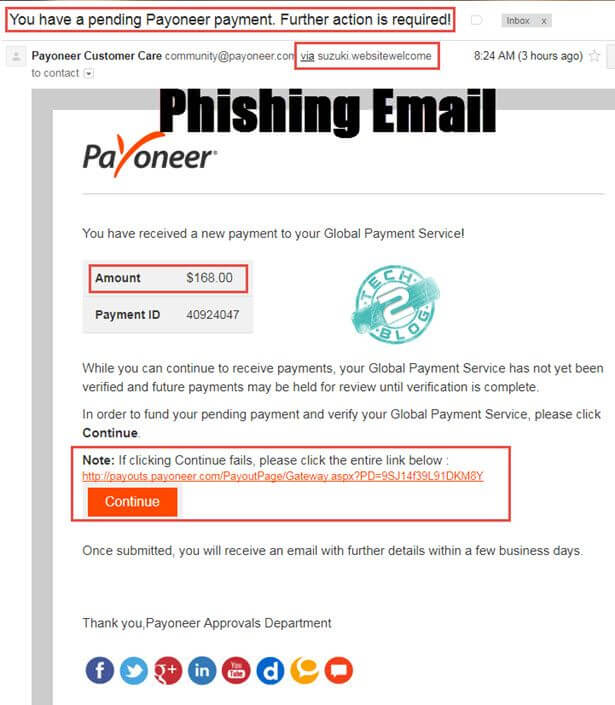 Phishing Email
Above is an example of the original email from Payoneer and fake email from a spammer. Check and validate all the points.
4. Actionable Link
In the email, you will see "call to action button", which will ask you to click the link. The text of the link will look like original sent by Payoneer, but the hyperlink is phishing one. Below are some of the examples of such links, which I got on my email.
Example of Fake Actionable Links
http://payouts.1payoneer[dot]com/PayoutPage/Gateway/?PD=9S4fL91DKM8Y
http://payout-payoneer[dot]com/PayoutPage/Gateway/?PD=1SJ05L97DKM8Y
https://payouts-payoneer-f623cbf167046.tumblr[dot]com/?PID=9SJ19L91D8Y
Above links are only available when you hover over the action button or check the original source of the email. I haven't click on any of the emails, so don't know what is behind those links.
---
I am sure, this article will be helpful for you and you will be aware of increasing phishing emails which look like Payoneer payment email. If you have received such emails, do let me know through your comments below. If you like the article, do not forget to share it.