ProShow Producer 7: Ultimate Tool to Create Slideshow Videos
Looking for the solution to make perfect and awesome slideshows? Are you bored with traditional and old school, simple slideshow videos? If your answer is YES, then this is the article for you because in this post I am going to tell you about an ultimate tool called ProShow Producer for creating slideshow videos without much technical knowledge.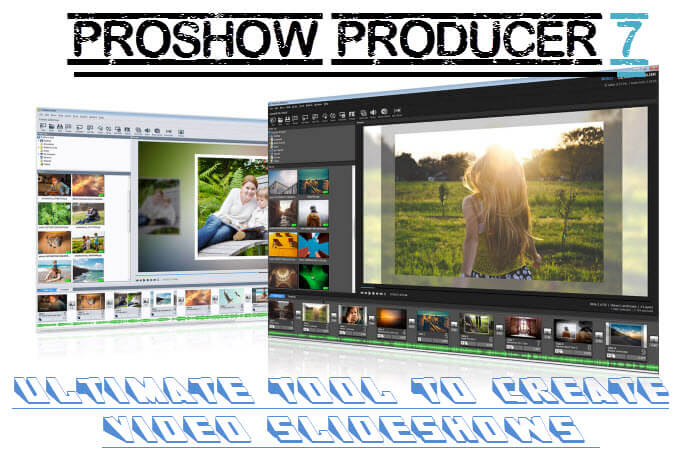 ProShow Producer is a professional slideshow making software from Photodex specially for photographers. It comes with lots of features to make a beautiful video from your pictures. It is an award winning, easy-to-use software for Windows for creating photo, video and audio slideshows. Also, it offers a wide-range of special effects and built-in tools for making slick, professional video slideshows to share online, on disc or on any device.
So lets see some of its key features below.
Key Features of ProShow Producer 7
Professional Slideshows
Built-in wizard for creating slideshows
Built-in Music Library
Publish for any screen
Ready-made Styles & Transitions
Image editing
Royalty-free music and Audio controls
Publish in multiple formats
ProShow Producer 7 has many features and while using this software, it provides many control and you feel superb. So based on my experience, I'm going to discuss few of the features here.
The first and foremost feature which I like about this professional slideshow making software is it's unique built-in FREE music library. The music present in it is royalty free and can be used both in commercial as well as personal slideshows.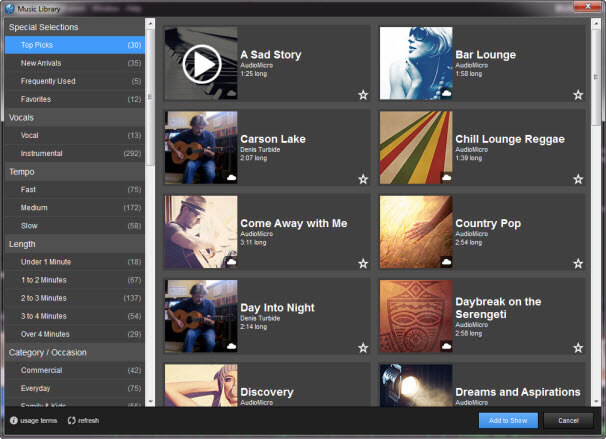 The Music library is well organized and you can choose songs from different categories like holidays, wedding, commercial, party, travel, etc. You can also choose track depending upon the length of your show.
The other thing which I like about ProShow Producer 7 is "Wizard". It shows up at the start and can be used create slideshow video automatically with your choice of pictures and music. It is a very good feature if you want to create slideshow really fast.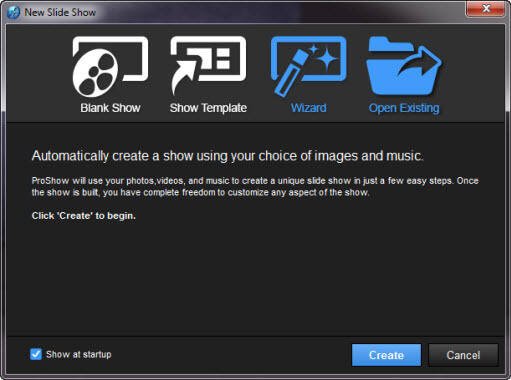 Other notable feature of this software is FX effects which can be applied to any slide individually. This gives users to use amazing effects on their slideshows quickly. Users can also download other free FX effects directly within the software. Proshow Producer 7 also provides capability to create custom effects with keyframed motion and FX.
In new ProShow 7, there are lots of new supported format for input & output. Now users can import 4k and longer video clips to your slideshow. Also you have many option to save your slideshow in different video format whether it is AVI, MP4 or any other format. You can also publish your slideshow directly to popular video sharing websites like YouTube, Vimeo, etc.
You can also create executable file, add your watermark to show, can produce slideshow for TV, tablet, PC, smartphones, etc. There are lots more feature in the slideshow making application, so do try it out.
Currently it is only available for Windows operating system and supports Window 10, 8, 7, Vista, XP.
Price of ProShow Producer 7
The price of ProShow Producer is $249.95. It's a one time fees for this awesome software and I will advice you to try its demo version if you are not purchasing it right now. I know you won't regret your decision.
For our readers, Photodesk is also providing a 15% discount on ProShow Gold, ProShow Producer, and ProShow Web software. This code will also work for upgrades. You can redeem this discount by entering the code in the "Discount Code" area when you are ready to check out.
Promo Code: GCSKWPP1

---
Hope you will try ProShow Producer 7 which is awesome slideshow making software for your next show. If you have any problem in creating any effect, do check their website for tutorials. Do let me know what you think about this application. Do not forget to share this useful tool with your friends and family.