Plugin to Save WordPress Blog from Virus
Many new bloggers has now moved from Blogger.com and other blogging platform to WordPress by knowing flexibility nature and features of WordPress. But moving to WordPress involves more look after and risk for your blog. In earlier post we told you how to protect your website by blocking particular IP address and now we have come up with another post which will help your WordPress Website/blog against virus threats.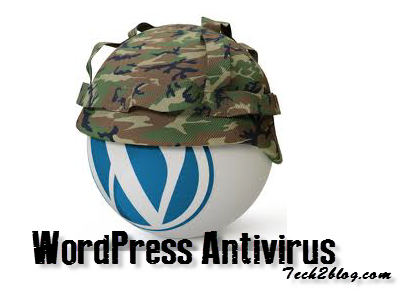 We all know that what a Virus can do to our desktop and Laptop, similar is the case, if you are not protecting your WordPress site properly. There are lots of way in which you can protect your WordPress blog and also there are many free plugins which are available but choosing the right one is always confusing.
So to save your time and hardwork, we have chosen two best Antivirus tool for your WordPress blog, either of which you should install for scanning your WordPress blog for Trojan and viruses.
Free WordPress Antivirus Plugins
1. Antivirus : This plugin, itself called Antivirus and is my favorite one, as it is free and very simple and yet powerful tool. This plugin protect your blog against exploits, malware and spam injections and shows you all the alert in WordPress dashboard.
Key Features of Antivirus Plugins
1. Cleaning up after plugin removal
2. Daily Virus scan with email notifications
3. Database tables and theme templates checks
4. WordPress 3.x ready: both visually and technically
5. Whitelist solution: Mark suspected cases as "no virus"
6. Manual check of template files with alerts on suspected cases
7. Virus alert in the admin bar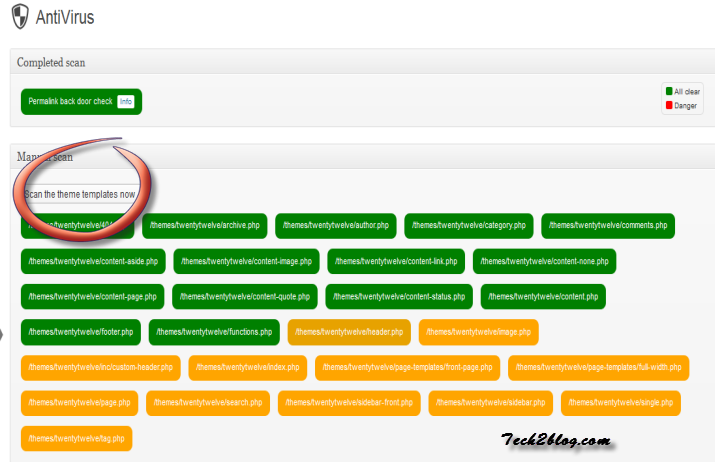 After installing this plugin, just go to setting of your WP blog and click on Antivirus and scan your blog. This Antivirus will scan all your templates in WordPress template directory and will show you alert if there is any malware in the theme. It is best, if you are using free WordPress themes in your blog.
2. Wordfence Security: This is another powerful antivirus tool for your WordPress blog, which scan all your themes, plugins, Core WordPress files includes a firewall, anti-virus scanning, malicious URL scanning.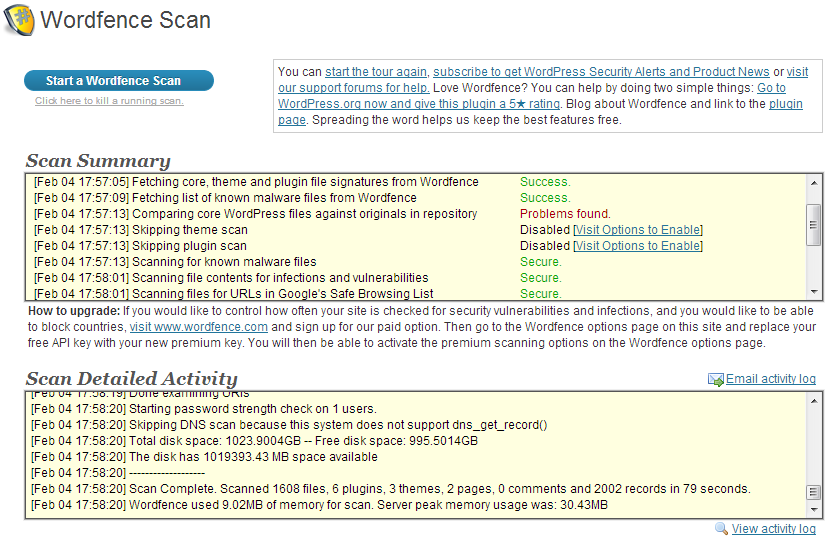 Above screenshot shows you this plugin in action. To scan your WordPress site, you will have to first go to its option and enable the theme and plugin scan, so that it also scan your themes and installed plugins. One of the great features of this plugin, which I like is its disk space monitoring. As some times DDos attacks attempt to consume all disk space to create denial of service.
Another advantage of using this plugin is that you can also see live traffic activity of your WordPress site and it also shows your the current version of your WordPress blog.
You can try this plugin 100% free and if you find it useful, you can even purchase its premium API key which allows you to block specific countries and schedule scans for specific times.
Above were the best WordPress Antivirus plugin which I use and there may be other. If you are using other plugin or service then do share here so that every one get benefited. If you like our post, please consider it sharing with your friends and do like us on Facebook and Google.