5 Free Udemy Courses for New Bloggers
Udemy is the biggest marketplace for all sorts of learning courses which are beneficial to all the communities. They have courses on virtually everything and anyone can learn from any device from any place, you just have to subscribe. Today, I am going to share about free Udemy courses which are beneficial for you.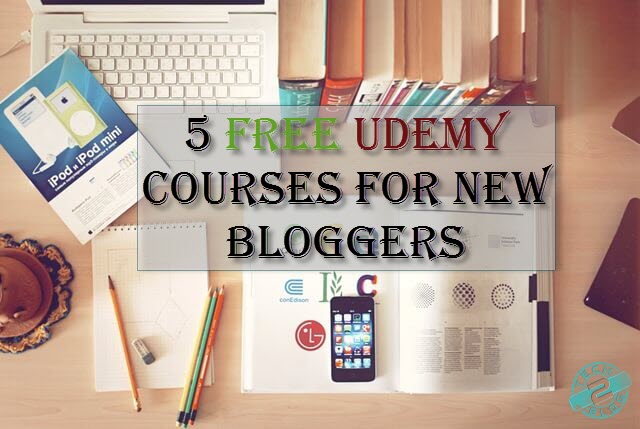 Udemy has more than 32,000 courses and around 8 million students enrolled in courses on Udemy. By these figures, I am sure you can know the popularity of Udemy.
Udemy has all sorts of courses and the majority of them are paid and can cost you a hundred dollars. And if you haven't explored Udemy till now, I will suggest doing that because Udemy also has many free courses which are informative and can even start your online business.
So, let's get started and list some of the free Udemy courses for you before they become PAID.
Free Udemy Courses for New Bloggers
1. Create Your Website with WordPress by Michael Shen
Website development is one of the most loved business online and many people and companies are involved in it. If you want to learn how to create a website in WordPress for free, then enroll for this course. It has 49 lectures to get you started.
2. Learn HTML 5 in 1 hour by John Bura and Mammoth
HTML is a markup language and every web page on the internet uses it. So you can guess its importance. HTML 5 is currently the latest version of it and if you are thinking to learn HTML 5 for free, then this is the course for you.
3. How to Make Money Online: The Passive Income Business Plan by Mike Omar
Do you love to have an extra source of income like me? If yes, then this course is for you. This course will tell you how to make a passive income business plan through 24 lectures. To my surprise this course is still free, act fast and subscribe to this course to start making passive income.
4. Advanced SEO: Tactics and Strategy by Moz
Every internet marketer knows about Moz and their tools but few of them only know that they also have an advance SEO course on Udemy for FREE.
If you enroll in this course you will learn advanced SEO tactics and how to use social media through 7 lectures and 57 mins of video. This SEO course is for all levels of SEO experts.
5. What Is SEO? Learn SEO Basics & Optimize Your Website by David Bain
This is the basic SEO course for new bloggers like you and through 33 lectures it will tell you some of the basics of search engine optimization and what are the right SEO strategies for you.
In this video course, you will learn "Brief History of SEO", " On-site SEO, on-page SEO & off-page SEO" and "How to measure SEO". So don't waste time looking here and there and enroll in this course now for Free.
Note: All the courses are FREE at the time of writing this article. Prices can be changed at any time by Author but once you have enrolled in any Free course, you won't be charged it's not free at present.
BONUS
6. Secret Sauce of Great Writing by Shani Raja
This free Udemy course contains 10 video lectures and focuses on improving your writing skills. Every blogger should have good writing skills and if you are thinking of improving yours, then look at this course.
This course also has some exercises for your practice and score your learning.
---
Hope you will subscribe to this course ASAP without wasting time and learn something new and interesting. If you like this article do not forget to share it with your friends and fellow bloggers. Happy learning!!