5 Free Addictive Android Games to Play
Posted on

November 11, 2013
In Android
Playing games on your Android phone or tablet is a habit of every Android user. The Android operating system is so versatile that even a normal Android phone can become a movie theater, gaming console, a GPS system and to many other useful gadgets. Now we have a number of Android games in Play store both free and paid. Out of these, there are many which are very addictive and once you start playing them, you will be eager to finish them soon.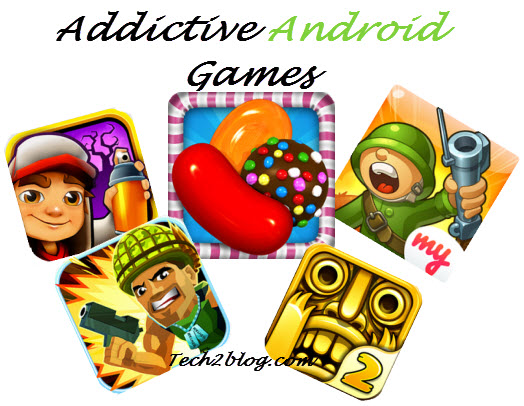 Free Addictive Android Games to Play
1. Jungle Heat: This is an arcade, action and strategy game and similar to Age of Empires and you will have to build your own kingdom from the start and strengthen the defense system of your command center in wild jungles.
There are different levels and you get gems and points for increasing your rating and completing tasks. The game is a very good time pass and addictive too.
Recommended Article: Antivirus for Android Devices
2.Candy Crush Saga: I hope you have heard about Candy Crush games and till now it has many millions of downloads and all around the world game lover are playing it. I think it is also a good game to kill your time when you are alone or bored.
Though the game can make you irritated with its waiting time and purchase option to gain access to the next level. After starting the game, you will try to clear as many as stage as you can and thus becoming addictive to it.
3. Subway Surf: Subway surf is another addictive Android game in play store and it has too many downloads and is from Kiloo developers. Time to time they keep on bringing new updates and really it is very interesting game to play.
You will have to complete different missions while running on railway tracks by collecting coins and different power-ups. After completing each mission and level your coin level increases and you can thus earn more coins.
4. Major Mayhem: This is a mission action game where Major is on a mission to save his girlfriend and I am sure you must have not played this game till now. The game is based on army Major where he was given the task to defeat the enemy and save his girlfriend. The game is very interesting and keeps you stuck to it.
I like this game very much and you must try it. You get different weapons in armory which you can buy from gold coins you earned. There are different missions which you will get. In all there are 150 mini missions which you have to complete.
5. Temple Run 2: This game does not need an introduction, as we all know about Temple run game. This one is most popular game of its time and even now top the charts in maximum downloads.
This new version of Temple Run is more exciting with more graphics, mines, and forests as you try to escape with the cursed idol.
---
These were some of the Android games which are very addictive and I have tried all those. There are many games available at play store and you must have some other games in your list, which you found addictive and you want to play them every time. If you have such games installed on your Android phone do let us know through your comments.