Couldn't Play PUBG Mobile on PC Through BlueStacks? Try This Proven Method
Posted on

July 24, 2018
In Gaming
PUBG or PlayerUnknown's Battlegrounds is now one of the most played game in the world and has already topped the charts all over the internet. All want to play PUBG on their mobile and PC. PUBG is not free for PC, so most of the game lovers are playing PUBG on their mobile phones. But, in some cases, like me, they are not able to play PUBG mobile on PC even through BlueStacks android emulator.
This article will tell you how to play PUBG mobile on your PC if through Bluestacks you are seeing the error "Your device is not supported at the moment, but it will be included at a later time. Thank you for your understanding".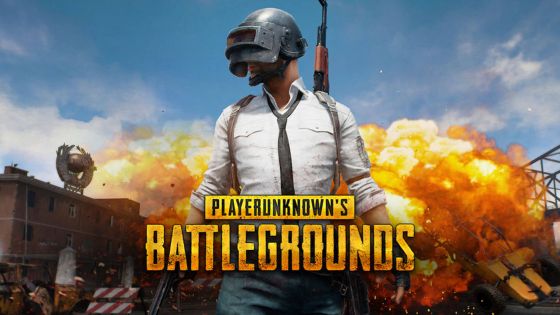 BlueStacks is a very intuitive program with the help of which you can play any Android game on your PC or laptop. I also installed it for playing PUBG mobile after watching multiple tutorials on YouTube. But, to my surprise, all my hard work and time was wasted when I saw error message "Your device is not supported at the moment, but it will be included at a later time. Thank you for your understanding".
I thought it was by mistake and my laptop has sufficient hardware to play this 1GB game. But, even after trying multiple times it did not work and I was disappointed.
After leaving it as it is on my laptop I started playing PUBG on mobile and one day, I came to know about PUBG mobile official emulator by Tencent. It is the best emulator for PUBG mobile and WORKED for me.
Note: You will not able to login through your Google profile. I used my Twitter ID to login.
Let's see how to download it from the official link and install it. It will take some time to install the PUBG mobile depending upon your internet speed.
Steps to Download Official PUBG Mobile emulator & Install It
1. Go to Tencent Gaming Buddy website and click on download.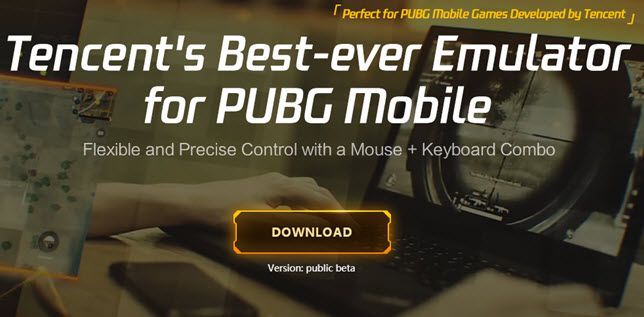 A small 9 MB installer will be downloaded which will further install the other components and PUBG Mobile.
2. Once you have downloaded the PUBG mobile emulator, start it and click on Install. It will install PUBG mobile on your PC or laptop. Below are some of the screenshot which I took during the installation process.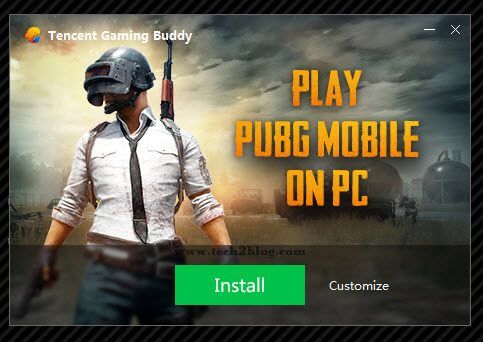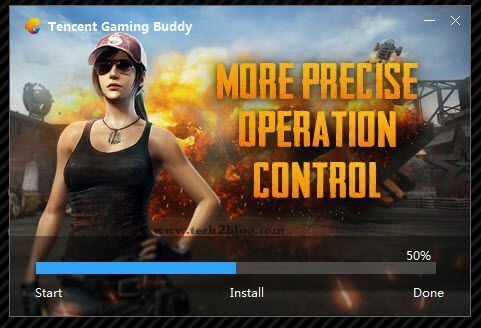 3. Once installed, you will see the "Start" button and shortcut to play this game will be added to your desktop.
Now, just click on the 'Start' button to play PUBG mobile on your PC. Below are some images for your reference.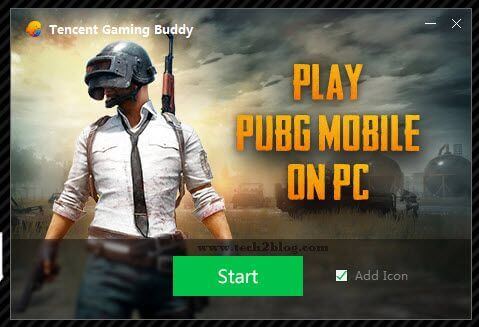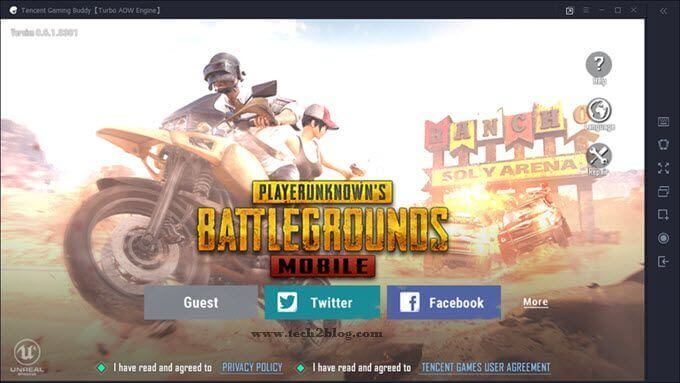 White Screen Problem in PUBG Mobile
After installing the PUBG mobile on the official emulator, I was delighted that now I can play the world's famous game on my laptop, but my problems didn't finish here.
Now, I was facing the "White Screen problem". I was not able to see any graphics on my PUBG mobile and all most all the things were white. I thought it might be a glitch and tried exploring different options like going to settings, training areas, etc. But, the problem of white screen haunted me everywhere.
See it yourself below.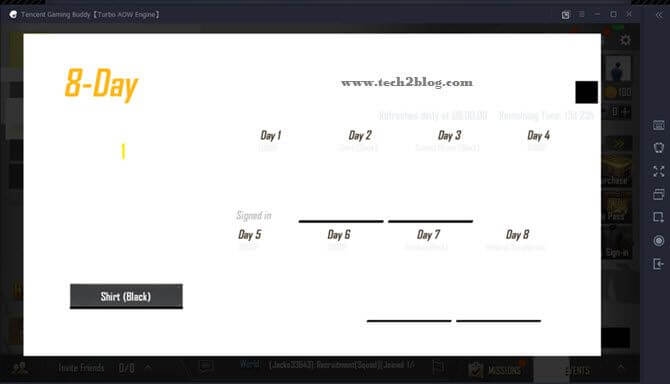 How to Fix White Screen Problem in PUBG Mobile
So, now the question was how to fix or solve this white screen problem and play PUBG mobile on my laptop.
I tried different settings and configuration and nothing was working. Finally, I was able to solve this problem by setting the optimal engine settings for my emulator and repairing the client once and you can follow the same method as given below and try.
1. Open your Tencent emulator and know your PC configuration. This you can do by going to the emulator and open 'Diagnosis' as shown below.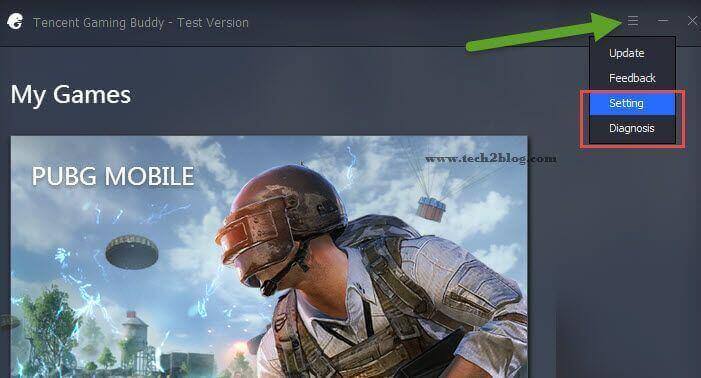 2. Now, again follow step 1 and go to 'setting'. Here you have to change the settings as per your PC or laptop configuration. Below settings worked for me and you can try them too.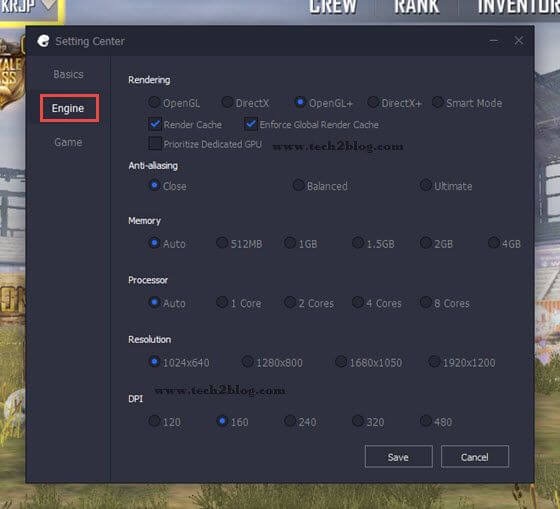 3. Now, open your game and if you still see the white screen, go to 'basic settings' of your PUBG mobile game this time and click on 'logout' to logout from your profile. Once logged out, click on "repair" to repair your game and close the emulator.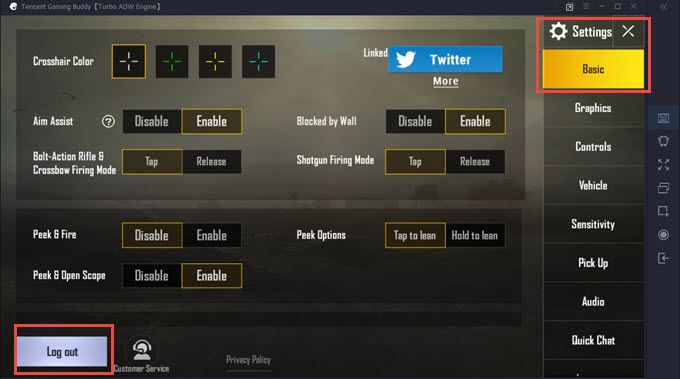 For repair screenshot, please check above 'steps 3, image 2nd of the process to download and install PUBG mobile'. There you can see the "Repair" option.
Now, again start the emulator and now this time your white screen problem should have gone.
---
The above steps worked for me and it might and might not work for you. Do let me know if this tutorial helped you in any way or if you are still facing the issue. If you have your own settings that worked for you, please let me know and we can include them giving full credit to you.
If you like the article, please share it with your gamer friends and it might help them and also subscribe to Tech2Blog.com for more such articles.