How to Locate your Android Phone using Avast
Posted on

April 26, 2013
In Android
In our earlier post, I told you about some very useful free Android antivirus application for your Android Smartphones and devices or even students tablet which are worth to have. In that article, I have mentioned about some very unique features of Avast antivirus and its ability to track and tell you the location of the phone, if it gets lost or stolen. So this tutorial will guide you to track your stolen Android phone so that you can recover it.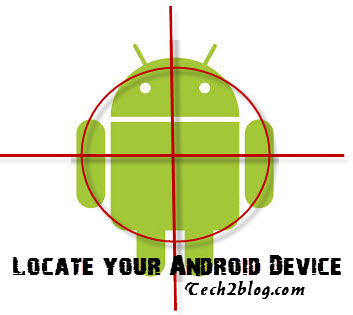 Prerequisite for this tutorial
1. Avast Antivirus installed on your Android phone or tablet. (Get from Google Play)
2. Should have an active internet connection.
3. The anti-theft feature should be enabled.
Note: No rooting is required for this installation.
Recommended Article: Plugin to Save WordPress Blog from Virus
Steps to Track your Android Device using Avast
Now as mentioned above, you should fulfill the above two conditions to go with this tutorial. If you don't have Avast, please first install it.
1. After installing Avast antivirus for your Android device, just go to its dashboard and click on Anti-Theft, to enable your anti-theft in your phone. Avast will now ask you to install its Avast anti-theft module from Google play or through advance installation mode as shown below.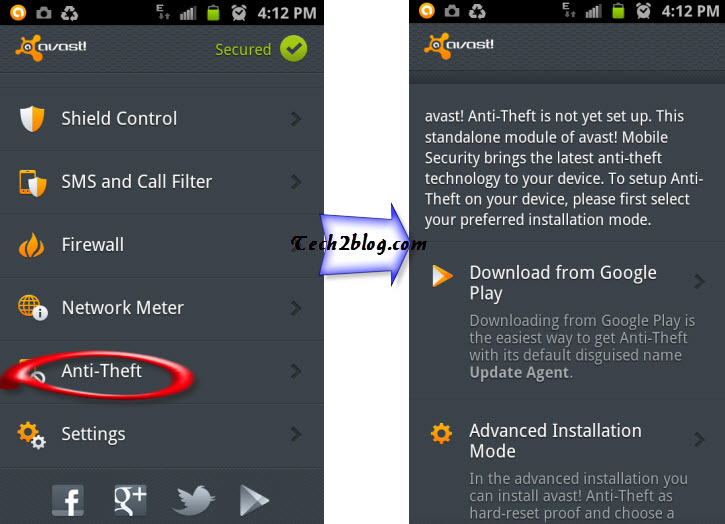 For this tutorial, we have chosen to install Avast update from the Google play store. Please do not install this directly on your Android phone or tablet.
Note: Avast will also ask to create an account to give you control from web-interface.
2. Now after installation of Avast anti-theft module i.e Avast update, Avast will setup your anti-theft feature, here you just have to give your name and alternate mobile number and also password.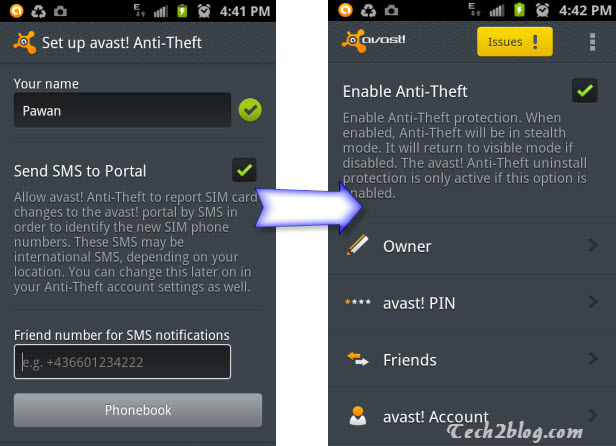 So now you have installed Avast anti-virus and setup your anti-theft feature in it and now its time for testing. To test the remote control feature of this application, we tried controlling our Android phone from a remote location with the help of a web-interface.
Now go to My Avast and go to devices, where your all active devices will be shown.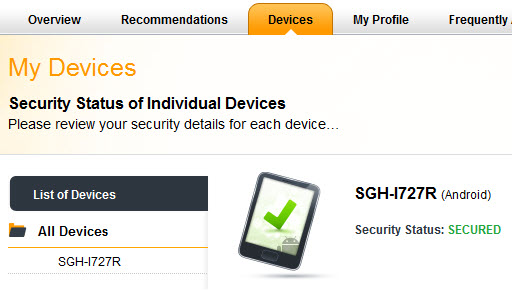 Now in device detail, you will see lots of options and tabs. Here go to choose a command, and you will see lots of commands like the command to locate your device, lock, siren on-off, call, launch, messaging, etc. Lets test with knowing the position of your lost or stolen phone.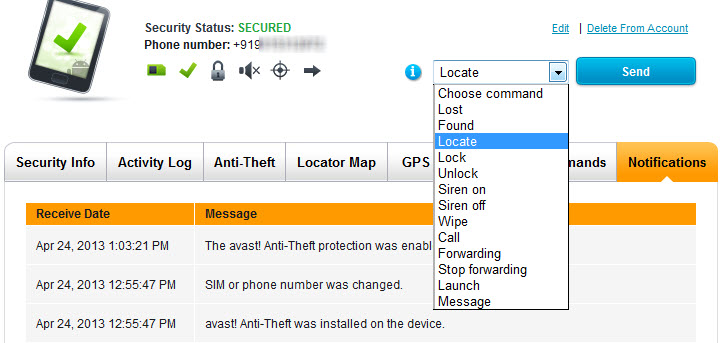 Test 1: Locate
Select command Locate and click on send. Now Avast anti-virus will search for the best option to determine your Android phone location silently. In my case, it switched on my Wi-Fi automatically and then send co-ordinates to the server in a very little time. To get up-to-date location, you can also instruct to get phone location every 5 minutes, 15 min, an hour etc.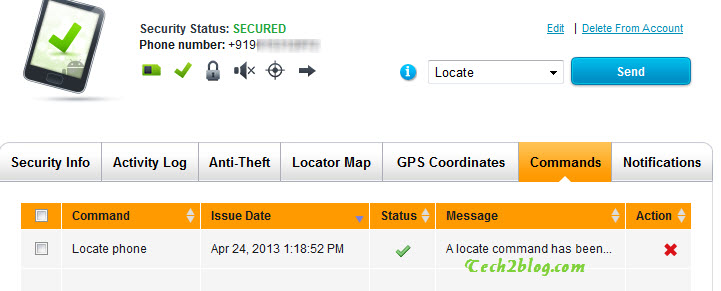 Now to see if your command has been successfully received by phone or not, just browse to command-tab and check status, it should be a green checkmark as shown above.
To track your Android phone location, click on Locator Map after executing the locate command successfully and there you will see the current location of your Android phone or tablet.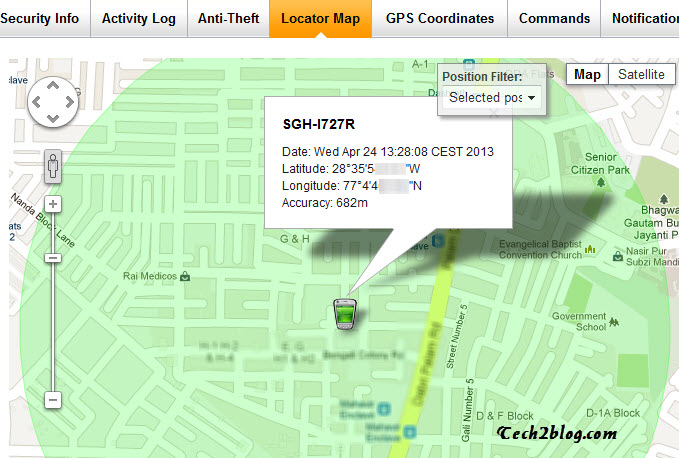 To see your GPS co-ordinates and source of tracking you can go to the GPS Coordinates tab.
Test 2: Set Siren
Now suppose your Android device is stolen and you want to run a siren, so that thieves can get afraid for a while, then go to command and send SIREN ON command. As soon as you give this command, your phone will start ringing with tone "Phone is lost or stolen, Phone is lost or stolen".
I must tell you that this is a very effective command and once executed, it is very difficult to stop the siren even if you have disabled your GPRS, 3G, Wi-Fi, etc. Even if the stealer will switch off the phone and again switch On, the siren will still ring.
Avast SMS Commands to Control your Android Phones
The method we discuss above were from web-interface and require the internet connection, what if you are commuting in a bus, metro train or any other public transport and someone stole your expensive Android phone. Then SMS commands come into action and immediately you can lock your phone, Wipe the data, locate, etc. etc. with the help of these handy SMS commands.
These commands work with your password, which you set up during anti-theft configuration above. The syntax of all the commands is very simple. Just type your password and command. Below are some of the very important commands you should know.
In below SMS commands, let say your password is 1122.
I. LOCK Command: This will lock your mobile phone.
Example: 1122 LOCK

II. LOST Command: This marks the phone as LOST.
Example: 1122 LOST

III. SIREN ON: Switch On the Siren on the phone.
Example: 1122 SIREN ON

IV. LOCATE: Will locate your phone and send you the Co-ordinates.
Example: 1122 LOCATE
1122 LOCATE 5: Will locate the phone continuously.

V. CALL [phone number]: Phone will call the given number automatically
Example: 1122 CALL 9801234XXX

VI. WIPE: Will wipe all your data from the phone.
Example: 1122 WIPE

VII. REBOOT: Will reboot your phone.
Example: 1122 REBOOT
Above were some of the very important SMS commands, to get the whole list please see Avast website.
---
I hope this article will help you in saving your Android phone from loosing and if lost, then it will help you in tracking it. In between checkout this awesome shadow fight 3 mod app, you can use it in your android phone. If you like this article please consider sharing it with your friends. You can also subscribe to Tech2Blog.com by Email to get such free tutorial on your Inbox.