How to migrate to SSD without reinstalling Windows 10
One of the best updates that almost everyone has tried is installing a solid-state disk. However, it is a daunting task to migrate your installed Windows to a smaller disk because it is not at all compulsive that the data present on your Windows PC will fit the new disk. In order to make it simple and hassle- free for you, here is a guide on moving Windows 10 to SSD without the need of reinstalling Windows!
If you have paid attention, we have already provided you with the information on how to clone HDD to SSD i.e. how to migrate from an old drive to a bigger one through the method of disk cloning. However, the problem arises when you are migrating to an SSD.
This is due to the reason that in this case you are migrating to a smaller drive and not the vice- versa. In this case, it is common for a large number of media files, games, pictures, videos and movies, etc. to not fit in the new drive. You are lucky enough that now there is a pretty easy way of migrating to an SSD without the need to reinstall Windows 10.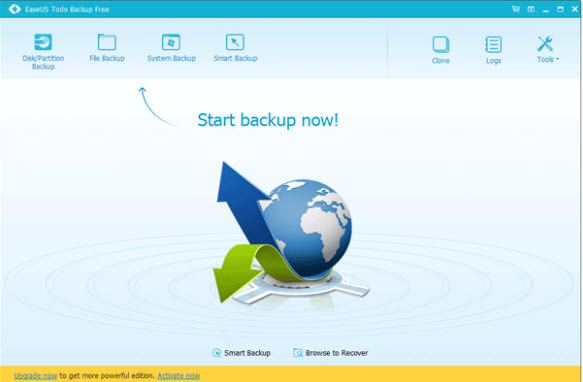 In the meanwhile, there are some preparations or precautions to be taken into consideration before you actually begin with the process of migrating from an HDD to an SSD.
First and foremost, you must create backup for all the data that is present on your Windows 10 powered PC.
Next, you must make sure to delete all the personal files as well as confidential information that is present in your PC including movies, pictures, videos and music, etc. This is important due to the reason that it will make the Windows installation comparatively smaller in size so that it can easily fit in the new SSD that you are migrating to.  
In the next step, you will clone HDD to SSD i.e. you will migrate from your old disk to the new one. Doing this will also wipe off all the data from your current drive and all the data will simultaneously get shifted to your SSD including your documents, music, videos, etc. while the restoration of all the personal files will be done with the help of the backup image created earlier on the original hard drive.
This way you will not only be able to migrate your Windows 10 to SSD at very high speed; rather you will also get to keep all your important files as well as documents readily accessible from the second drive as well.
What is the need for migrating to SSD?
People are often so wary with the hassles of upgrading to SSD that they just stuck up with the same old operating system for a pretty long time. If you look on the internet, you will find plenty of ways for moving Windows 10 to SSD. The most common suggestion you will find is to make use of the professional hard drive cloning software which help in creating an exact copy of the current hard drive that you are using.
This cloning software also keeps all the files as well as partitions in your hard drive intact as it was in the original drive. So which is the best cloning software that you can use for moving your files from the HDD to SSD?
How to move Windows 10 to SSD without reinstalling Windows?
EaseUs Todo Backup is the cloning software using which you can move Windows 10 to SSD without the need of reinstalling your current Windows. With just a few clicks and taps, you can transfer your Windows 10 update from the current HDD to a new SSD without reinstalling Windows and its applications.
Steps for transferring Windows 10 to SSD without the need of reinstalling Windows:
First of all, launch the EaseUs Todo Backup software on your PC and click on "Clone".
Now select the source disk that you want to clone.
Select the destination disk in the next step. Using the "Sector by Sector" option, you can clone all the sectors from your source disk to destination disk.
After cloning, preview the disk to see the results.
To execute the process of cloning, click on "Proceed".
You have now successfully cloned your HDD to SSD.
---
This is how you can easily migrate to SSD without reinstalling windows 10. Let me know what is your feedback about this article. If you have any issue in migrating your Windows 10 to SSD, do let me know or just comment below.