[YouTuber Interview #2] Dhananjay Bhosale
Last week, we posted our first interview in "YouTuber Interview series" and it was a huge success. In that interview we asked many interesting questions from Prasad Vedpathak from Ur IndianConsumer. Today in this article we are sharing another interview of YouTuber Dhananjay Bhosale.
Dhananjay covers tech gadgets in his YouTube channel and can you find latest gadget news and reviews, Smartphone unboxing and reviews, etc. He also post vlogs sometimes.
At the time of writing this post, his channel has 67,201 subscribers and 9,539,241 views. Do check out his channel for latest gadget reviews.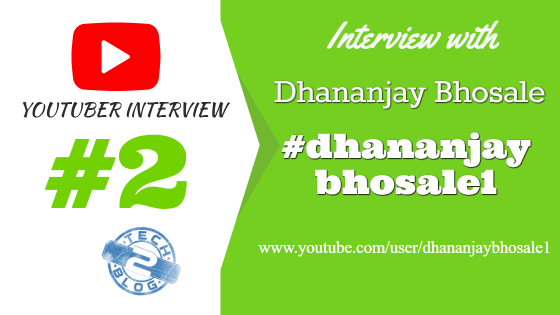 Interview with Dhananjay Bhosale
1. Tell us something interesting about yourself, like what you do when you are not making videos.
I love playing outdoor sports! So whenever I'm free I try to play sports like Badminton & Cricket or any physical sport for that matter but its not always possible to play games because my friends are also working now so in such times I play pokemon go which makes me get out of my chair & makes me walk 3-4 kms a day!
2. How did you start your YouTube channel? Was this by chance or motivated by another YouTuber's.
I can surely say that I was motivated by MKBHD in the beginning. I started the channel by uploading unboxing of xiaomi mi3 which was a hot selling device at that time. People requested for more videos on the same device so I made around 20+ videos on the same device & started off my YouTube channel.
3. Name a few YouTuber who influences and motivates you.
C4Etech has to be the first one right now. Consistency of uploading videos with Quality content on that channel is amazing plus I can say my last video motivates me to make a better video next time!
4. Define your channel in one sentence.
Run by Dhananjay but driven by an amazing community!
Recommended Article: How to Create YouTube for Google+ Page
5. How did you feel when you got your first 10K subscriber and what did you do to celebrate it?
In case of my channel, I never received an overnight success (thousands of subscribers). I always had a steady growth so when I reached 10k it was like I knew that I'm going to reach this milestone in these many days & I do not really celebrate milestones on the channel, I did not even celebrate the 50k subscriber mark on the channel because I believe in hard work, so I would rather work hard instead of celebrating!
It does not mean I don't celebrate or I don't enjoy life, it's just that I don't need any milestone to enjoy or celebrate 🙂
6. Apart from YouTube, which other social networking site you use the most.
Twitter! because the community I've grown on twitter is amazing!
7. What is one unique thing about your YouTube channel which differentiate from others in the same niche.
I cover reviews of smartphones, earphones, few gadgets plus ROMs/Rooting & daily tech bytes (series 2 on the way) where I talk about tech news in just 5 mins. DAILY!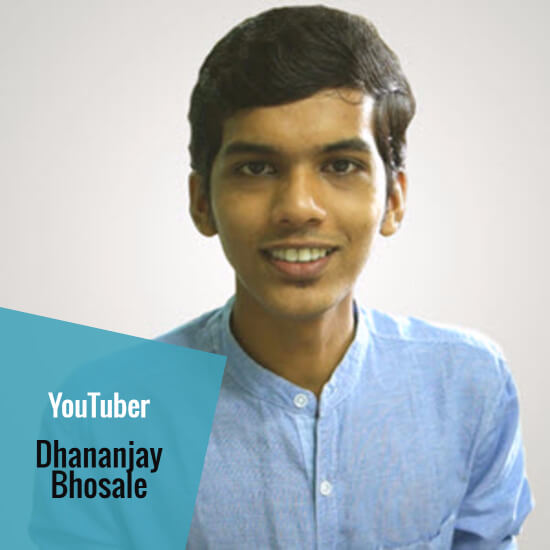 8. Do you feel the pressure of delivering quality content to your subscribers?
I would say sometimes I do, but the community is so great that many times they are kind enough to tell me about the things I can improve in that particular video!
9. How often do you post videos on your YouTube channel?
My aim is to post daily! At the moment I'm not able to deliver that, but once I start doing daily tech bytes! Daily videos will start coming!
10. I know positive comments motivates every YouTuber, but how do you handle negative comments?
I'm still trying to figure out a way to handle that!
11. How is your social life? I know a lot of people in blogging and YouTubing don't go out a lot.
I would anyday prefer to play cricket/badminton rather than sitting at home and recording video because outdoor activities are must, this was an unrelated answer, but I just wanted to mention that (laughs) & yes, I have a very good social life with many good friends but few really good friends moved out for their jobs so its kinda difficult as of now to adjust to that!
12. What technical equipment's you use to record your videos like Camera, lens, tripod, etc. and which you think is most important apart from Camera or recorder.
I use Sony RX100M2 as of now (will get the GH4 most today!), no lens as it's a point and shoot camera, Benro legs with Manfrotto fluid head!
Audio recorder is the most important equipment in any YouTube video! Clean audio makes the video seem great! I use Blue Yeti Microphone.
13. Which software's you use to edit your videos?
Sony Vegas Pro 13 right now, but I started off with Windows movie maker.
14. What is the next gadget or software you would like to buy for your channel?
No software as of now & gadget list is endless, but GH4 as of now.
15. What is your favorite video on your YouTube channel that has brought tremendous success to your Channel?
My Jio video gained around 500k + views so it was a very good success sign for the channel, but it's not my most favorite video on the channel!
16. What advice you would like to give to new YouTubers who are just starting their career as YouTubers.
Start with whatever equipment you have, do not wait for buying costly equipment's to start the channel! & don't be disheartened by negative/hate comments if you know you are doing a good work & remember internet can give you a lot of hate at times, be strong & once you create a community, hold onto it tight & try & grow that community 🙂
17. Could you please tell our readers about monetization methods which you are currently using for your channel and which are the best?
I use the default monetization at the moment, nothing fancy so can't really give any advice here!
18. Please share some rough figures how much you are currently earning from your YouTube channel. I am sure this will boost some morale of our readers.
I wish I could tell that, but you know about the AdSense agreement, but I want to say one thing, if you are planning to make YouTube videos then make sure you really like what you are going to do & not just for the money 🙂
19. Anything else which you want to tell us which you haven't told anyone else till now.
I'm a big foodie & by that I mean I can cook really good food at home as well as eat outside!
Thanks Dhananjay for your valuable time and interesting answers. I hope you will reach 1 lakh subscribers soon. Wish you good luck for your future endeavors.
---
Hope you liked this interview and if you have any questions for Dhananjay, please comment below. If you want to read more such YouTuber Interview, do subscribe to Tech2Blog.com and do not forget to share this post with your friends who want to become YouTuber.