[YouTuber Interview #1] Prasad Vedpathak from Ur IndianConsumer
YouTube has become one of the most famous and used platform to show talent and express views. Now more and more people are becoming YouTube content creator. So, if you are into YouTubing you must read this article as today we interview famous YouTuber Prasad Vedpathak from Ur IndianConsumer.
I am sure you must be knowing about YouTube channel "Ur IndianConsumer" which publishes unbiased reviews of consumer products ranging from FMCG, consumer electronics, etc.
It may also happen that you came to know about this channel after searching for phrase "How to Make Money on YouTube in Hindi". Yes, this is a very famous video which has got 1,245,588 views till now.
At the time of writing this post, "Ur IndianConsumer" YouTube channel has 164,287 subscribers and has also received s Silver play button award from YouTube.
So, if you want to know more about Prasad Vedpathak and learn from his experience as an expert YouTuber, do read this article till end.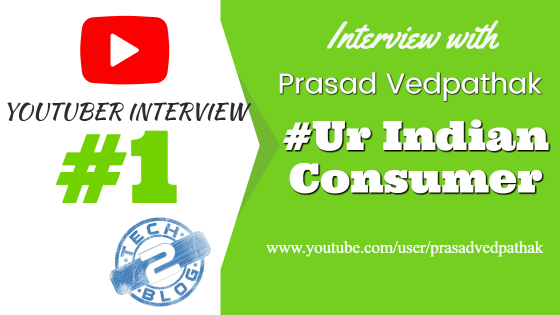 Interivew with Prasad Vedpathak [Ur IndianConsumer]
1. Did you face any challenges being from Marathi background?
No, not at all. YouTube is an open platform and content posted here is seen all over the globe so I decided to select English and Hindi as my primary languages to communicate and convey my message to our Indian audience.
My mother is a primary Marathi medium teacher, so I have a decent hold on Marathi as well and you can see a glimpse of it in my Vlogs, I even insert some Marathi poems in my videos here and there.
2. How was the whole journey from a start-up YouTube channel to more than 1 lakh subscribers?
The journey was not that easy, it had lots of ups and downs, but somehow deep in my heart I always knew that I would reach 1,00,000 subscribers by the end of 2016 somehow we managed to do it early and I feel really happy about it.
I feel really blessed to have a supportive wife like Deepika who believed in me when no one else did, Deepraj my brother who respected my idea and helped me always, my parents who never questioned my dreams, my in-laws who accepted me when I wasn't even employed and most of all, all those relatives and friends who provided me products to make videos.
I always say this that I believed in myself and so I made the world believe in me. 1 lakh is just the beginning 'Ur IndianConsumer' is a mission and we have to go a long way.
3. How is the economic calculations behind a YouTube channel? Do you earn from the number of subscribers or from the sponsors only?
You can earn in multiple ways and I have made a detailed video about it too, which is my most watched video as well here's the link: https://www.youtube.com/watch?v=Zgcpef9TdbA
To keep it simple, very roughly you get 1 dollar per 1000 views [this is a very rough figure] this amount can change as per the geographical viewership.
Some countries even pay 25 dollars per 1000 views. So basically YouTube pays for the advertisements which google posts on your content and around it. YouTube has a 45% share in your earnings and you get 55% of the total generated revenue [which is about 1$ per 1000 views]. Number of subscribers are the people who like your content and are your regular viewers which are very important forms every content creator.
An artist can live without money, but not without appreciators, that's why we value our subscribers the most.
Once you have a successful channel, then you are as good as a brand or a public figure which attracts endorsements, sponsorship's and a lot of other things. For more details please watch the video.
4. Basically, how is a YouTube channel created and processed further? Explain for layman's point of view.
Like any other log in account, you just need to create a YouTube channel which is only possible via a gmail account as google owns YouTube now.
Once you are done with that you can instantly start uploading videos. If you desire to earn from it, then you need to link your Google AdSense account with your YouTube account which is not that difficult either. Once your AdSense account is linked and verified advertisements will appear on your videos and that's how you can start earning from it.
To create a successful YouTube channel you need to create something which benefits a lot of people in some or the other way just like a brand.
5. What is the annual turnover of yours?
As per YouTubes policy, we youtubers cannot reveal that, but I can tell you this that I earn enough to live a happy life and yes my needs are less.
6. Is it your only profession? And can one think of being a YouTuber as the only earning source? Can one depend on running a YouTube channel to earn his bread-butter?
Yes, this is my only profession. I represent every Indian Consumer on an international platform and will continue doing that always.
Yes, I did think of being a full time youtuber long back as I always wanted to be free, be my own boss, grow without limits, reach the masses and live my dream.
Absolutely a successful YouTube channel which has good number of audience is far better than any job and easily you can earn a lot, which will suffice your bread-butter needs without any trouble.
7. Provide me with your personal info such as what is your educational qualification, what's your age, where do you stay, in what profession you were before the youtube channel, etc.
I have done Mechanical Engineering from Bharati Vidyapeeth college of engineering, Kharghar and even have a post graduate diploma in machine designing.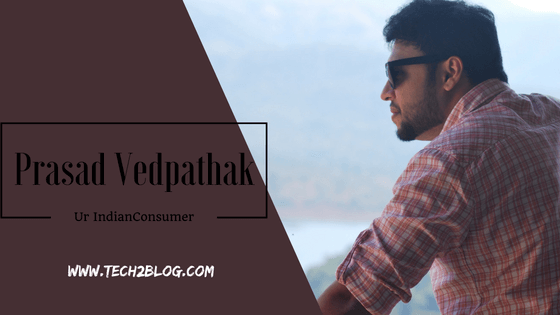 I was born on 3rd June 1988, so i am 28 years old. I stay at Vidyavihar, Mumbai. Before doing youtube full time I have worked as a sales engineer in few companies, even did machine design projects as a freelancer, tried setting up my custom gifting business and was trading in stock market since I was 19 year old.
I used to trade in stocks when I got married and wasn't earning much. After about 1 month of our marriage, I received a nice job offer as a sales engineer from Schindler Group, which I rejected as I wanted to do YouTube full time, only my wife Deepika supported my that decision. I have that offer letter saved as it will be a part of history some day.
More detail you can get in this video: https://www.youtube.com/watch?v=8dgbH_T3oxk
8. How and when did the idea of starting a YouTube channel come to your mind?
I used to watch a lot of YouTube and had a channel since long but we never uploaded videos seriously. I said we as my brother Deepraj used to make videos initially and i used to be the camera person as shooting videos was my hobby.
I felt I was really good at presenting and speaking in front of the camera and so tried doing it myself and it worked out. The idea of 'Ur IndianConsumer' was born when T saw this huge void between consumers and producers. Our consumer courts are not able to give instant justice and in today's internet bound world, I felt that a platform where people are united as just consumers, where they can keep their points, tag brands, share their experiences and try to get instance justice would be really helpful, so I tried making such a platform and we are getting stronger each day.
IndianConsumer is a designation/Tag which all of us have by default, we just needed a representative, I decided to be that person and people accepted me.
If a person represents every Indian Consumer his life has to be transparent and so I post my weeks progress in the form of a Vlog every Tuesday on our channel [WTV = Weekly Tuesday Vlog] in which I have featured my complete family.
My promise of being unbiased always makes me stand out. I never did this for money, I did this so that I could make a difference and so as I always say Ur IndianConsumer is not just a YouTube channel but a revolution in the making.
Do remember to 'Surf Before You Swipe' and you will surely be a part of the Indian Consumer family. Jai Hind.
Thanks a lot Prasad for giving your valuable time for this interview for our YouTuber Interview series. I wish you a good luck for your future endeavors.
---
Let us know what do you think about this interview with Prasad Vedpathak from Ur IndianConsumer YouTube channel. I hope you are already a subscriber of Ur IndianConsumer. If not, subscribe it now.

To get more such awesome interview directly to your email, do Subscribe to Tech2Blog.com by Email and if you like this interview and loves "Ur IndianConsumer", do like and share this interview.