Learn All About Web Push Notifications
The new trend in social media marketing which has started showing exponential growth is "web push notifications". Website push notifications are generally messages which are sent by the website owners to the browser of subscribers. It is generally a pop-up type clickable message, though not annoying, to let subscriber know there is some update on the website or some news. This article will include all the information about web push notifications and how you can use it to grow your business.
I am not going to talk about the technology involved in push notification or not going to explain them differently. Will just discuss what is "web push notifications" and how marketers or blog owner can take advantage using it.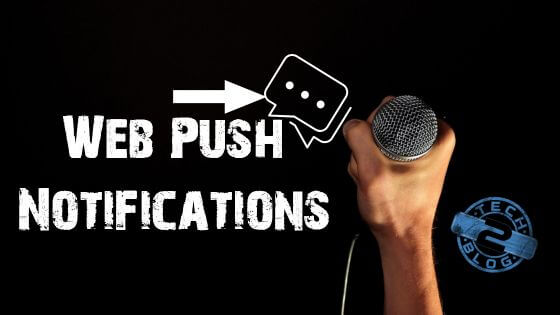 What are Web Push Notification?
In simple terms, web push notifications are messages which we get in our browser to notify about a new article on the website, offers, news or just simple welcome message by website owners.
Web push notifications are very effective way to connect with your audience. It allows visitors to opt-in to updates from websites they follow. This way webmaster can easily re-engage with the visitors and can provide the latest update on the website.
They work similarly like mobile web app push notification, where you get the notification on your mobile phone. Though mobile application asks for permission to show notifications at the time of application install, while same is not true for push notifications from the web.
For web push notification, the visitor has to subscribe to the website push notification before they can receive any notification.
Features & Advantages of Web Push Notifications
Easy sign-up process for visitor
Notification directly to subscriber browser
Real time notification
Custom Messages to subscriber
Greater User engagement
Greater return on investment (ROI)
Easy setup of web push notification
Web push notifications is an innovative method to send a notification directly to your subscriber web browser without bothering them much. It is very useful as it provides real time notification to your subscribers who are subscribed for notifications and also provide a good return on your investments.
Suppose, you need to notify your users about some great offer which is going to start or some great content of your website, so you can simply send the push notification to their browser and if the user is browsing that time, he will directly get the message and can check the offer link provided or your article link.
So, if you have given your website address or affiliate link in the notification, you may earn commission from it.
There are many other examples where you can use web push notification. Push notification is also available for iOS and Android, which we will cover later.
Configuring web push notification is very easy and I have made one video tutorial on "how to configure web push notifications for your bloggers' blog. Please check the video and let me know if you face any issue.
So, I will be also making the video on configuring web push notification for WordPress website, so please subscribe to my YouTube channel.
Configuring Web Push Notification for Websites
If you are a webmaster, you can easily set-up web push notification for your website or blog depending upon the platform you are using. There are many free and paid services which you can use to send push notifications to your subscriber's browser.
For WordPress blogs or website you can use plugins and can setup the notification service.
For Blogger blog, you can signup and get the code to add directly to the HTML of your blog. You can see one example below where we signed up for the web push notification service and configured it to send a push notification. Please see below video.
If you have any query or confusion on above video, please let me know through your comment below or on the video itself.
You can similarly, do the setup of web push notification for HTML websites and other CMS, which we will cover in a different post.
---
Hope you know now what are "web push notifications" and what are their advantages. If you like the article, please do not forget to share it with your friends and family and soon we are also going to implement push notifications for our WordPress blog and will post the article here. So do subscribe to Tech2Blog.com by Email to get free alerts to your Inbox.