9 Productive Android Apps for Civil Engineers
Posted on

January 10, 2016
In Android
Currently, there is a boom in the Android app market and we have almost every application present on Google Play store. If you choose good apps, you can also increase your productivity and can make your task easy. In this article, we present you top productive Android apps for Civil Engineers.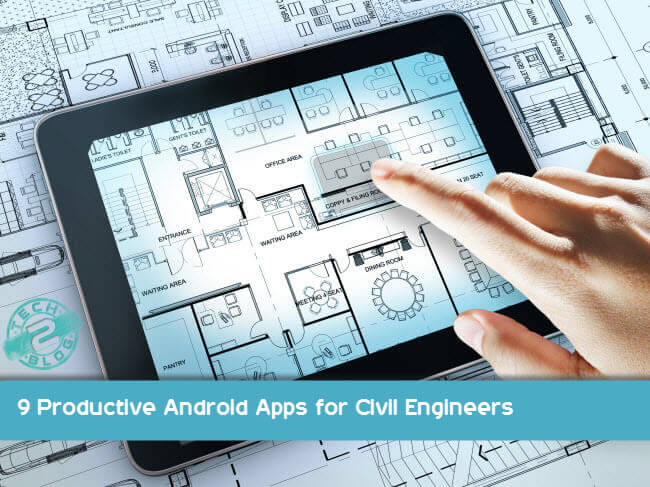 Civil engineering is an engineering branch which involves a lot of planning, surveying and calculations. So to be more productive you should have some tools to work faster. The days are over when we used to do all things manually, now we have the power to work faster and efficiently.
Here are few helpful Android apps for your Smartphone which can make your work and life easier as a Civil Engineer.
Best Productive Android Apps for Civil Engineers
This calculator is specially designed for civil engineers, builders, architects, interior designers, estimators, contractors, billing engineers, and surveyors and can make their calculations very easy.
This calculator can also be used for normal day to day calculation and is a handy tool if you are thinking to buy property or going to renovate your homes. This is a FREE Android app for engineers.
This is a paid Android app for Civil Engineers but it worth its cost as it includes many features and functions.
"Civil Engineering Pack" is available in English, Français, Español, Italiano, Deutsch & Português and available both in SI Units (Metric System) and USCS Units (Imperial System). This Android app contains 32 Converters like Acceleration, Angle, Area, Density, Energy/Work, Flow Rate (Mass), Specific Heat Capacity, Specific Volume, Thermal Conductivity, Thermal Expansion and many more.
It contains 12 modules, which are Beam Calculator, Column Calculator, Piles and Piling Calculator, Concrete Calculator, Engineering Survey Calculator, Soil and Earthwork Calculator, Structural Engineering Calculator, Bridge Calculator, Highway and Road Calculator, Hydraulics and Waterworks Calculator, Timber Engineering Calculator and Unit Converter.
It is a paid app and cost around $20 or Rs.1k.
3. Total Station – 3D Learning App
This is basically a simulator application to help you understand total station as it is not easily available. With this simulator app, we are going to solve that problem, you can learn total station for free from the comfort of your home.
There are four basic functions that every engineer should know, they are Station Orientation, Resection, Observation, and Setting Out. Total Station app helps you learn the concept and lets you perform virtual practicals on the app.
If you are a Civil Engineer or want to learn to survey for jobs, this free Android application will help you train on total station for all types of survey and topographic survey.
This is a FREE application by BUILDERS WORLD.
4. Civil Sutra
This Android application is provided by Himanshu Dhingia and give a solution to site engineers, site supervisor, contractors and Architects and helping them by providing various data and calculations at their fingertips.
Do check this Android application for your next work.
5. Civil water flow calculator
If you majorly do calculation regarding water flow and looking for a specific Android app for this purpose, then you should check this application as it calculates pipe channel flow and open channel flow.
This is a small size application and only takes around 300Kb but requires Android version 2.1 and above.
6. V Curve Pro
This Android app is from Everyware Labs LLC and is helpful in measuring grades on profiles, vertical curve elevations, slopes, and length conversions.
This is a paid application and will cost you Rs. 620.
7. AutoCad 360
This is the official AutoCAD® mobile app from popular Autodesk Inc. This application allows you to take your engineering drawing designed in AutoCAD with you, and it can also be used to view, edit, and share AutoCAD drawings across desktop, web, and mobile devices.
There are also some pro features which can be activated by purchasing the subscription. Some of its pro features include New drawing creation, larger file size support and increased storage, full access to cloud storage (Google Drive, One Drive, Dropbox, Buzzsaw and more), with editing capabilities, etc.
8. Handyman Construction Calculator
If you are looking small size android application for calculations at a construction site, then this "Handyman calculator" is for you.
It has 100+ professional grade premium tools and supports US or METRIC modes for Inputs and Outputs, easily configurable US inch fraction output precision, diagrams help master the inputs and outputs, built-in sharing option and lot more.
9. Map Pad GPS Surveys & Measure
This is last but not the least productive Android app for Civil Engineers and is a very innovative application which uses GPS for calculating distance and area for the shapes drawn on the map.
This application can be used to capture, manage and share data easily and supports a number of well-known cloud providers like G-Drive, Dropbox, Google Fusion Tables and export formats: KML, GPX, CSV and AutoCAD DXF.
MapPad is a very useful software for anyone involved in forestry, agriculture, roofing, solar panel planning and solar panel installation, fencing, construction, real estate management, asset management, winter snow removal or farming business.
Do check out this FREE android app and be more productive.
---
Hope you like these helpful Android apps for your work and calculation and will be using it. If you are using any other Civil Engineering Android apps to make your work easier, do let us know and we will include it on our list.
If you like this article, do not forget to share it with your friends and family.