Liquivid Easy To Use Software for Video & Photo Editors
Pictures and videos are a very important part of our life and in this age of social media, they are the top priority. Not only pictures & video help in recalling our persistent memories, but also help in sharing our current thoughts, expression, and emotions. So they need to be perfect. Therefore, today I am going to tell you about "Liquivid", which is easy to use software for editing your videos and pictures.
Liquivid is a desktop (Windows & OS X) application which is useful for beginner videographers, action cam users and aerial filmmakers.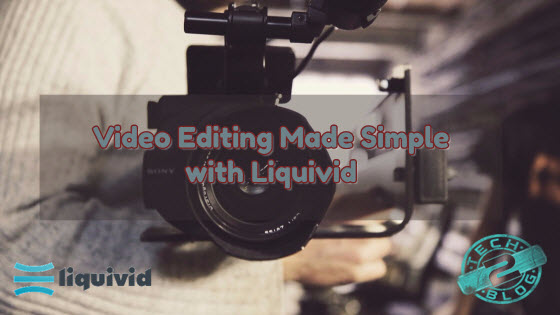 The main aim of this application is to provide a platform to users having an interest in video editing, but could not pursue it due to the complexity involved in editing the videos and pictures.
So this software offers a wide variety of correction & improvement features (stabilization, effects, defishing, etc.) which can be selected with a single click. You can also batch process several files at once to edit all your travel shots in one go and with minimal effort & time.
Below are features of this software.
Features & Specification of Liquivid
Stabilization / Remove Camera Shake
Defish / Remove Lens Distortion
Noise Removal
Visual Effects
Improve Contrast & Colors
Improve Sharpness
Easy Rotate & Crop
Easy De-flickering
Change Play Speed
Basic Video Cutting
Batch Processing
Multiple Input & Output File Support
I am sure after reading above features, you must have got an idea what this software can do for you.
One of the main feature of this software is camera shake removal, which can be done very easily with this application. It will optically stabilize your videos, ideal for handheld footage and action camera clips which are taken from Go-Pro action cameras or some drone.
Above videos show you, lens correction and shake removal using Liquivid. More video samples can be found at their YouTube channel.
Liquivid has also introduced different effects for your videos and photos, giving them more awesomeness.
If you are a regular user of action cameras and other wide-angle lenses, then you will be happy to know that this editing software can remove the fisheye effect from videos and photos, which is also called defishing.


Copyright: BESTGREENSCREEN / Fotolia.com
Also, it has a very good option to create profiles based on camera, so whichever make camera or lens you have, you can easily create a profile based on that. It is a good option if you have a different camera and lenses.
Current built-in profiles include: GoPro Hero 3, GoPro Hero 3+, GoPro Hero 4, Sony HDR-AS100V, Drift HD Ghost, SJCAM SJ4000 & SJ 5000, DJI Phantom 3, Garmin VIRB, Rollei 6S, Rollei 410, GoPro Hero 4 Session, Mobius ActionCam (lenses A & C2), Parrot Bebop 2, Zoom Q8.
Below are some of the screenshot of this tool showing you basic and advanced options.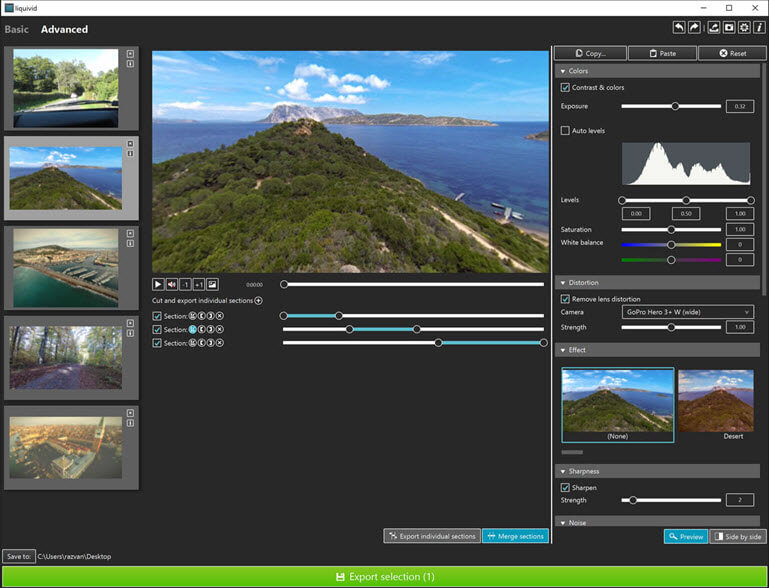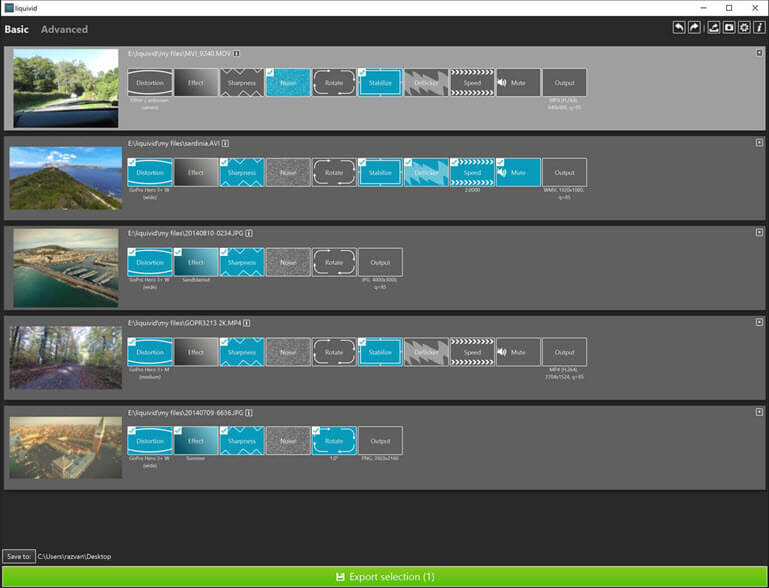 If you have taken photos or videos in low light or with high ISO, need not to worry as you can easily remove noise from them.
Other noticeable and important feature of this software is "Deflickering", which help in removing flickering from time-lapses and videos recorded under bad lighting conditions. Easy rotation of videos and photos by 90 / 180 / 270 degrees.
If you also want the slow-motion effect on your video, you can do this by changing the frame rate in liquivid easily.
Different supported Input files in this software are JPG, PNG, TIFF for photos and common formats and codec for videos including HD, 2K, 2.7K, 4K.
You can expect JPG and PNG format for photo output and MP4 (h264), WMV, uncompressed AVI in any resolution (including HD, 2K, 2.7K, 4K) and with high bitrates for videos.
CON
1. Cannot be used for 32 Bit processors. It is only available for 64-bit processors.
2. It does not support GIF files currently. [This has been fixed after our review]
Price of Liquivid
This video editing software has so many features and can be purchased at $19.99 only on their own website, or check liquivid on Steam, or check liquivid on the Mac App Store.
Take part in below giveaway to get this software for FREE.
Note: Due to low participants, we are not able to choose 10 winners. So will organize a giveaway for remaining keys on our Facebook page.
Winners: Mohsen, Pawan, Larry Soucie
I am sure you must have liked all the features of this video and photo editing software for such a low price. Even I was shocked to know the price. 🙂
I also recommend its batch processing feature which allows you to apply your desired effect on numbers of files at one go.
You can try this software before buying and make sure it fits your need. Let me know what are your thoughts for "Liquivid". As always, don't forget to like and share this article.