Gmail's Confidential Mode: 4 Interesting Things You Should Know
Posted on

April 11, 2019
In Google
Security is becoming one of the major concern today and for the same reason Google keeps on trying new features. Google has recently introduced a confidential mode in Gmail through which you can send more secure emails and attachments. Let's see what some of the important things we should know about this feature.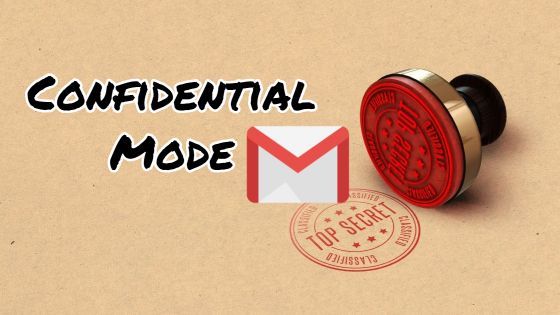 Gmail's Confidential Mode: 4 Interesting Things You Should Know
1. Set Expiration Date
With Gmail's confidential mode, you can set an expiration date for your email messages and can also revoke the access at any time.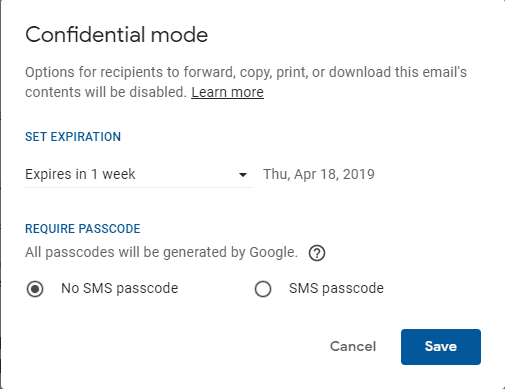 The expiration date can be set to 1 day, 1 week, 1 month, 3 months and 5 years. There is no option to set a custom expiration date till now.
The email sent with confidential mode are only available till the expiration date.
2. Forward, Print, Copy and Download options are disabled
Email sent using Confidential mode cannot be downloaded, forwarded, printed or copied. There is no forward button on such emails and even if you try to print it, will show you a message that the email has been sent using confidential mode.

But, as workaround people can take a screenshot of the email.
3. Security using SMS Passcode
If email is sent using the "Require Passcode" option, the sender will have to provide the mobile number of the recipient and then they will have to give the passcode received on their phones. All the passcodes are generated by Gmail internal mechanism.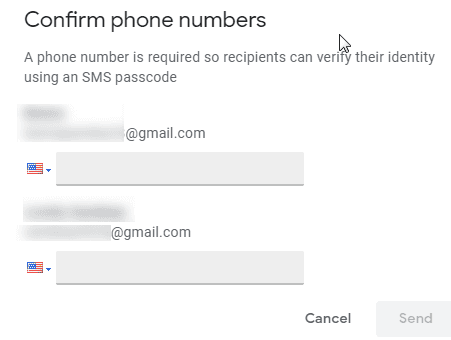 I think this is a more secure way of securing your email messages and attachments.
4. Revoke access anytime
Access of confidential email can be revoked anytime. Suppose by mistake you have given an expiration date as 5 years from now, so you can immediately revoke the access of that email.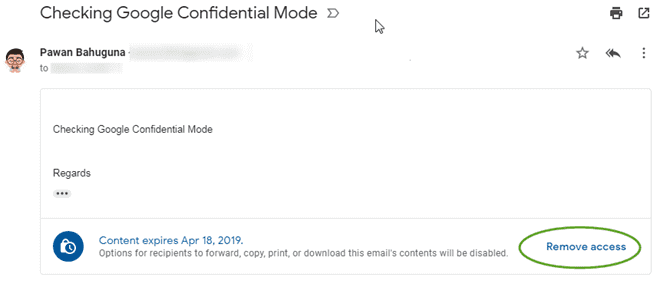 Just visit the "Sent" box and click on 'Remove access'. Now if a receiver will try to open the email, he will see the message that email has expired.
So, these were some of the interesting things which you should know about Gmail's Confidential mode.
---
I hope you must be delighted with this interesting feature which Google has introduced. Do let me know what you think about this particular feature and if you would like to see any other option added to it. I think it should have a custom expiration date feature.
If you like this article, please share it with your friends and family and subscribe to our free email newsletter for more such interesting tech news.