Lock your Lost Android Device using Norton
Security has become a major concern for our Smartphones all over the world and protecting them is always good. There are many Android antivirus and applications which are best for this purpose and can be used used to lock, ring, track your Android device. Today in this post we are going to share tutorial on how to lock your Android device/phone using Norton through SMS commands.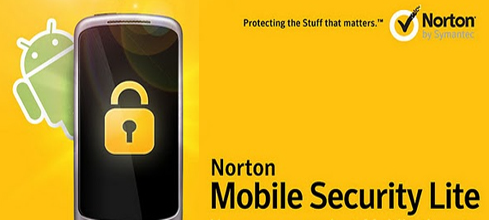 Norton is a world wide known for its antivirus application and is used in home and enterprise level widely. Not only on PC/desktops, it also offers its services for Smartphones and one of such its application is for Android device in form of antivirus called Norton Security antivirus.
Features of Norton Security antivirus (Lite version)
1. Scan all your device for malware and virus.
2. Tells about miscellaneous application installed on your phone.
3. Remotely lock your phone using SMS command.
4. Scan SD cards for threats
Steps to install Norton and Lock your device using SMS Command
1. Go to Norton antivirus android application and install it to your phone.
2. During installation Norton will show you features of Norton mobile security and will ask you to sign-in if you have Norton mobile security account. You can also complete sign-in afterwards.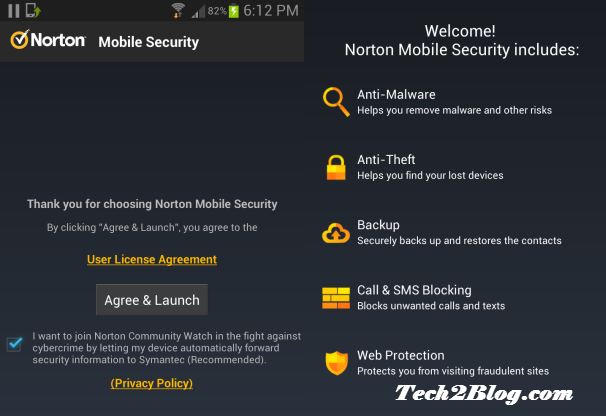 3. Now after installation you will see main menu, which will shows you available option like Anti-Malware, Anti-Theft, Backup, call blocking, web protection & Norton apps. For free version only 3 options are available.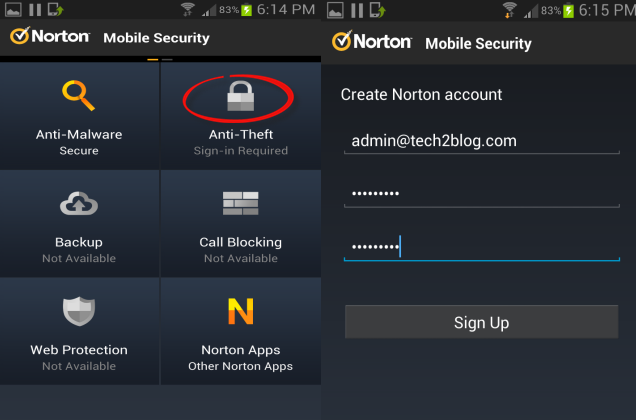 4. Now to activate anti-theft option you will have to sign-in to your Norton account and if you don't have the account don't worry there is option to sign-up as shown above.
5. Now Norton will ask your device name, here just give your phone name which will be available at Norton website. After giving your device name Norton will provide you passcode to lock your phone through SMS command.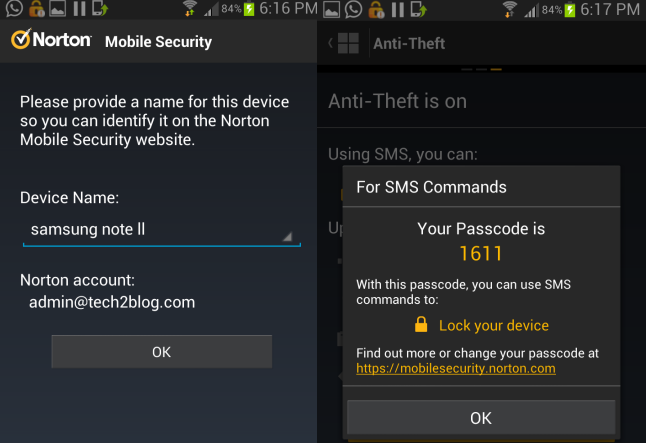 6. Now you can login to Norton Mobile security website check and verify that your Android phone is present there.
7. Now you have verified your Smartphone and it is connected to Norton Mobile security servers and now you can remotely lock your phone just by sending a SMS command as below.
Type 'lock 1611' and send to your missing device phone number.
Here 1611 is your passcode.
Note: Norton Security antivirus lite version Android application does not offers to track your phone remotely and also does not give other facilities like call back, data wipe, theft alarm etc. For all these features you will have to upgrade your lite version to premium which cost $29.99 for a 1-year subscription.
8. After sending SMS to your lost/stolen Android device, you will receive confirmation message back that your remote lock was successful and your lost Android device will be locked as shown below.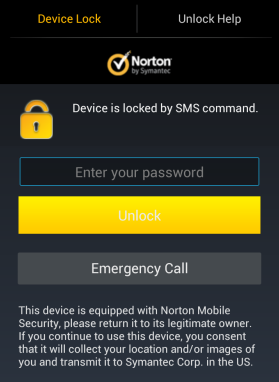 To unlock the device you will need your pass code which is provided by Norton. You can easily change your passcode by visiting Norton mobile security website, make sure your device is connected to the internet.
---
This was how you can easily lock your stolen or lost Android phone/device using Norton antivirus. But this antivirus is not able to track location of your lost phone if you are using free version of Norton. All this facility is available on paid version. If you are looking for free option for tracking your phone and using other remote function you can try Avast antivirus or Google Android manager, which can accurately track your phone, wipe your data, ring your phone all for free.
Hope you have found this tutorial helpful, if you have any questions feel free to post through comments and emails and don't forget to share this article with other and subscribe to our email list.