How to Receive Adsense Payments through Wire Transfer in India
Finally, the wait is over for Indian Google Adsense publishers for receiving their Adsense payments through Wire transfer or EFT. This is one of the major announcements by the Google Adsense team for Indian publishers and now they can receive Google Adsense payment directly to their bank accounts. Currently, this program is in beta testing and you can participate in it too and receive payment through EFT.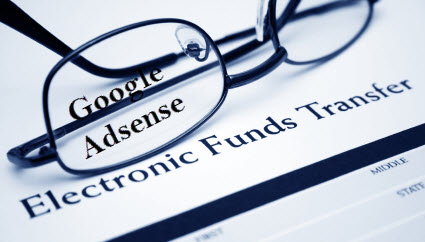 As we all know that wire transfer or EFT is the best option to receive payment without any hassle and this option was missing for Indian publishers and we were receiving our payment through standard cheque to our local residential address.
Recommended Article: How to Earn through Google Consumer Surveys
This payment through cheque system is very slow and takes at least 15 days to arrive at your location even in metro cities. If you are not residing in metro cities then it could take longer. After receiving the cheque you have to deposit it in the bank which additionally takes 2-3 days to clear and if your bank head branch is not in your city then it could take 15-20 days more to clear your Adsense cheque (I have faced such situations earlier).
Earlier Google announced that it will enable Electronic fund transfer (EFT) for Indian publishers by the end of December but it was unable to do so and started a beta program recently.
Requirements for Adsense Payments through Wire transfer/EFT
1. Publisher should have Google Adsense account with payment address located in India.
2. Minimum $100 outstanding balance shown on the Payments page of your account
3. Bank account number
4. Name of the account holder
5. SWIFT code (The SWIFT code is a unique identification code for banks and other financial institutions.)
6. Bank name
7. Indian Financial System Code (IFSC)
How to start Receiving Adsense Payment through Wire Transfer or EFT
To receive your Adsense payment through EFT/wire transfer you will have to put your Adsense payments on self hold (see below screenshot) before 16th March 2014 and all the self hold Adsense account in India will automatically upgrade for a wire transfer or you can also comment at Google forum thread "Upcoming form of payment changes for publishers in India".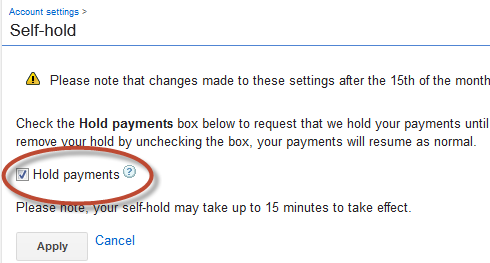 As per the recent beta testing results, the participating publishers told that they are getting a good money exchange rate and the bank is charging nominal fees of Rs.110 as a service tax. In February they got an exchange rate of Rs.61.79 per $1, which is good as compared to cheque conversion rates in my case.
Update [28 April 2014]: Google AdSense has officially sent an email message to its publisher stating that they are making changes to Adsense payment options. Below is the short snippet of that email that I received.
With this change, we will no longer offer payments by check. Please continue with receiving and depositing any outstanding checks as we make this transition. The normal 60-day waiting period from the check issue date will apply to check cancellations, and additional time may be necessary to incorporate the canceled amount into the next scheduled payment.
Update [30 April 2014]: New wire transfer or EFT has been enabled for Indian publishers. Now Adsense publisher can go to payment setting option and can enter a new form of payment. Put your bank details and SWIFT code. Below is the sample payment form.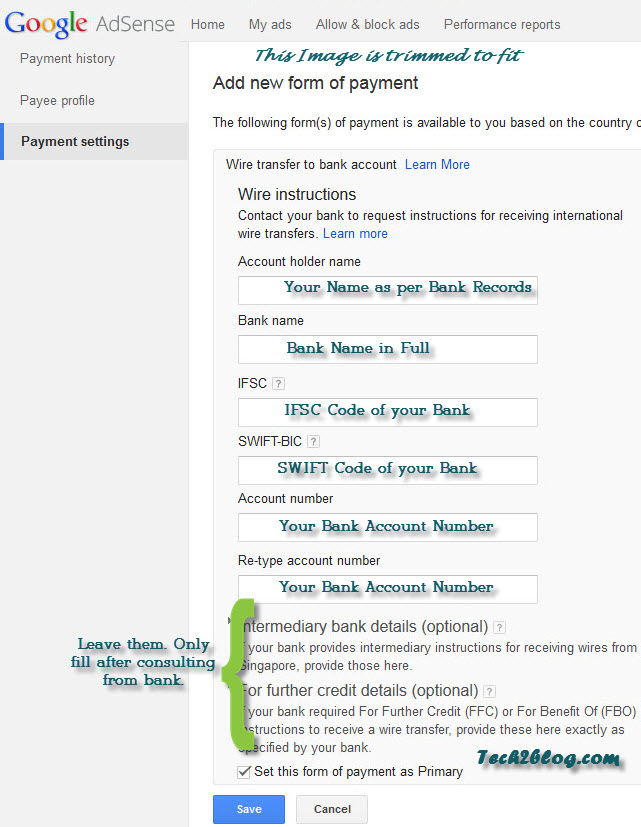 ---
Currently, wire transfer payment is in beta testing and you can participate following the above instructions and get Google Adsense payment directly to your bank account. After successful testing, EFT or wire transfer option will be automatically available to all Indian publishers and then we will not have to wait for receiving cheques and then for their clearing. Let me know what are your views about this latest Google announcement for Indian publishers.