How to Choose Web Hosting Confidently
In today's online business scenario, choosing the best and cheapest web hosting wisely is a very tough task. There are lots of hosting company which is providing eye catching deals and features on very low price but are they really providing what they saying. In this article I will cover some points which will help you in choosing the right web hosting company for your blog and website.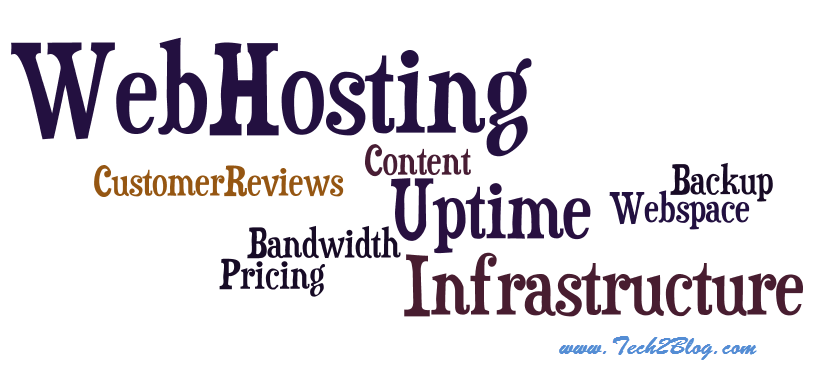 Points to Notice while Choosing Web hosting Provider
1. Support: For me support is the main priority while choosing website hosting company. And you should always read reviews on web hosting forum's about the web hosting company you are choosing or should get some personal review from your blogging friends. After reading the review about the web host you will get a clear idea, how quick that company can resolve your issue. I have seen many unpopular and some popular hosting companies which do not provide good support and your support ticket will remain in their queue untouched for a long time.
2. Web space and Bandwidth: While launching your blog or website, you must have a plan and should consider space and bandwidth consideration in advance. You should have adequate amounts of web space as per your need and traffic. Suppose in some months or years if your traffic grows with the growing number of posts, then you may face space and bandwidth issue if you have bought limited space and bandwidth.
Recommended Article: SEO Tips for Blogger
Static website can have small web space but for dynamic site you must have a good amount of space. Now almost all the web hosting company provides unlimited web space and bandwidth. Almost all of the companies has fared use policy and if your bandwidth usage will go high, you may get banned from web hosting.
3. Experience in Web hosting: You should not consider brand new web hosting company for yourself, choose some established web hosting companies which have good experience in hosting website efficiently. Never go for free web hosting sites, as they may be down anytime and your website/blog will have to suffer in terms of hard work and traffic. I have seen live examples and in many incidents blog owners has to lose their traffic and data.
4. Cost/Pricing: Many web hosting companies charge very high on their monthly and yearly plans. And even if you are renewing your web hosting they are charging very high. So while purchasing any web hosting package rethink and compare them in terms of their features and services twice and thrice and then only purchase.
Also if you are thinking to buy new hosting, I will recommend you to buy during November and December months as there are lots of offers and discount and you can grab hosting and domains at about 75% OFF.
5. Customer Reviews: Before buying any web hosting for your blog/website, you should always search for that company customer review because by searching the review you will come to know about the real support and their drawbacks. This is the must do point for every purchase you make online or even offline.
6. Backup/Restoration Facility: This is one of the important consideration while purchasing any web hosting service. You must check whether the hosting facility provider is giving you automatic backup or not. Also check if it's giving daily backup or weekly backup.
Recommended Article: Automatic Backup using Cron Jobs
Also note whether the hosting service provider is giving free restoration from their backup or not. Almost all the web host services do not provide free backup and charge some nominal fees. But they can restore your blog/site from their backups.
7. Programming Language used in building website: This is an important consideration of you are building your website in different programming languages. You must be knowing that Linux based hosting does not support ASP, so if you are planning to make your website on ASP, don't buy Linux based hosting instead by Windows based hosting. PHP, HTML can work both on Linux and Windows servers.
I have heard that Mono project can run ASP websites on Linux but it is hard to implement and you will have to face lots of problems. So before going live do test it many times.
8. Up-time and Infrastructure: Many web hosting company give you information about their infrastructure and detail about environment where servers are kept along with the uptime. Generally all the hosting providers assures you 99.9% up time but you should always read about their infrastructure too, as good infrastructure can only provide you the said up-time.
---
These were some of the point which I usually check before buying any new web hosting and I think you should also check those points otherwise you may end up buying useless hosting service and will regret a lot. Hope I have not missed any points. If you check any other important points while purchasing new web hosting do let us all know through your comments.