How To Set Traffic Alert Through Google Analytics
Taking website or blog to new heights and rank is the first priority of all the blogger's and all the bloggers are well aware of this fact that traffic is the most essential part for running successful blog or website and definitely help in reaching your goals and target's. And keeping track of your blog/website traffic is the important task of all the webmaster's and blogger's. So in this article we will discuss about how to use Google Analytics tool to keep track of your traffic and alert you whenever your traffic goes down or up as per specific threshold set by you.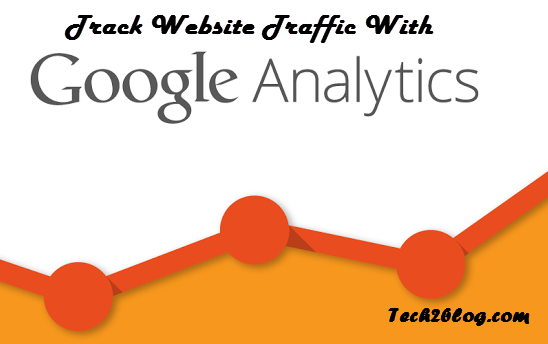 Requirements for this Tutorial
1. Google Analytics Account : Which can be made for free using your Gmail account.
2. Active Website or Blog : You must have a website or blog, which you have already added in your Google Analytics account.
Steps to Setup Traffic Alert via Google Analytics
1. Login to your Google Analytics dashboard and select your blog for which you want to create traffic alert.

2. Now go to Intelligence Events and click on Custom alerts as shown below. And then click Manage customised alerts.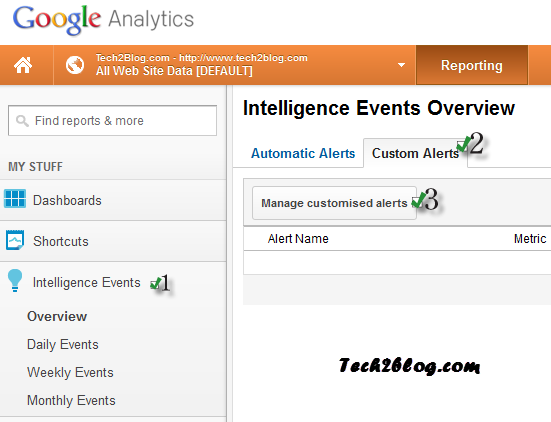 3. Now in Manage alert console, just click on create new alert as shown below.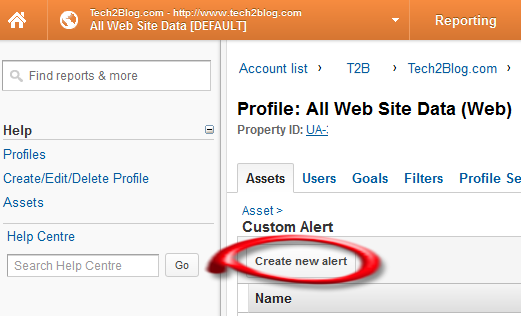 4. After clicking create new alert, you will be shown below screen where you have to setup your alert according to your need.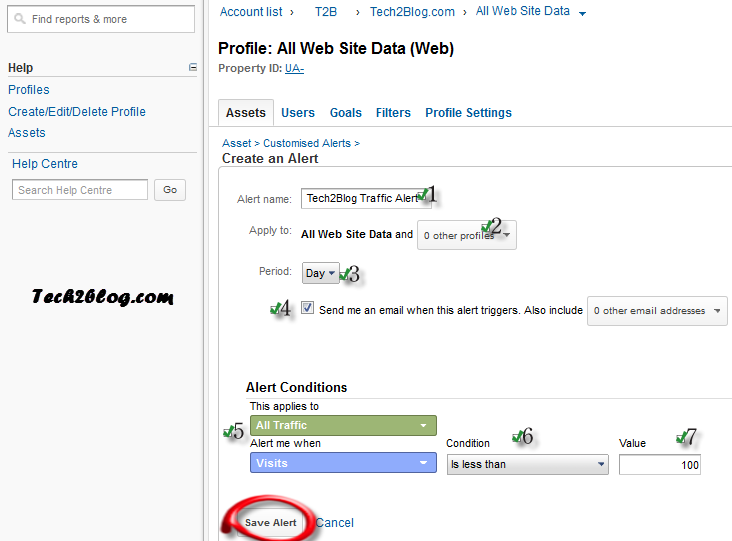 Once you have set all condition as explained below, then just click save.
Explanation of Custom Alert Setting
1. Name your alert as per your choice.
2. At this point you can also select same alert for other website property which are in your Google Analytics account. In a way you can bulk apply this custom alert for all your website in your account. Just press Control key and select your website.
3. Now you will have to choose your period for which you want to get alert. You can select by day, by week and by month.
If you want to get alerts daily for your traffic, just select DAY.
4. At this point you have to check Send me an email when this alert triggers, otherwise you will not get email alerts when your website traffic goes down for your set limit.
Here you can also choose another email address, where you want to send alerts. Suppose you have a partner and you also want to send him website traffic alert, then you can select optional emails.
5. This is the most important point. At fifth point we have to make or alert conditions for which alert will be send to email.
Choose this applies to All Traffic and alert me when visits, which are already default settings.
6. In condition choose Is less then, as you want to set alert when your traffic goes down. You can also select other option which can alert you when traffic goes up by visits or by percentage.
Thus you can keep track by how much percent your traffic is decreasing or increasing.
7. At this point just put the traffic amount for which you have to set alert.
Suppose you have a new blog and your first target is to reach 100 visitor per day and you want to set up alert if your traffic goes below 100. So just put 100 at this step.
Well established sites can increase this traffic threshold level according to their traffic.
You won't find such good and incredible tool to track your traffic anywhere else than Google analytics and all for free.
If you have any questions or any difficulties in setup of your Traffic alert, then please leave your comment with questions and feedback. If you like this post please consider it sharing with your other blogger friends and colleagues. You can also subscribe to Tech2Blog.com by Email to get such wonderful articles and tips on your inbox.