Must have Free Blogging Android Apps for Bloggers
If you are a passionate blogger and want to keep your blog always updated, then these free blogging Android applications for your Android phones and devices can really help you in achieving that. Sometimes it happens that you are away from your PC and laptop, lets say you are traveling and some great post idea strikes your mind but its of no use as you cannot post it at that moment. And when you reach at your workstation, the killer idea has been vanishing from your mind. So to avoid such situations, we have great collection of blogging application for all sorts of blogging platforms. These are free Android applications but very effective.
Must have Free Blogging Android Apps for Blogger's
1. Blogger: This is an official blogging android application from Google for Blogger.com. If you are having a blog in blogspot, then this is the perfect application for you. This free application is very important for bloggers, as you can quickly draft any idea which is coming to your mind on fly.
This android application lets its user publish and draft post on the go. By this application you can easily switch between blogs, publish the post, put labels on the post, add location and also can embed images. Its latest version support more languages, improves user experience, auto Sign in when you view a blog on web and also many bugs are fixed as compared to previous version of this app.

2. WordPress: If you are running your blog or website in WordPress, then this is the perfect android app for your Android phone and device. The specialty of this android app is that, you can manage both WordPress.com and self-hosted WordPress blog with it.
This app let your create a new post and edit old ones. You can also see stats and manage comments with built in notification. This is a free Android application which requires android version 2.2 or above to work.
Recommended Article: How to Earn Extra Money from Home

3. Bloggeroid for Blogger : This is another free android application for Blogger.com users and has many extra features which you will not find in the official blogger app. By using this app you can simply create, delete and edit your blog post of any blog in blogger and all without ads. You can also add images and links to your post with this app.
This application works with multiple blogger account therefore gives you ease of updating multiple blogs in the same time. The most attractive feature apart from the free version of this application, I like the most is that you can upload and save your post from and to SD card very easily.

4. Tumblr: This is free android application for bloggers who use Tumblr platform for blogging. This application lets user create a post, share photos, video, quotes, chats, links etc. This Android app can manage all your Tumblr blogs.
This app have some of the advance control which lets you queue posts, customize tweets, save drafts, and much more. This is a reliable application if you are blogging in Tumblr. To run this application on your Android device, you should have Android version 2.2 or above.

5. Drupal Editor : This Android application is for Drupal users and allows them to post and edit articles on their Drupal sites and blogs. To use this app, you need to enable the Blog API and on Drupal 7, you need to install the module "BlogAPI Alternative".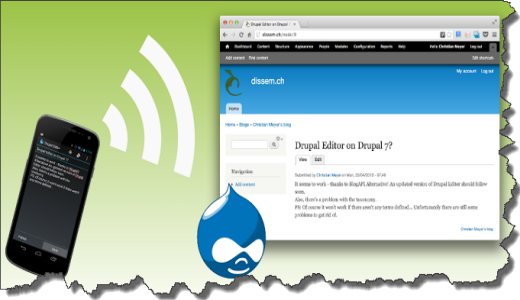 Get this App now

6. LiveJournal : If you frequently blog and share in Live Journal platform, then this is the application for you. This Android application let's you read & write comments, post photos, post entries to your journal and communities, edit your post, read your friend page and much more.
---
These were some of the best blogging Android applications for all bloggers who loves to keep their blog updated. Hope I have not missed any application here, which is beneficial to all. If you any other suggestion or feedback, please feel free to comment. If you like our post then consider sharing it. You can also Subscribe to Tech2Blog.com by Email to get free alerts on your Inbox.