5 Ways to Digitally Edit Your Pictures
Nowadays, we have impressive DSLR cameras and even smartphone cameras that take stunning pictures. However, some photography enthusiasts are perfectionists. They are just never satisfied with their camera results. Others just like the idea of playing with various photo effects. For such people, photo editing software is a great way to make pictures meet their aesthetic standards.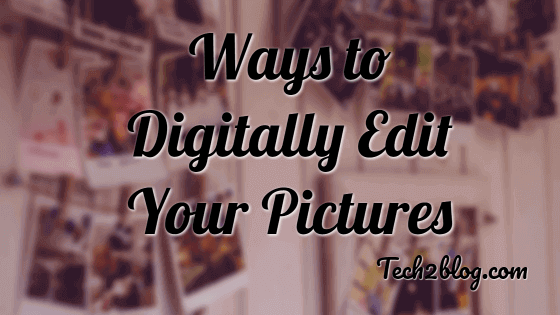 Here is how a photographer, or anybody, can digitally edit and enhance pictures:
Straightening
Some pictures are often taken when you are just living in the moment. Life should be spontaneous like that. However, it is hard to keep your camera level as you take pictures in chaotic situations. With digital editing software, it is easy to bring your pictures back into a grid. Transfer your photos to the software app and align them according to what appeals to you.
Blur and Focus
The modern cameras have features of auto and manual focus. These features allow you to bring the main subjects of your picture into focus and blur the rest. Just in case, you were too distracted, you can accomplish this later by using a digital editing software. One of the basic effects offered by these applications is the Gaussian blur. This provides a natural effect but you can experiment with others as well.
Cloning
We often come across landscapes that are just beautiful. However, there is a single object that does not fit. Instead of giving up the capture, you can remove that unwanted object through editing. The cloning feature allows you to put an appropriate patch from the same picture over the unwanted picture. More advanced versions of this feature are the Photoshop's Patch Tool or Healing Brush.
Lighting
One of the most annoying things a camera can do is to take a dark picture. At other times, the lighting is just not right for the moment captured. With photo editing tools, a person can adjust the brightness and contrast. For more advanced photo editors, the levels and curves effects provide a better-controlled output.
Sharpening
A sharpening effect available in many photo editing applications can make a picture crisper and have better focus. You have to be careful with this technique because too much sharpening can make the image look unnatural.
Additional features of many digital software include using borders, removing the annoying red eye and adding warmth or temperature.
Many photo editing applications feature some basic effects like a pencil sketch, HDR, black and white, tint, and more to add a bit of character to the pictures.
One of the most appreciated qualities among photographers is HDR. HDR images are richer in color and clarity.
For HDR editing, you can use the Aurora HDR 2017 application. It is a comprehensive HDR photography solution developed by Macphun and Trey Ratcliff. It features more than 100 tools that have been specifically designed for HDR photography. You can enjoy some great features like HDR look controls, noise reduction, layers, luminosity masks and more to produce better HDR photos.
---
Do let me know if you have any other way to edit your pictures through your comments and do not forget to subscribe to our channel.