Top 11 Deadly PUBG Mobile Players in India
Posted on

March 29, 2019
In Gaming
You all must be knowing about PUBG which stands for "PlayerUnknown's BattleGrounds". Yes, who don't. This game has suddenly taken over the mobile gaming world and all are talking about it & playing as well. It is one of the most addictive Android games and in this article, we will talk about top PUBG mobile player in India (both male & female). So let's get started.
The first thing which I wanted to clear is that this list is based on the number of subscribers and live viewers which these gaming YouTube channels are getting. Subscriber count is on the day of drafting this article and we will update it time to time.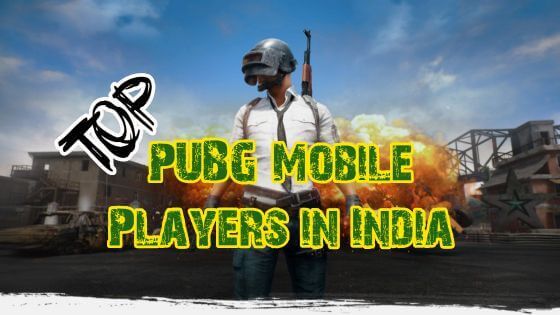 Top 11 PUBG Mobile Players in India
1. Dynamo Gaming | Subscribers:- 6.22M
The real name of Dynamo Gaming is Aadii Sawant and he is popularly known as Dynamo and is one of the sensational PUBG players who has reached the mark of 6.22M Million subscribers just in few months through dedication and patience. He loves to use a sniper and is very good at it.
Dynamo Gaming live streams are very awesome and you can enjoy it with your family & friends. People love Dynamo gaming style so much that on a normal day his live viewers' count is in the range of 50-70K and few times his channel has reached a live viewership of more than 1 lakh which is a remarkable achievement for any streamer.
If you want to do live stream like Dynamo Gaming you can check this video on YouTube.
If you are a gamer or game lover, do check out his YouTube channel and also follow him on Instagram.
2. MortaL | Subscribers:- 3.83M
If you want to see or play PUBG mobile without the help of an emulator, then this is the channel to check because Naman Mathur aka MortaL plays the game on his iPad or Asus Rog and intriguingly uses 4 finger claw control which is not easy to master. Currently, he is having 3.83M subscribers.
He started his channel by sharing tips and tricks about PUBG mobile, but soon realize he is good at this game and started streaming live for his fans. The rest is all history.
If you haven't checked his channel till now, open your browser and check it out. Also, if you want to learn how Mortal plays on iPad and about his setup check out this video on YouTube and thank us later.
3. CarryisLive | Subscribers:- 3.53M
With a subscriber count of 3.53 Million, Carryminati is our next famous PUBG mobile player and he streams PUBG mobile, Alien Isolation, Resident Evil, and other famous games on his YouTube channel "CarryisLive".
Carryminati real name is Ajey Nagar and he has a huge fan following from his channel Carryminati which has currently 5.6 million subscribers and is famous for roasting.
Ajey has good gaming skills which can be seen from his videos. He is also one of the first Indian Youtuber who has met Tom Cruise. During his PUBG mobile live stream, we can see around 50-60K viewers online watching his game.
If you haven't checked his channel till now, go and watch it. Also, if you would like to stream like him do check this YouTube video.
Must Check: Best YouTube Overlays for Streamers
4. RON GAMING | Subscribers:- 2.71M
At this position, we have Ron from RON Gaming. He is a talented gamer with great potential and awesome gaming skills.
Ron loves to play different types of game-like GTA, Destiny, etc. in his YouTube channel "Ron Gaming" and has currently subscriber base of 2.71 Million. He is a very polite person and his streams are fun to watch.
Do check out his channel and if you haven't subscribed till now, do smash that red subscribe button on YT.
5. Kronten Gaming | Subscribers:- 1.79M
Kronten Gaming is another popular gaming channel with 1.79M subscribers and that just within 1 year of time span. He is known for his serious game playing among his fan base.
Currently, he is streaming live at a fixed schedule, unlike other YouTubers. As per his YouTube channel, he streams PUBG mobile live from Monday-Friday 10AM – 2PM and 5PM – 11PM. He is also playing "HURTWORLD" time to time.
I am sure you must have already subscribed to these 2 channels. If not, please go ahead and check them out.
6. GtxPreet | Subscribers:- 1.26M
Inderpreet is the man behind this channel and currently has 1.26M subscribers. He streams only PUBG mobile and posted the first video on Sep 14, 2017. He is a skilled gamer and plays PUBG mobile very well.
If you are looking for fun and entertainment, do check this channel and do support him through your subscriptions and donations.
Recommended Article: Sensational Voice Changer for Discord & YouTube
7. Alpha Clasher | Subscribers:- 1.11M
Alpha Clasher or HYDRA ALPHA is one of the key team members of the Dynamo PUBG mobile team. Pratik Jogiya is the brain behind this channel and running it successfully since 2015. Currently, this channel has 1.11 million subscribers.
If you like hard gaming, this is the channel to check in India.
8. Gareebooo | Subscribers:- 1.09M
If you love roasting, you must be knowing Gareeb. He has one of the famous roasting YouTube channels in India. Gareeb or Kunal Saraf lives in Kolkata with his family. The current subscriber count of Gareebooo is 1.09M and is growing at a rapid speed.
'Gareebooo' is a gaming channel of Kunal where he streams PUBG mobile live on YouTube. He loves playing with his friends in a team. His streams are quite entertaining and if you are looking for some fun time, do check out his YouTube channel, but remember to use headphones.
If you want to know more about him, do check this videos. Also, this video claims that real name of Gareeb is Nikit.
9. MDisCrazY | Subscribers:- 717K
This is another popular YouTube channel for PUBG mobile with a subscriber count of 717K subscribers. MD lives in Delhi and has quite amazing gaming skills and is famous for his strategic play among his subscribers.
If you are a gamer or game lover, do check out his YouTube channel and also follow him on Instagram.
10. Cosmic YT | Subscribers:- 699K
Inderpal Singh runs this channel and currently have 699K subscriber. From a very young age, he got responsibilities on his shoulders due to which he has to left the studies. Now, he is a very successful YouTuber.
I am sure, you will like his gaming. Go and check out his YouTube channel.
11. Pooja | Subscribers:- 480K
Pooja Khatri is the only female gamer who has made to our list with 480K subscribers. I would say she is one of the fastest-growing gaming channels in India. Her channel was started on 2nd Nov 2018 and just within 3 months of time, she has crossed 1.5 Lakh subscribers which is itself a great achievement.
Apart from gaming, she is a professional actor and model. She was born in Delhi and has worked with reputed TV channels such as Sony & SAB TV.
If you would like to see her play PUBG mobile, please check out her channel.
Special Mention
We would also like to mention Gunshot.
Gunshot | Subscribers:- 265K
'Gunshot' is another very good YouTube channel for watching PUBG mobile, PUBG PC and other games. This channel is opened by Harnit Khatri. He and Carry are school friends and it was Carry who motivated him to open his own YouTube channel to do live streaming.
Currently, he is having 265K subscribers on his channel which are increasing day by day. He has the aim to take Indian gaming to the next level, so please go and support him by watching and subscribing to his channel.
---
We are sure, there are other PUBG mobile streamers on YouTube. If we have missed any popular Indian YouTuber in this list, we are sorry for that and would request you to let us know the name of that PUBG mobile player through your comments.
Also, if you like to know more about them like their monthly income, monthly views, lifestyle, hobbies, etc. Please keep visiting our website and subscribe to our FREE newsletter. You can also follow us on all the social media channels for updates.
I hope you have enjoyed reading this article as we did writing it. If you like this article, please share it on your social media network and to your favorite YouTubers stream.