Review of Ashampoo PDF Pro | Easily Create & Edit PDF's
"PDF or Portable Document Format" is one of the most used file formats around the world and is invented by Adobe. It has now become standard and used everywhere, whether it is an office, home, schools, etc. Sometimes we need a multipurpose PDF editor which can easily create a new PDF, edit & merge them, convert the document or even protect our files. These all things can be done by many software available online including Adobe, and in this article, I am going to review Ashampoo PDF Pro which is one of them.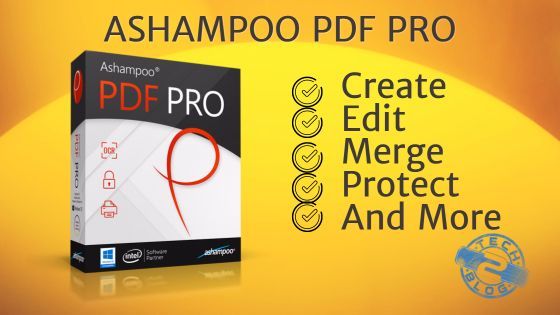 As per the Ashampoo website, "Ashampoo PDF Pro is the complete solution to manage and edit your PDF documents. The program has everything you need to create, convert, edit and protect your files".
Using this software you can create perfectly sized documents that are readable on any device and use encryption to protect your property when needed. Your PDFs are now as easily editable as Word documents!"
Want to Edit PDF's, Create & Edit Interactive/fillable forms? Check Ashampoo PDF PRO 2
Features of Ashampoo PDF Pro
Merge PDF documents into a single file
Edit PDFs very easily.
Optical Character Recognition (OCR).
Flexible text editing
Easily extract images from PDFs.
Track document changes.
Use headers and footers.
Built-in spell checker.
Create PDF portfolios.
Drag and drop to merge PDF documents into a single file.
Insert, corp, sort, delete and rotate pages.
Above were the key features and functions of "Ashampoo PDF Pro".
I really like the easy interface of this software, which lets you edit any PDF document easily. Editing mode is quickly enabled just by clicking on the text and you are good to edit the text.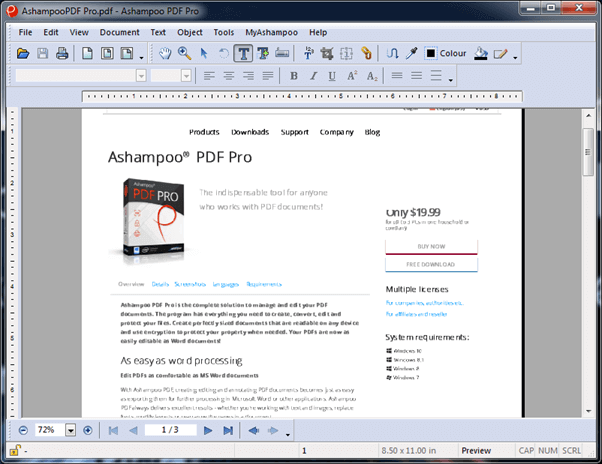 To review and try this PDF editor, I tried to edit one PDF document in "Adobe Acrobat X Pro" and the same in Ashampoo PDF Pro, and to my surprise, the biggest difference which I noticed was that Adobe was not able to recognize some of the fonts, whereas Ashampoo PDF Pro had no problem.
Note: Ashampoo has now released Ashampoo PDF Pro 3
It may happen that you don't have any editable text on your PDF because the PDF was created from the scanned image. In that case, Ashampoo PDF Pro can convert your pdf to editable text using OCR technology.
I tried editing some pdf's which were made from scanned images, OCR was able to convert and give editing option, and also most of the text from the image was editable. Though, some text was also converted to some dummy text like the signature.
Note: While using OCR functionality, keep "PDF Style" to "Editable Text".
However, I did not get same results with "Adobe Acrobat X Pro". To some extent, I think we should not expect pdf editors to convert images into editable text.
I will try to edit more different kind of scanned documents to try OCR and if I get success will update this post. Also, please check the below video to see live how to edit the scanned document using this software.
This pdf editor also has built-in stamps, like 'Top Secret', 'Void', 'Draft', etc. which you can put in the document as per your requirement. You can also put the custom stamp.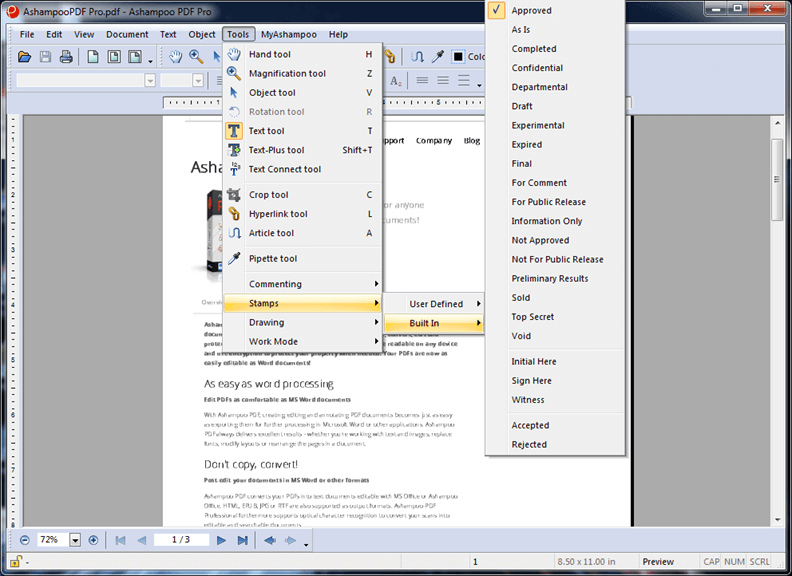 Compatibility of Ashampoo PDF Pro
This software can work on Windows® 10, Windows® 8 / 8.1, Windows® 7 having adequate speed. Sorry for Windows XP users as it does not work on that. Hope all have migrated their operating system already.
Price of Ashampoo PDF Pro
The actual price of Ashampoo PDF Pro is $69.99, but right now it is in discounted rate and you can get it at $19.99 for up to 3 PCs in one household or company.
I think this is a good deal, but please first use its demo version, try it and then only decide if you want to buy or not.
---
I would request you to try this PDF editor if you frequently edit pdf documents and see the difference. I am sure you will be amazed to see how easily you can do your work. Though this is not a free pdf editor, but I am sure everyone can afford its price. Hope you like this quick review of "Ashampoo PDF Pro" and if you have any questions do let me know through your comments.
Also, please subscribe to Tech2Blog.com by Email to get free alerts on your inbox and connect with us on social media platform. If you like the article, do share it.