Ashampoo PDF Pro 2 | Create & Edit Interactive Forms
After the huge success of "Ashampoo PDF Pro", Ashampoo has come up with the new version of its PDF editor which is called "Ashampoo PDF Pro 2". It has a lot more features than its predecessor. In this article, we are going to review it and tell some of its important features one of which is the ability to create and edit interactive forms.
There are lots of new features in Ashampoo PDF Pro 2 which make it more advanced and robust at the same price segment. In this article, we will focus on some of the very main features which are a new addition to this pdf editing software.
Note: Ashampoo has now released Ashampoo PDF Pro 3
Features of Ashampoo PDF Pro 2
Create and edit interactive forms.
Compare two PDFs side by side.
New snapshot function for perfect PDF screenshots.
Edit open images in place with external image editor.
Legally valid Bates numbering.
Edit PDFs very easily.
Split up PDFs into smaller documents with custom number of pages
New auto-repair feature
Merge PDF documents into a single file
Optical Character Recognition (OCR).
Easily extract images from PDFs.
Track document changes.
Built-in spell checker.
Create PDF portfolios.
Drag and drop to merge PDF documents into a single file.
Convert documents into Word, Excel or other formats.
Document protection with 128-bit AES encryption.
Above were the key features and functions of "Ashampoo PDF Pro 2". Now, let's discuss some of the features in more detail. In this article, I will not discuss features which have already been discussed when we created the review for "Ashampoo PDF Pro".
Interactive forms
This is one of the most important updates which PDF Pro 2 has got. Most of the users were demanding for the PDF editor which could allow them to fill-in interactive forms embedded in PDFs and where they can also create new fillable forms with buttons, checkboxes and other form elements.
So your request is heard by Ashampoo and this version allows you to do all those things. Below screenshot shows a demo fillable form which I created using Ashampoo PDF Pro 2 for demo purpose just to check the ease of use and I was amazed by the results.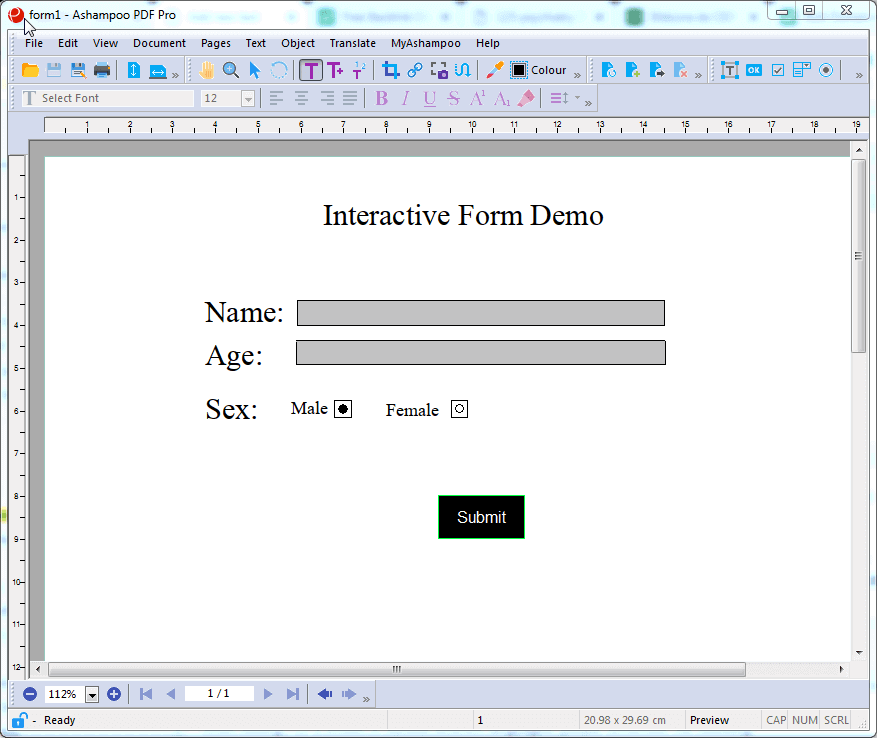 Please don't judge the above interactive form, I have just created a very simple and less time taking one for this review. You can take your time to create a good looking with a lot of options.
Side-by-side comparisons
With the help of this feature, you can compare 2 PDF side-by-side. Basically, this feature you can use when you have to edit an important document and need to compare the edited PDF with the original one.
You can compare 2 PDF's in 2 ways. The first way is to drag and drop two PDFs onto an empty PDF Pro 2 window and the second method is to drag and drop a PDF onto a PDF Pro 2 window in which a PDF is already open.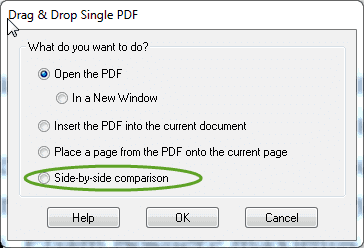 I like 2nd option very much and above screenshot shows what happens when you drag a PDF onto already opened one.
Bates numbering
Bate numbering in pdf is very common. It is used in the legal and medical fields to place consecutive page numbers, unique identification numbers or date and time stamps on documents.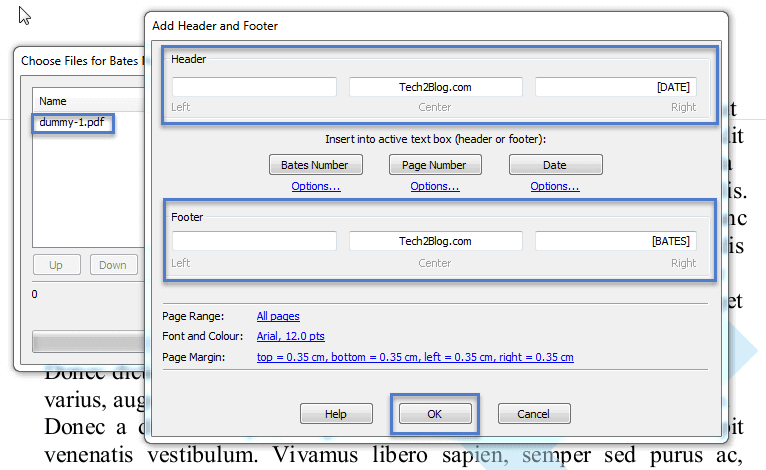 With "Ashampoo PDF Pro 2", now you can easily add Bates Number, Dates, & Page Number along with the copyright text if you want. There are 3 sections in the header and 3 sections in the footer as shown in the above image. Just choose your file or folder where you have to add them and you are good to go. Do let me know what do you think about this new feature.
128-bit AES encryption
With this security feature in this PDF editor, your PDF documents are protected against unauthorized and unwanted actions such as opening, editing, printing or text extraction. It also allows you to permanently and irrevocably blacken sensitive information.
Find and replace colors throughout documents
This is another unique feature which is added to PDF Pro 2. Sometimes we needed to replace the color in the document. Replacing color one by one a large document can be daunting, so use new 'find and replace feature' to change the color in the entire document.
Create snapshots
This is a very useful feature which is also one of my favorite features. Opening a 3rd-party tool to click the screenshot of the PDF can decrease your productivity. But with the in-built feature of Snapshot in Ashampoo PDF Pro 2 will keep you on track and right within this software you can take snaps and save on your local machine.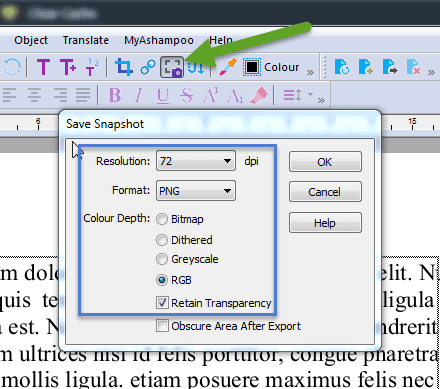 You can save the images as PNG, JPEG, TIFF with resolution ranging from 72 to 1200 dpi.
Compatibility of Ashampoo PDF Pro 2
Like Ashampoo PDF Pro, version 2 can also work on Windows 10, 8, 7 or Vista and also require a system that has 4GB of RAM. I am sure you must already be having a desktop or laptop with such configuration.
Also, if you are already using PDF Pro, then you will have to uninstall it. Once you run the installation setup of Ashampoo PDF Pro 2, it will automatically detect the previous version and will ask to uninstall it.
Price of Ashampoo PDF Pro 2
The actual price of Ashampoo PDF Pro is $69.99, but right now it is in 57% discount and you can get it at $30 for up to 3 PCs in one household or company.
This is a very good & cheap deal and if you have already not used it, please try it's demo version first which is valid for 10 days and then buy the paid version. I know you won't regret it. To all the old users who are using PDF PRO, please upgrade it as it has many new features which you always wanted in a cheap PDF editing software.
Giveaway of Ashampoo PDF Pro 2
Hey Guys, there is good news for you as we are also giving 3 license keys "Ashampoo PDF Pro 2" for free (License giveaway can be increased from 3 if participation is more).
If you want to participate in this giveaway, please download the demo version from the above link, complete below task and tell us in the comments what feature you like the most and you could be one of the winners of this giveaway.
There are lots of options to increase your entry, so do take its advantage. GOOD LUCK!
Hope you like this short review of Ashampoo PDF Pro 2 which is one of the best software to edit, convert, merge and create PDFs and also, can create and edit interactive forms. If you have any doubts or questions, please let me know through your comments below. We are soon going to have GIVEAWAY of Ashampoo PDF Pro 2, so don't forget to follow us on social media.
Please also subscribe to Tech2Blog.com by Email to get free alerts on your inbox and information about more such products in the future, till then happy editing.
If you are looking for an economical solution to edit & create interactive forms along with editing PDF files, then "Ashampoo PDF Pro 2" is the no. 1 choice. Just give it a try.