How To Hire Content Writers
Content is the King and creating content for your website regularly is very important. You can create good article yourself, but sometimes you need to hire content writers for your work if you are involved in multiple projects or has less time. This article will guide you and will tell points to remember while hiring content writers.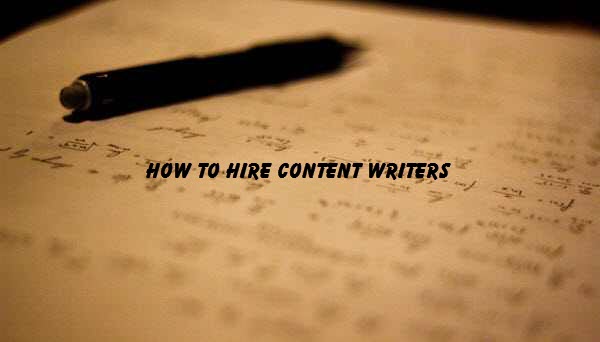 Points to note while Hiring Content Writers
1. Check English & Grammar
Writing perfect English and making good eye catching sentence should be one of the quality of the content writer. You can take small interview of the content writer to check their grammar and English and ask some other questions too.
Now a days search engines loves good English and good grammar articles and even it gives a good impression to your readers and they like to visit again to read your interesting content.
Recommended Article: Must have SEO Chrome Apps & Plugins for Bloggers

2. Ask for Sample Work
Before hiring any content writer, first ask their sample work and if possible ask for live links. Every content writer has some of their best work published on websites, so check the quality of the article from that.

3. Check SEO Skills
The writer should also be good in SEO along with good English and grammar. On-page optimization is very important and if your content writer is good in SEO (search engine optimization) then it makes your work very less and will have to just read the article before posting.
SEO optimized article writer are not large in number, so you may also have to pay a little more to them for their services.

4. Time Punctual
Punctuality is very important if you want to get something published. You should have some contract with the content writer about the delivery time of your article.
In the past, I have faced some writers which do not give completed articles in time, even after accepting the article for said date. And reminding them daily because of tight timelines really feels very bad and also result in loss of money.

5. Trustworthy
Content article should be trustful and should give article which are original and self written. In, Facebook and other social media website you can find many content writers which will offer you articles at cheap rate and will demand money in advance.
Don't get into that trap and never send money in advance to such content writer. They copy articles from the other websites and make a very little modification and will give it to you and once you make a payment they are not going to listen you. I will suggest you to check the article first for its genuineness and then make payment in time.

In starting you can hire article writers on per article basis and give them an order for few articles and if they provide you good SEO optimized contents, then you can continue using their service or even can hire them permanently if you have a big firm.
Getting good content writers is very difficult task but now Social media is playing very important role and you can easily find good and cheap content writers in the market for your business and blog.
---
These were some of the tips and points which you should note while hiring content writers for your business and blog. All these above points come from my personal experience with content writers, so if I miss any important point please let me know. Do Subscribe to Tech2Blog.com as I will discuss about websites where you can find content writers in my next post.