Get Alert when Google Index your Blog Pages
Keeping an eye on your website and blog is always a good idea and you should always keep track performance of your website and even your competitor website. What if you automatically get email alert when Google index your blog post or when someone links to your website. Today we are going to discuss about Google Alerts which is a great tool to keep track of your website, keyword, competitor, backlinks, indexing, new content and much more.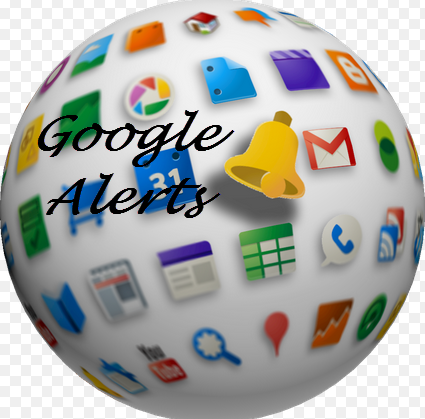 As the name suggests this is an alerting tool from Google which send email updates to the user based on their set queries. There are 5 fields which you need to be filed viz. search query, result type, how often, how many, deliver to and are explained below.
1. Search Query: This is one of the main field and you will have to put query whose alert you want to get. You can put here some keyword, your site link or any other thing you want to track.
2. Result Type: This category contains your query result from news, discussion, blog, video, books etc. and if you select everything, then you will get results from all of these. Suppose you want to monitor particular keyword or niche topic, then you can select discussion or blog in this field.
Recommended Post: How to create Responsive Google Adsense Ad unit
3. How Often : This field lets you control the frequency of your alert and you can choose from daily, weekly or as it happens. I prefer to choose daily alerts as it keeps me updated about my website daily.
4. How many: In this field you can choose if you want the best results for your query or all the results. It is better to choose a best result option.
5. Deliver to: This option is for delivering email and usually your own Gmail address.
Steps to Set Index Alert through Google Alerts
Below are the steps which you can follow to set alerts for your website/blog and know whenever your blog pages are indexed by Google.
1. Go to Google Alerts.
2. Now in Google Alerts there are 5 fields which need to be filled for setting a custom alert as shown below and explained above.
3. Now as we have to set alerts for indexing of our website/blog in Google search engine. We will choose below settings.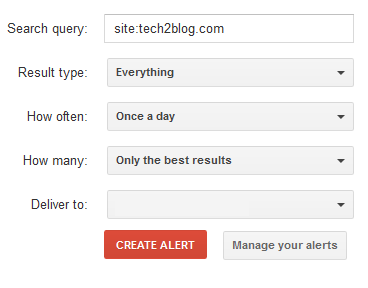 You can also change setting as per your requirement. Below is the result of above query which we got on our email address. After writing post on Tech2blog and creating a new category on our blog, we go this email alert from Google which confirms that Google has indexed our new post and category.

Thus by using this awesome tool you can easily know how much time Google is taking to index your blog, isn't that awesome !
Bonus Tip: To track your website links or backlinks with Google alert, you can replace your search query with link:tech2blog.com
---
Hope you have found this tutorial interesting and helpful for your blog & website and you will keep track of your website links, search result etc. Google alert can also help you in checking plagiarism and even monitor your competition easily. If you like the article please consider sharing it with your friends and social network.