Instagram Bot: Automating Your Instagram Account
All know about Instagram, it is a social networking site for people who like to share photographs. People can follow each other as per the common interest which is generally defined by the hashtag. If you are a social media marketer & would like to automate your Instagram account using a free Instagram bot, then this article is especially for you.
This Instagram bot can auto like other people's post, auto follow & unfollow other people, comment on pictures, and even can download your photos from the Instagram account. These are some of the few features which it can execute without any issues. Keep reading for more features.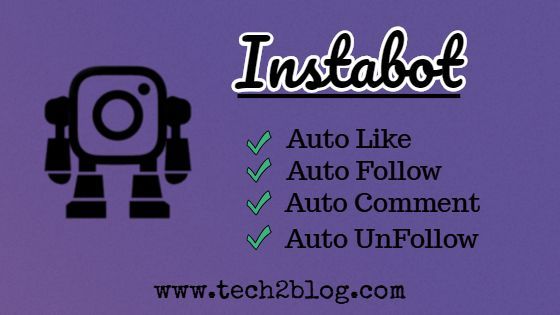 Note: This article is for educational purpose only. We are not responsible for any harm which could come to your Instagram account. Try at your own risk.
What is Instabot?
Instabot is an Instagram automation tool or bot, which can help you to automate your Instagram accounts. This Instagram bot is written in Python language, which not only implements the wrapper over the Instagram API, but also provides various useful functions, like as "follow people as per the interest", "like photos by hashtags", "unsubscribe from non-followers" and so on.
Instabot is very smart and easily filter the people or photos if they did not match your criteria or hashtag. This tool is specifically for people, who sometimes don't have time to follow some of the important hashtags at once.
This project is freely available on Github and till now it has more than 900 stars, 307 forks, and around 400+ download daily. Till now it has around 51 contributors which are actively contributing to this project.
Is Instagram Bot Safe to Use?
According to its developers, Instabot has limits on both the number of subscriptions/likes/comments and so on per day, and on the frequency of requests – for example, do not subscribe too quickly.
Also, Instabot has its own limits, which guarantee safe use and it asks for all the settings while running for the first time which can also be modified later. It allows you to set your own values, but you will have to be careful. Setting a lower or higher value can trigger the alarm.
Features of Instabot [Instagram Bot]
Pure Aritifical Intelligence (AI).
Lots of prepared scripts.
Fully open-source.
Auto Follow & unfollow.
Auto post like.
Schedule posts.
Mass Unfollow.
Secure & built keeping in mind Instagram policies.
Multiple account capability.
Now let's see some of the main features in detail of this free Instagram automation tool.
1. Auto Like: Once you have setup your Instagram bot, you can easily start liking the photographs/pictures of the other users as per the hashtag(s) used by them, or the people who are following you by their username, or the users who have liked your pictures in the past. Isn't it cool?
I really like its "like feature using the hashtag", because I can put multiple hashtags of my interest and it likes all the media which contains that hashtag. So, you can also say it is "auto like bot for Instagram".
2. Auto Follow:
Now moving down the line, we have the auto-follow option. This feature can follow other users on Instagram as per their hashtag(s), you can follow the followers of the particular user, or you can even follow the peoples who have liked your media. So, you can have total automation for your Instagram account using this free Instagram bot.
3. Auto Comment
Another best way of engaging with like-minded people is 'commenting' and this bot for Instagram can do this for you.
Suppose, you don't have time to comment on multiple people's accounts who have commented on your pictures or you want to engage with people having the same interest through hashtags, then this Instagram bot comes to the rescue, and once started it can easily comment on multiple people's account without any issue.
4. Auto Unfollow:
With this option, you get mainly 2 features. Firstly, you can unfollow all the people who are not following you and secondly, you can unfollow everyone at one go on Instagram.
This is the best for people, who are looking for other people to also reciprocate their following gesture and if they are not returning the favor, you can easily mass unfollow them.
5. Block
Now, the block feature helps you in blocking the other bot accounts and makes them unfollow you. Instabot is so intelligent, that it tries to find all the bots who are following you and make them unfollow or block you.
6. Schedule Post / Auto Post
If we talk about automation, a scheduling feature should be there and in this Instagram bot we have such a feature and you can easily schedule or auto-post pictures to your Instagram account.
You just have to put your pictures or other media on the directory and can run this bot to schedule all your post. You can schedule your post for each day or even for a minute. As of now, it can only auto post jpg images.
It also makes sure that your pictures are not posted several times.
So, these were some of the main features of Instagram bot i.e. Instabot.
---
Some people might think there is some catch using this free Instagram bot and they might have to fill out some surveys or visit some spam websites. But, this is not true, this bot is totally free of cost and you don't have to fill out any surveys either.
Just clone this Instagram bot from Github on your server, laptop, desktop, etc., set it up and start using it without any catch.
Hope you like this tutorial and if you want to see more, do not forget to subscribe to Tech2Blog.com by Email and follow us on social media. In our next article, we will be telling you how to install this Instagram bot on your machines and start it. The complete guide to Instagram automation will be posted in the form of a series of tutorials so that we can cover each and every part in detail.
If you have any doubts or questions, please let me know through your comments. And if you want me to make video tutorial on it, just let me know through comments.